Small doesn't mean boring when it comes to weddings. In fact, a small wedding offers a big opportunity to create a truly personal, customized day that is memorable for the couple and guests alike.
There are as many ideas as there are brides and grooms, but we love these 10 ways to make your small wedding truly special.
Send Handwritten Invitations
Instead of printed bulk invites, pick up some fancy stationery and write a personal invitation to each guest. That's not practical for a wedding with 150 guests, but if you're looking at 20 invitations or fewer, it's not only doable, but also enjoyable. Include a story about a memory you share with each person, or maybe an old photo of you together, and why it would mean so much to you to have them at your small wedding.
Choose a Unique Venue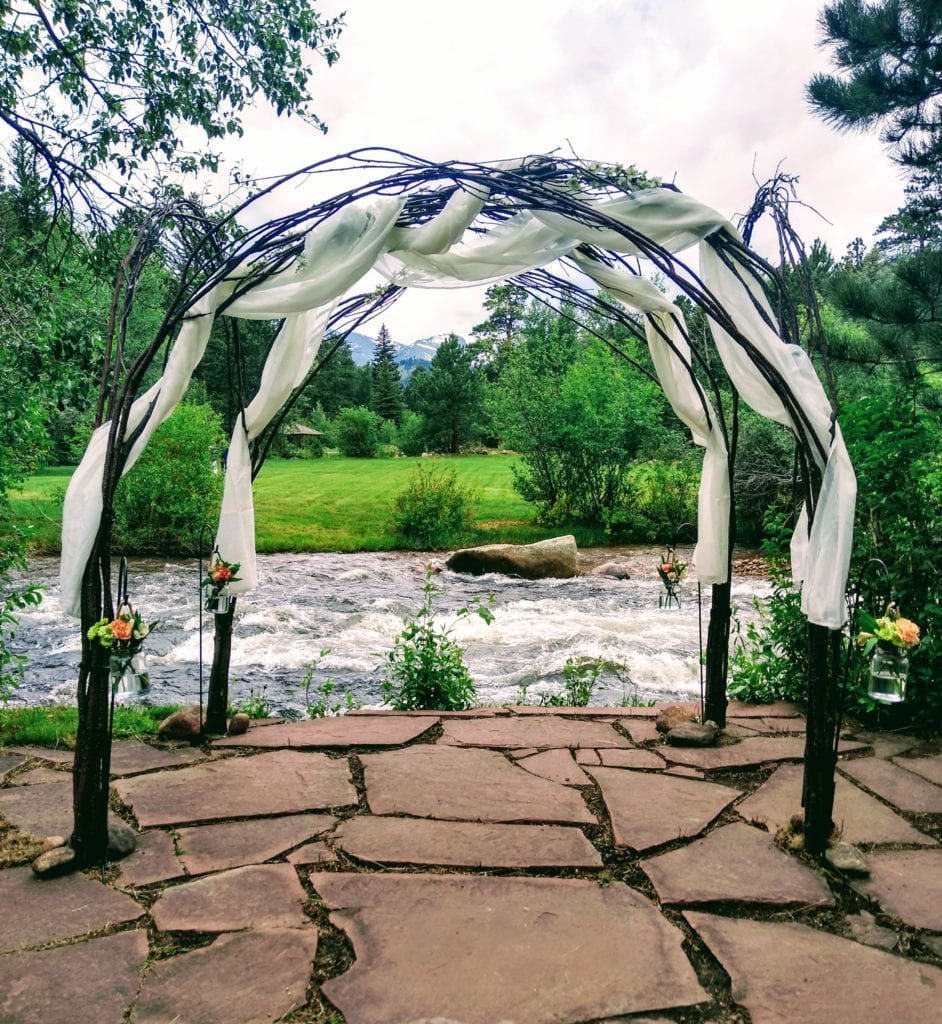 You don't need a large hall, so think about the many charming small spaces that can accommodate you and your guests: breweries, restaurants, backyards, B&Bs, parks, museums, vacation homes, and more. With fewer people to coordinate, you might be able to consider a weekday wedding to open your options for a date.
Outdoor weddings are easier to pull off when they're small. With the beauty of the natural world, there is little need for decor; you might have only a few chairs, unless you intend to keep the ceremony short and ask your guests to stand around you. Either way, it's very easy to move it all undercover if the weather takes a turn—and it's easier to find a covered space where everyone will fit!
Elopements and small weddings also lend themselves well to far-off destinations. It may be unlikely to convince 100 people to follow you across the country and into the mountains for a wedding, but your closest friends and family will be happy to join you wherever you go. Whether your heart is at the beach, in the mountains, or out on the prairie, you can take your small wedding on the road to find your dream venue.
Create Welcome Gifts
Instead of cookie-cutter wedding favors (that guests often forget at the table when they leave), you can create personalized welcome baskets for your guests. Consider a bottle of locally-made wine or olive oil, a gift certificate to a nearby restaurant or attraction, unique snacks, a personalized note, or, especially for a destination wedding, a selection of items that will make their stay simpler and more enjoyable. If you're enjoying the frosty majesty of a winter wedding, you might add a cozy locally-made blanket, a pair of mittens, or some hot chocolate mixes to help them stay warm.
Splurge on Your Favorite Indulgence
With big weddings, people often end up cutting the budget in one area to be able to afford a little more extravagance in another. With a small wedding, you're already making the big cuts—you might save $10,000 by not needing a large venue, $1,000 by not having a DJ, and $2,000 by not hiring a wedding planner. You can save that money, or put it toward an indulgence for your wedding. It might be the dress, the champagne, a special gift for your guests, the honeymoon, or any other little extra.
Invite Your Furry Friends
Your pets are part of the family! Of course, you'll want them at your wedding. Your dog may be able to participate by wearing the rings around his neck or simply standing proudly beside you as you say, "I do."
Customize Your Ceremony
Do it your way!
Walk down the aisle together, rather than having one person wait at the altar as the other takes the walk.
Dance down the aisle together.
Play your favorite rock-and-roll song as you approach the altar.
Write your own vows.
Honor relatives who are no longer with you.
Share a toast right after you're announced as married.
Have your guests gather in a circle around you during the ceremony rather than sitting in traditional rows.
Ask a good friend to be your officiant, or marry yourselves. (This is called self-solemnization, and it's permitted in Colorado.)
Make Your Guests Part of the Ceremony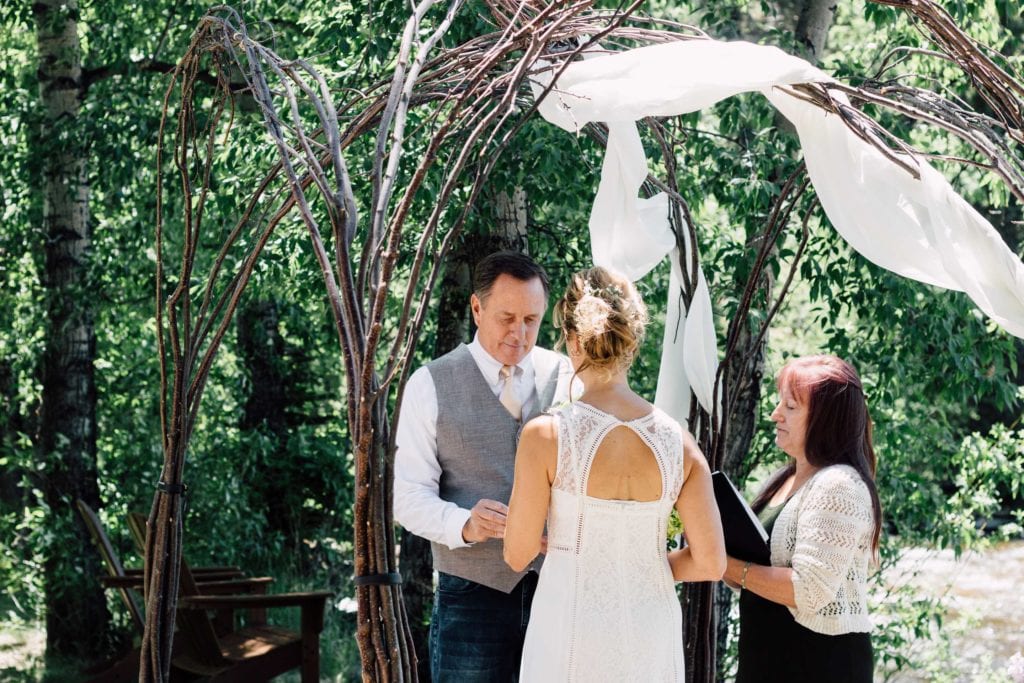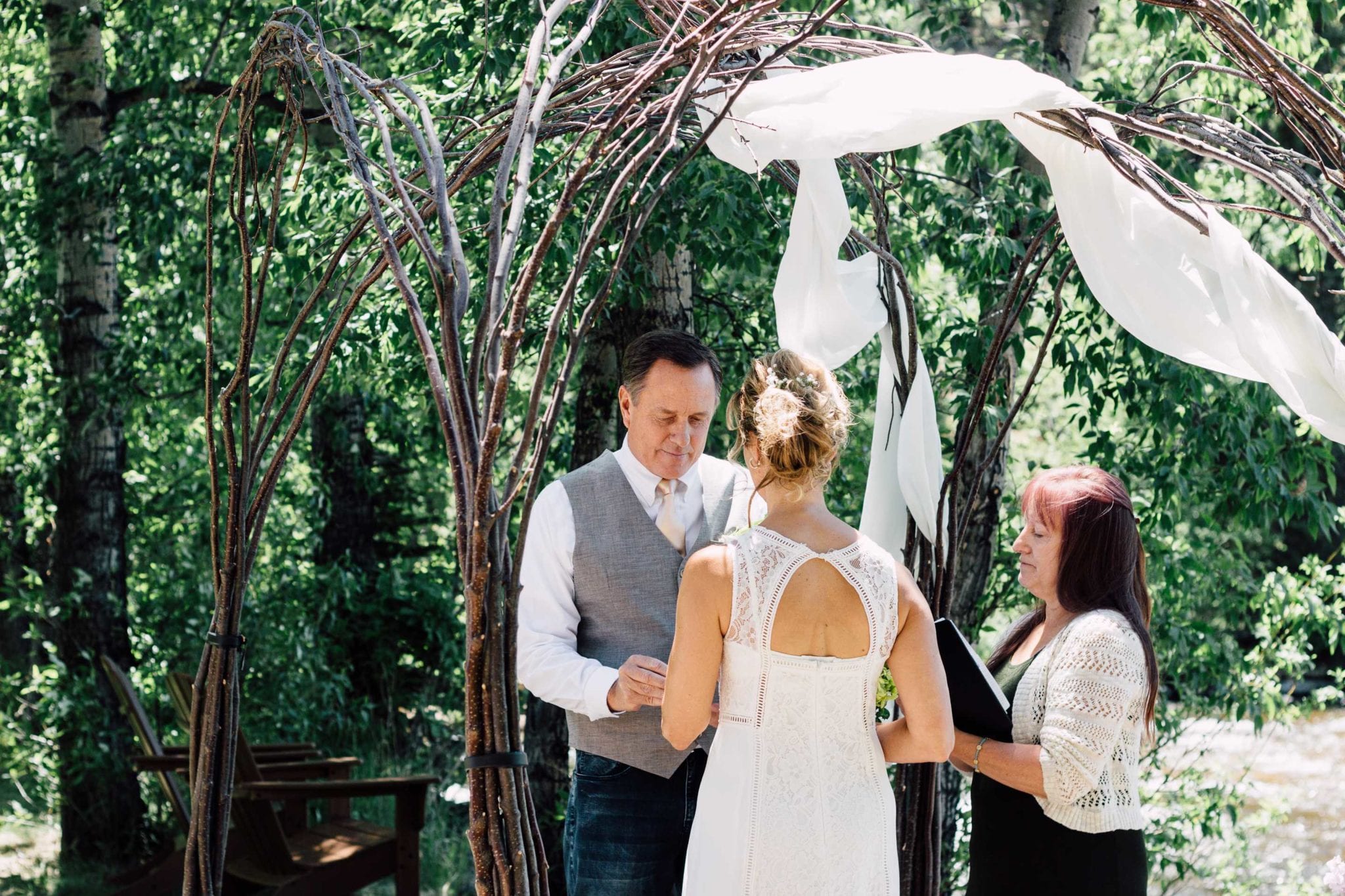 Invite the guests to light candles, give their own vows to support your union, offer a word of marriage advice, or read a special passage. At one small wedding, the officiant, who was a friend of the couple, surprised the bride and groom by writing a poem and having guests stand up in turn and recite a line. Everyone felt included, it increased the sense of intimacy of the occasion, and it created a memorable moment for the couple.
Add the Finishing Touches
There's time to focus on small details when you don't have to manage so many big ones! While the wedding coordinator takes care of the cake, floral arrangements, and more, you can find or create custom signs or champagne flutes or displays of photos and family heirlooms. For an outdoor wedding, set up a station with a few outdoor essentials in case your guests forgot their sunscreen.
Let Go of Everything Else
If you don't love it? Let it go! With your small wedding, there are no rules, no expectations, no one to impress. It's just you as a couple, celebrating your love, and you can do it any way you please.
Have Your Small Wedding in Estes Park
Colorado is full of beautiful places to get married, and Estes Park is no exception. The Romantic RiverSong Inn sits on 26 private acres, featuring stunning mountain vistas covered in trees, wildflowers, and wildlife. Our wedding coordinator works one-on-one with you to personalize your small wedding, whether you're incorporating some of the ideas above or something else entirely!
As a small B&B, we've been enchanting couples since 1922, and we'd love to invite you to experience what so many other couples return for time and again. Call (970) 586-4666 to learn more about our four customizable elopement and small wedding packages and to visit this unique mountain space—we look forward to sharing it with you.