Get Inspiration and Insight from Bed & Breakfast Reviews in Estes Park, Colorado
Discover All That Our Guests Love About Romantic RiverSong Inn
Some come to hike and explore the Rockies, while others come to relax and indulge with in-room massages and nearby activities—and plenty come to do both. Whatever brings our couples here the first time, what brings them back year after year is our stunning property, charming accommodations, and customer service that makes you feel at home from the moment you arrive.
Read the real bed & breakfast reviews our guests have left for the Romantic RiverSong Inn and book your own stay today to experience our riverside romance for yourself.
Absolutely amazing stay! This place is perfectly set up for romance. They have about 27 acres for you to roam as you please. We really enjoyed hiking up their private mountain.
My new husband and I had a planned elopement at the Riversong in June 2020, and we couldn't be more pleased. Tammy was very accommodating and communicative during the months leading up to our weekend there, and was very helpful in helping us find a last-minute photographer when our initial plan fell through. The ceremony location is stunning, the property feels very secluded and quiet, and our room was the perfect "honeymoon" suite. Hoping we get the opportunity to stay again in the future.
It was an amazing trip. No phones, no TV, great food, great weather, fantastic trails and animals, Elk, Deer, Turkey, Squirrel, Snake, Birds. The River was just below our room. The view out our window was The Continental Divide! So Awesome!
My wife and I got engaged at Riversong and came back for our one year Anniversary. This place is incredible, we will continue to come back to enjoy the people, the food, the scenery, and the amazing rooms. We highly recommend! We will continue to come here!
This was the perfect romantic getaway after our summer time elopement. Everything was beautiful and clean, the grounds were breathtaking, and the breakfast was beyond exceptional. We will definitely be back.
We stayed in the Morning Glory, a wonderful cozy suite. The property is beautiful, complete with riverside walking paths, chairs in cozy tree nooks. It was very snowy while we stayed so we couldn't do the small trail on the mountain behind but it didn't stop us from enjoying the view. We also saw a lot of deer on the property (a few feet away from our window!). The innkeepers are very warm and hospitable, the breakfast was mind blowing. We thoroughly enjoyed our stay and will definitely go back!
Very courteous and helpful staff. Excellent breakfasts. Lovely room. Fantastic grounds including a great private wooded trail along the river. We'll be back!
LOVE this B & B, and we will return yearly. They have everything down to a science regarding making each guest feel every welcomed and special, providing the balance as an "intimate vs. social" setting, and providing the loveliest and roomiest suites, common areas, grounds, etc. The breakfasts are always fabulous, and they certainly do take into account all dietary preferences and needs! Hot drinks, water and baked treats are always available in the roomy yet cozy living room....offers fabulous views!
Had a fantastic romantic weekend with my wife at RiverSong! Food was spectacular, service was exceptional (VERY detail oriented), conveniently located a few minutes from the entrance to RMNP, and the ambiance can't be beat! We had an absolutely wonderful stay, and we can't wait to go back!
This place is just amazing. Perfect to disconnect from the world, and connect with your SO... Bathtub are great, fireplace are relaxing. Breakfast is really good. The place is beautiful. Service is really very kind and attentive. Everything was just perfect.
Our stay in the Wood Nymph at RiverSong was far above our expectations. We thoroughly enjoyed our 3 night stay. Everything was so clean. The setting was so beautiful! We couldn't believe how delicious the breakfasts were every morning.. big thanks to Angie and Alex for a most hospitable and welcoming demeanor!! Thank you for our visit, we'll be back!!!
My husband and I got married here June 2019 and had an incredible experience. The innkeepers were very welcoming and the rooms were spotless. We loved the location of the property as it was private, but was conveniently close to local attractions and dining. Our ceremony went as planned and we were overall very happy with our experience. We would recommend Romantic RiverSong to anyone going on a relaxing getaway!
Browse the Beauty That Sets Romantic RiverSong Apart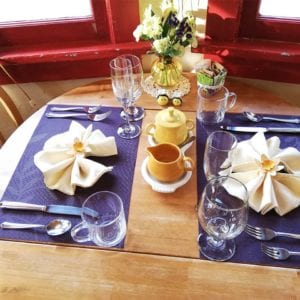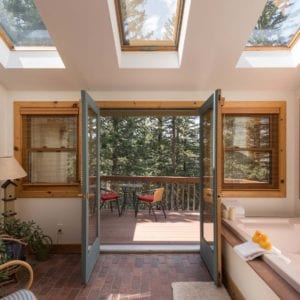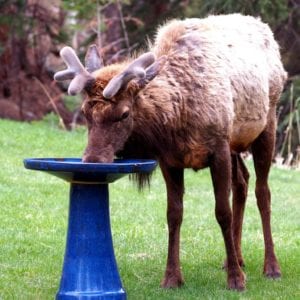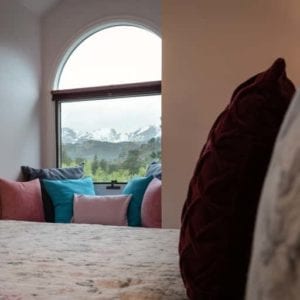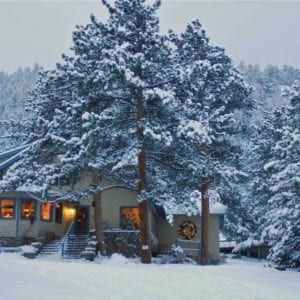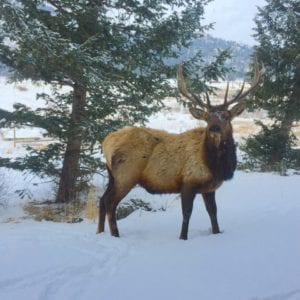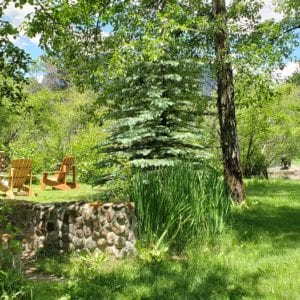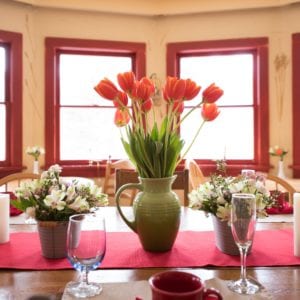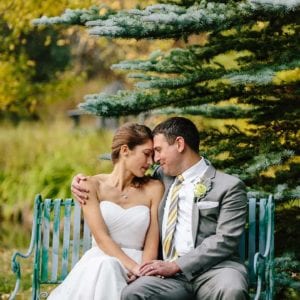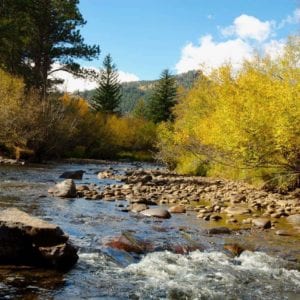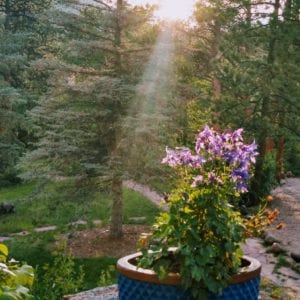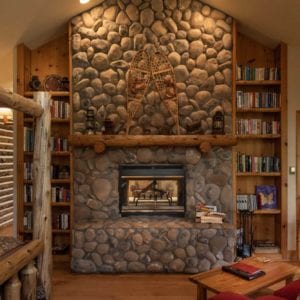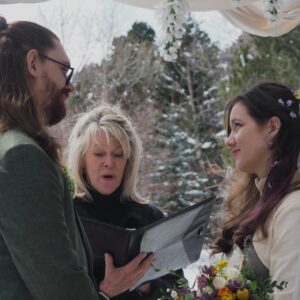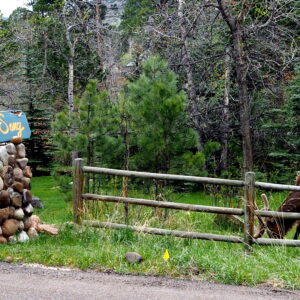 Our guests have plenty to say, but a picture is worth a thousand words. Explore our gallery to see the beauty and charm of Romantic RiverSong Inn for yourself.
Rekindle Your Love in Our Rustic Riverside Charm
Whether you're searching for the perfect venue in which to take your vows or simply want an escape to the grandeur of the Rockies, the Romantic RiverSong Inn is perfect for special occasions and weekend getaways alike. Explore our various offerings and contact us to book your Estes Park romance today.
Weddings and Elopements – Our venue accommodates weddings of up to 18 guests for an intimate streamside experience in all the wooded beauty of our Estes Park property. Browse our Wedding and Elopements packages and learn more about making Romantic RiverSong Inn the site of your special day.
Activities – With a wealth of options, our B&B is the ideal destination for anyone looking to enjoy an escape to the tranquil scenery of the Rocky Mountains. Learn about all of our Activities and plan your itinerary today.
Rooms – Our ten rooms each have their own unique ambience while remaining true to the cozy charm that characterizes our entire inn. From our Shooting Star Suite to the lofty Morning Glory Room, discover the spaces that keep couples returning year after year and book your own stay in one of our Rooms today.
Experience the Romance of Our Bed and Breakfast in Estes Park, Colorado
Situated only 75 miles from central Denver, the Romantic RiverSong Inn in Estes Park is a prime destination for guests from throughout Colorado and around the world. Our bed and breakfast is accessible year-round via Lower Broadview Rd, which offers riverside views along its winding curves all the way to the privacy of our wooded property.
For more information about our property, visit our About page.
Trust the Glowing Bed & Breakfast Reviews of Our Estes Park Inn
Our property has been enchanting couples since 1922, and we're proud of the role we've played in countless romances over the years. See what all our five-star bed & breakfast reviews are talking about and give your own relationship the time and attention it deserves with a stay at Romantic RiverSong Inn. Contact us today to book your wedding, elopement, or getaway today.