If you're the couple that can't wait to have a honeymoon full of adventure and exploring, we hope this itinerary will get you excited about all the possibilities here in Estes Park! For one of the simplest ways to honeymoon, start with our Honeymoon Package which includes lodging for two nights in one of our large, fireplace suites, and breakfast delivery for one morning of your stay.
At Romantic RiverSong we cater to adults looking for romantic and secluded lodging, so no matter whether you choose to stay in our Main House, or book one of the private cabins, you can expect a quiet and intimate visit. All our rooms provide a king-size bed and private, en-suite bathrooms.
For additional details on this adventure honeymoon itinerary, please review the 'Booking Notes' and 'Things to Know' sections following the post!
See Itinerary Below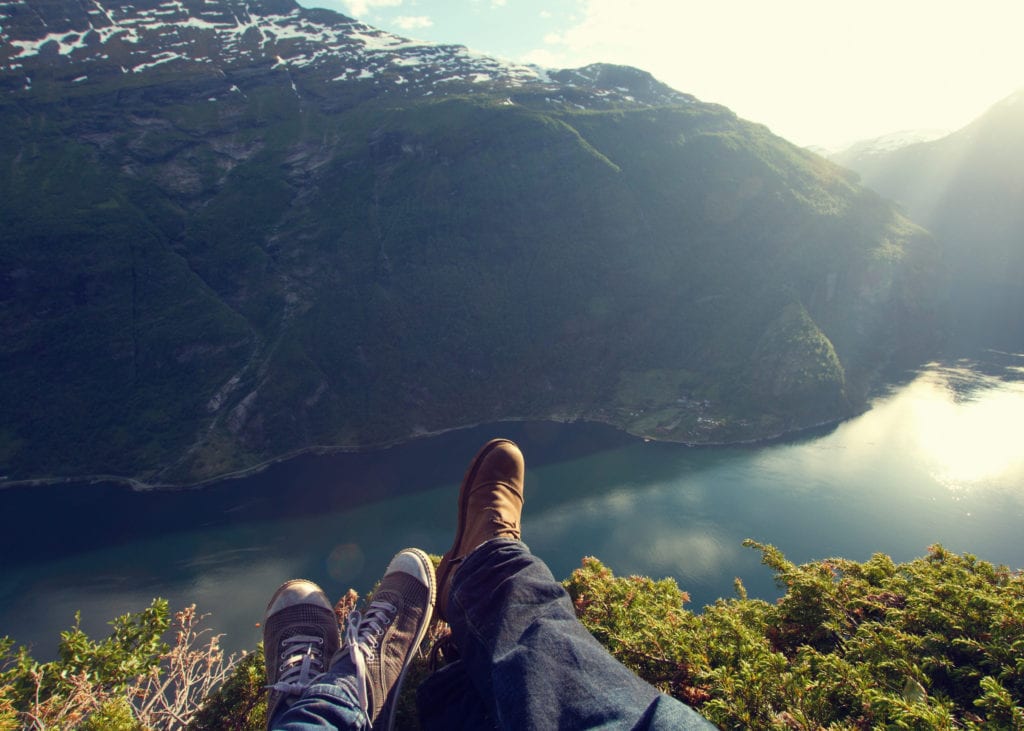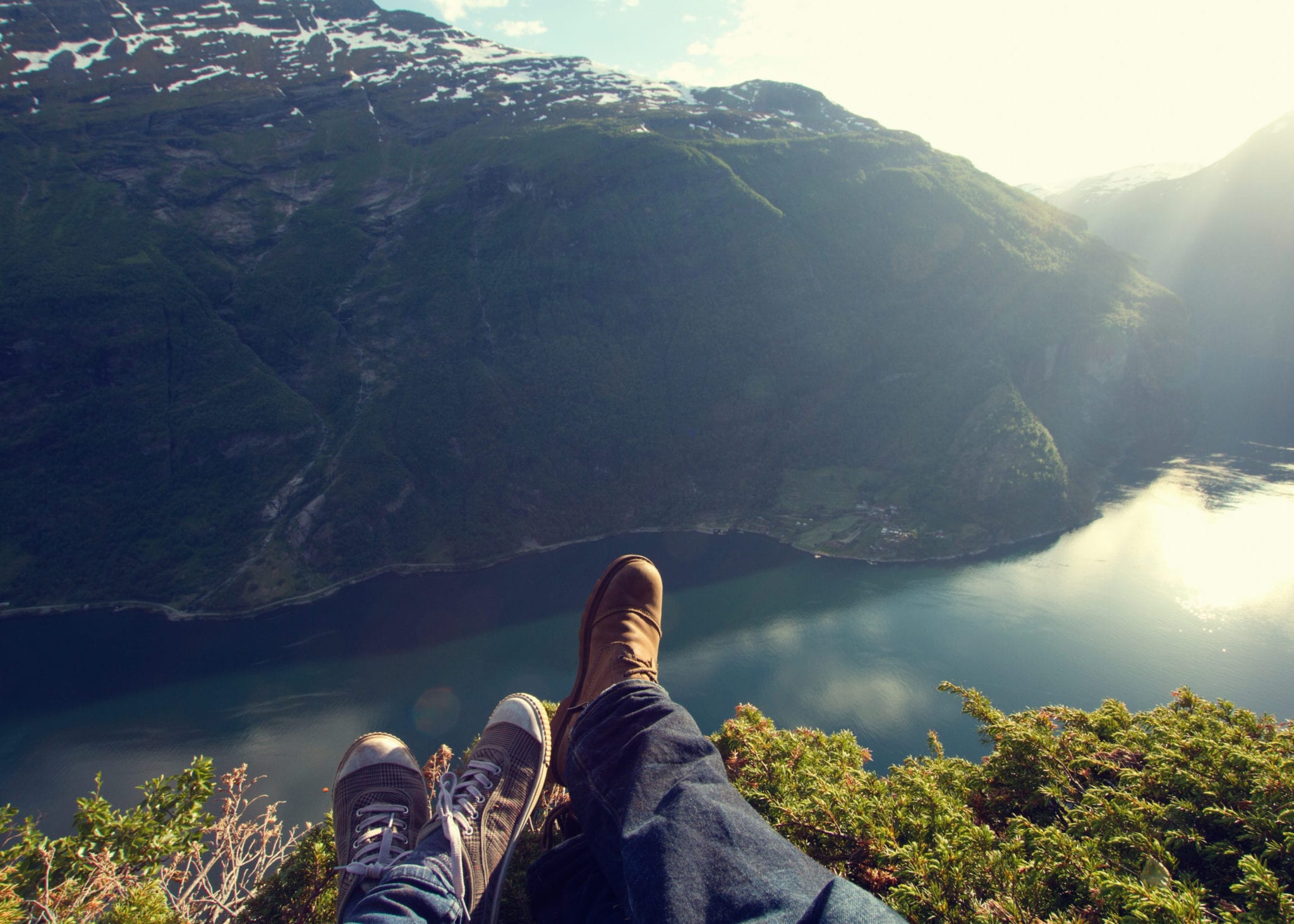 Let the Adventure Honeymoon Begin!
Day 1 – Arriving in Estes.
Kickoff your adventure honeymoon with a celebratory drink and fantastic views of the mountains at Avant Garde Aleworks! Choose one of their custom brews or order a flight, and snag a seat on the patio. Their charcuterie boards and Bavarian pretzels are a great addition if you're feeling a little hungry. When you're ready to move on, drive about six miles farther south to the Lily Lake Trailhead. Parking and restrooms are available at the entrance.
This easy, paved walking trail is a beautiful and serene place to stretch your legs after the drive to Estes. There is also a point of entry for the Lily Ridge Trail which takes you a short distance up Lily Mountain for stellar views overlooking the lake.
Time to explore and get a taste of the wild! Time permitting, before settling in for the night, we highly suggest Green Jeep Tours for a chance to see a one of a kind panoramic view of the world-renowned views around Estes. Its only about a 10 minute drive from the Inn and easily accessible! Open all year long, and with different tours available, nothing beats seeing the abundant wildlife and spectacular mountain scenery like a jeep adventure!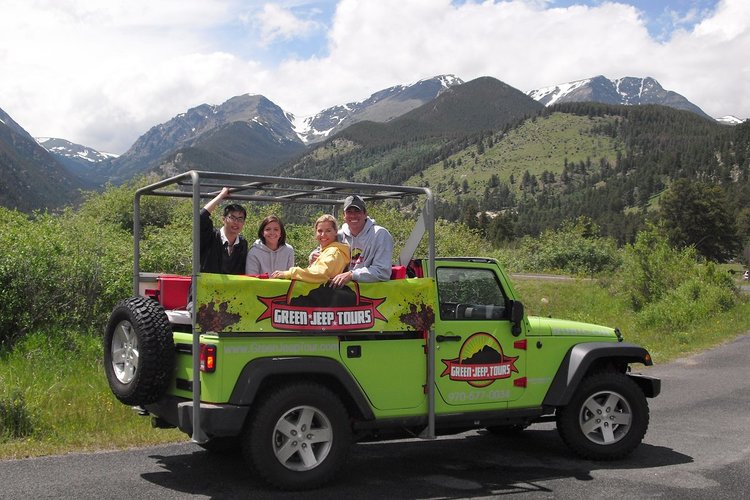 Romantic RiverSong
Expect about a 15 minute drive from Lily Lake to RiverSong. If you've booked our Honeymoon package be sure to arrive at RiverSong with enough time to check-in and get settled. Request an early breakfast delivery, and no matter your plans for the next few days, consider ordering a picnic lunch for the following afternoon. With lunch ready for you the next morning, you'll be prepared for whatever adventures come your way!  If not picnic dining at RiverSong, drop in at The Rock Inn, for ethically sourced meats and seafood. Along with their fantastic menu, you can expect a full bar with locally crafted beers, wine and cocktails
We know it's easy to lose track of time, but please arrive at the Inn no later than 7 pm. Let the Innkeepers know as soon as possible if your travel plans necessitate a later check in.
If the timing is right, walk to the deck on the Main House for a welcoming sunset view of the Rockies. Once the sun goes down, grab a flashlight, some warm clothes, and take a moonlit hike on the 7 Benches Trail or wander around the grounds for the perfect spot to stargaze. Afterwards, snuggle up in your cozy bed and let the crickets lull you off to sleep!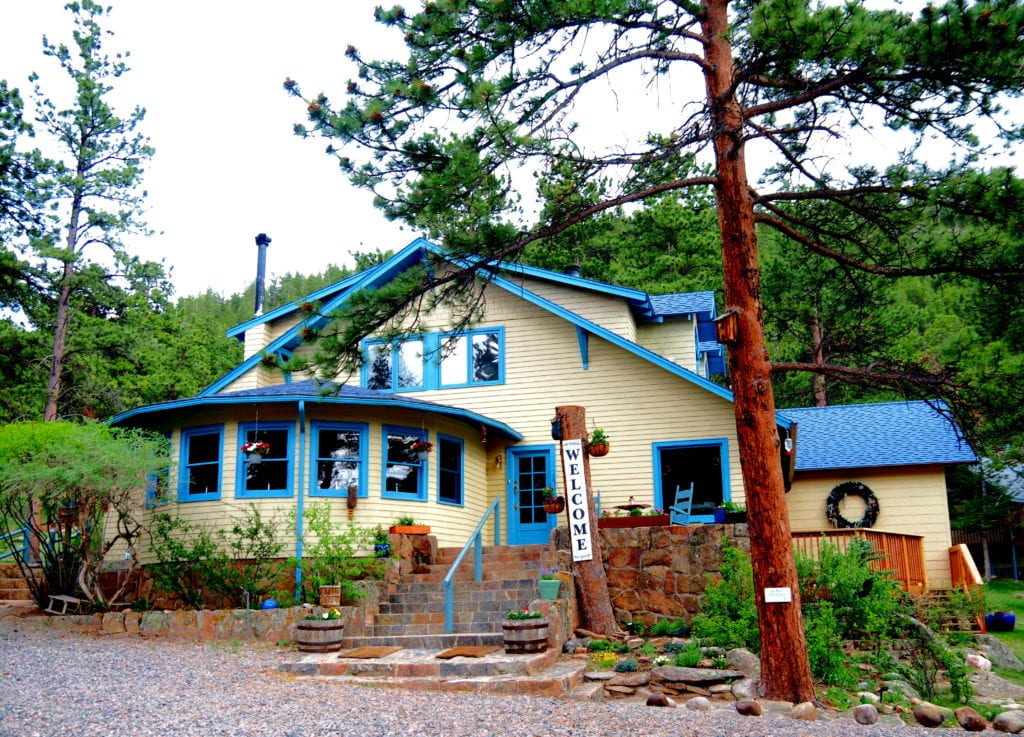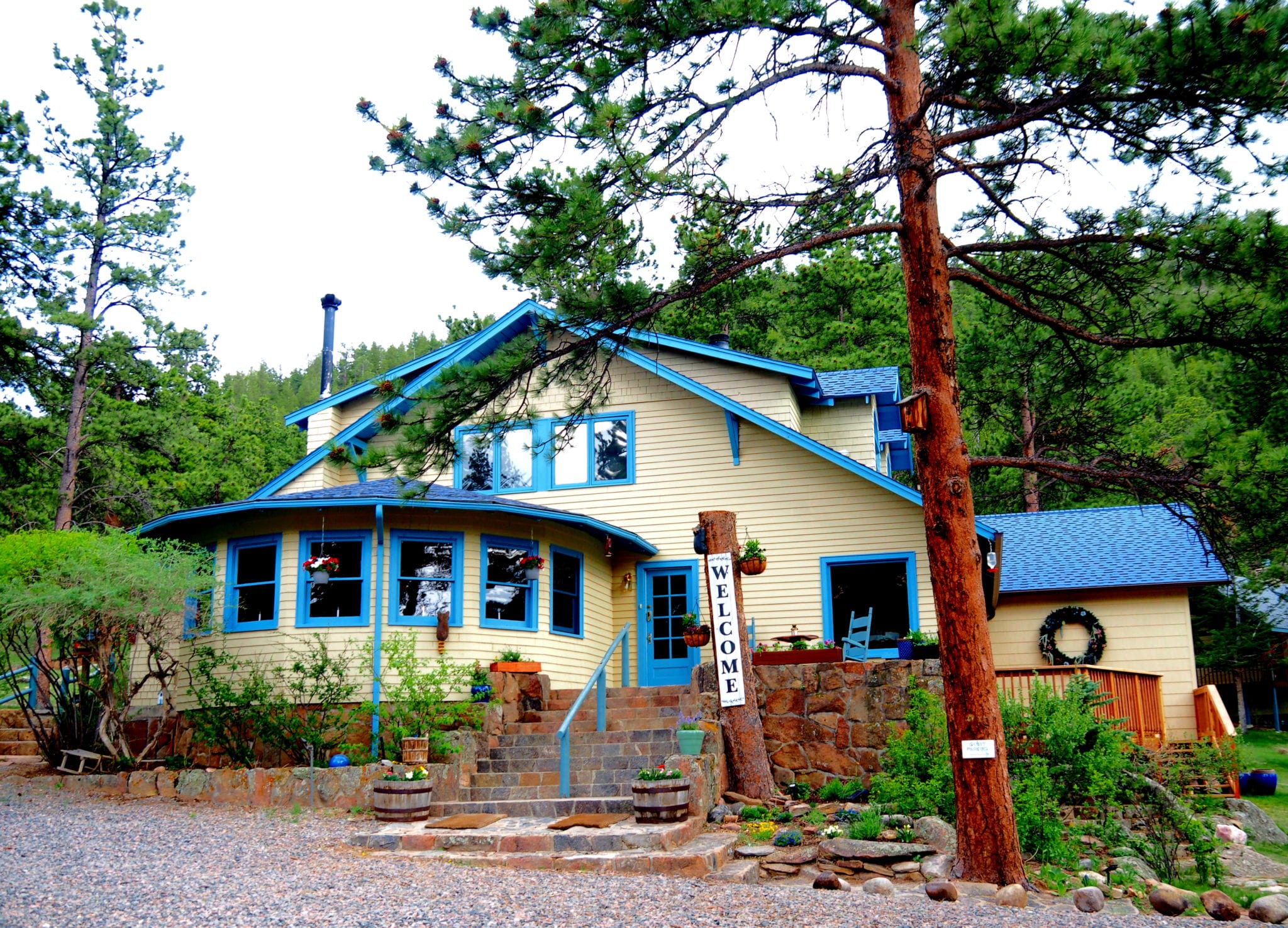 Day 2 – Hiking & Horseback Riding
Wake up with the sun and a hot cup of tea or coffee in your room. Savor a relaxing morning with your sweetheart watching for the resident elk herd, deer, birds and other wildlife that often wander the grounds. After breakfast, pack up for a day of hiking and horseback riding! Be sure to bring sunscreen, bug spray, and wear layers to be prepared for windy and cool conditions. On your way out grab your picnic lunch from the Inn or make a stop at the Country Market on Mary's Lake Road for supplies and snacks. Pack more water than you think you'll need!
Bridal Veil Falls
After your supply run, head to the Cow Creek Trailhead for a great hike to Bridal Veil Falls. Since this trailhead is about 30 minutes away from Romantic RiverSong, for this itinerary you'll want to be leaving Estes Park no later than 9:30am. The hike follows the Cow Creek through open meadows, aspen forest and eventually, rugged and rocky terrain. The six mile trail is rated as moderate and will take 3-4 hours roundtrip.
Depending on how much time you have, and your hiking experience, there are a number of other side trails along the route. Use the restroom at the trailhead, and you're ready to go! Stop to enjoy your lunch along the trail, or wait and picnic with views of the falls. Please remember to practice Leave No Trace principles and pack out all your trash and personal belongings.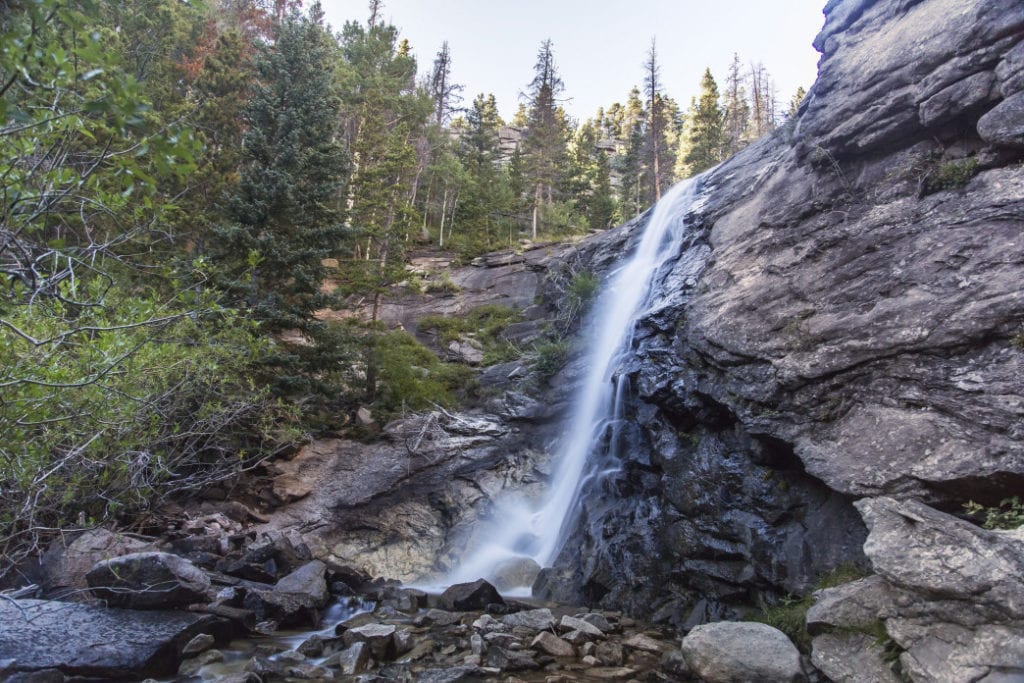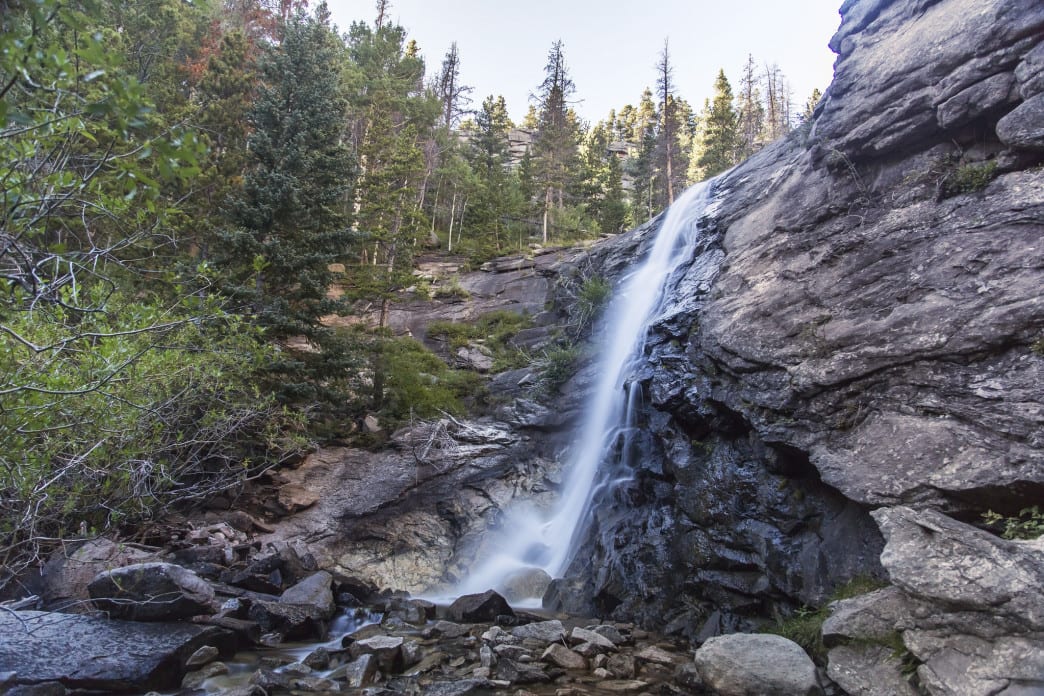 Cowpoke Corner Corral
Expect a 20 minute drive from the McGraw Ranch parking area to the Cowpoke Corner Corral. On this 2-hour horseback tour along the Giant Track Mountain you'll have views of Rocky Mountain National Park, the Continental Divide and Estes Valley. The wranglers at the Corral are well equipped to ensure everyone has a fantastic experience and guests often comment that the riding tours were their favorite activity while visiting Estes Park! After your tour ends, stop for dinner at one of our favorites, Bird & Jim's. With a locally sourced menu, a variety of vegetarian options and a generous bar menu, there is always something unique and delicious.
Once you've returned to RiverSong, set out your hiking gear and pack up any snacks and drinks to be ready for tomorrow's pre-dawn hike into Rocky Mountain National Park for sunrise over Dream Lake. Set that alarm, and be ready to leave RiverSong at least 90 minutes before sunrise. Make an effort to get to bed early for an easier wake up call!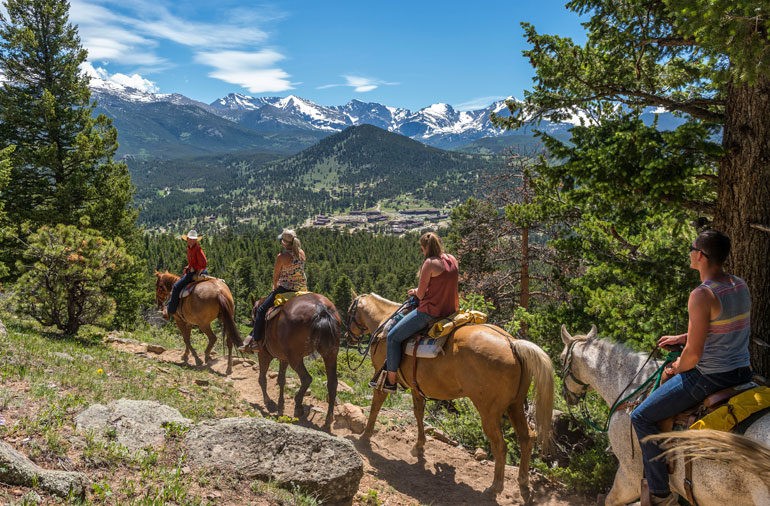 Day 3 – Dream Lake Sunrise
Make your way into Rocky Mountain National Park to the Bear Lake Trailhead parking area. The drive from RiverSong to the trailhead is 30 minutes, with an additional 30 minutes to hike directly to Dream Lake. Settle into a nice viewing area and enjoy your daybreak picnic with some spectacular morning light!
After sunrise, hike a little further along the trail to Emerald Lake. When ready to turn back, take the time to tour Dream Lake once again and make a stop at Nymph Lake. If time allows, adding in the short walk along the Bear Lake Nature Trail, around Bear Lake, makes a nice conclusion to this morning adventure. Average time for this hiking route, including the Bear Lake Nature Trail is 2.5-3 hours.
Be careful not to get too entranced by the Rockies and miss breakfast service back at the Inn! Remember to allow 30 minutes for the drive back to Romantic RiverSong. Following breakfast, you may even have time for a well deserved nap before our standard check-out at noon.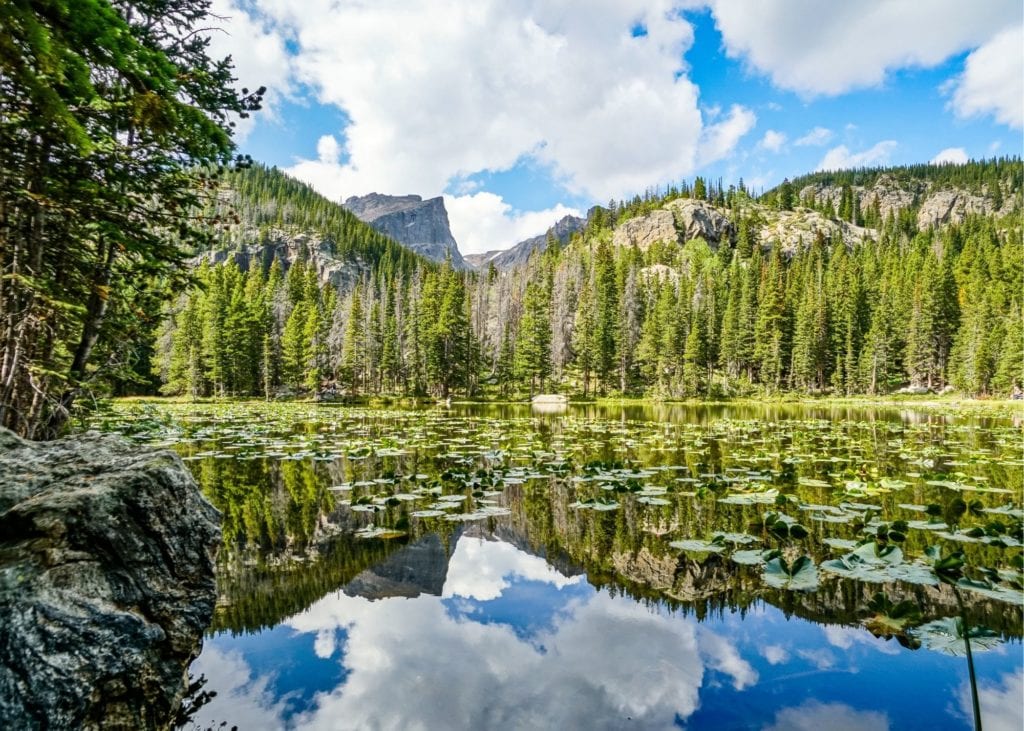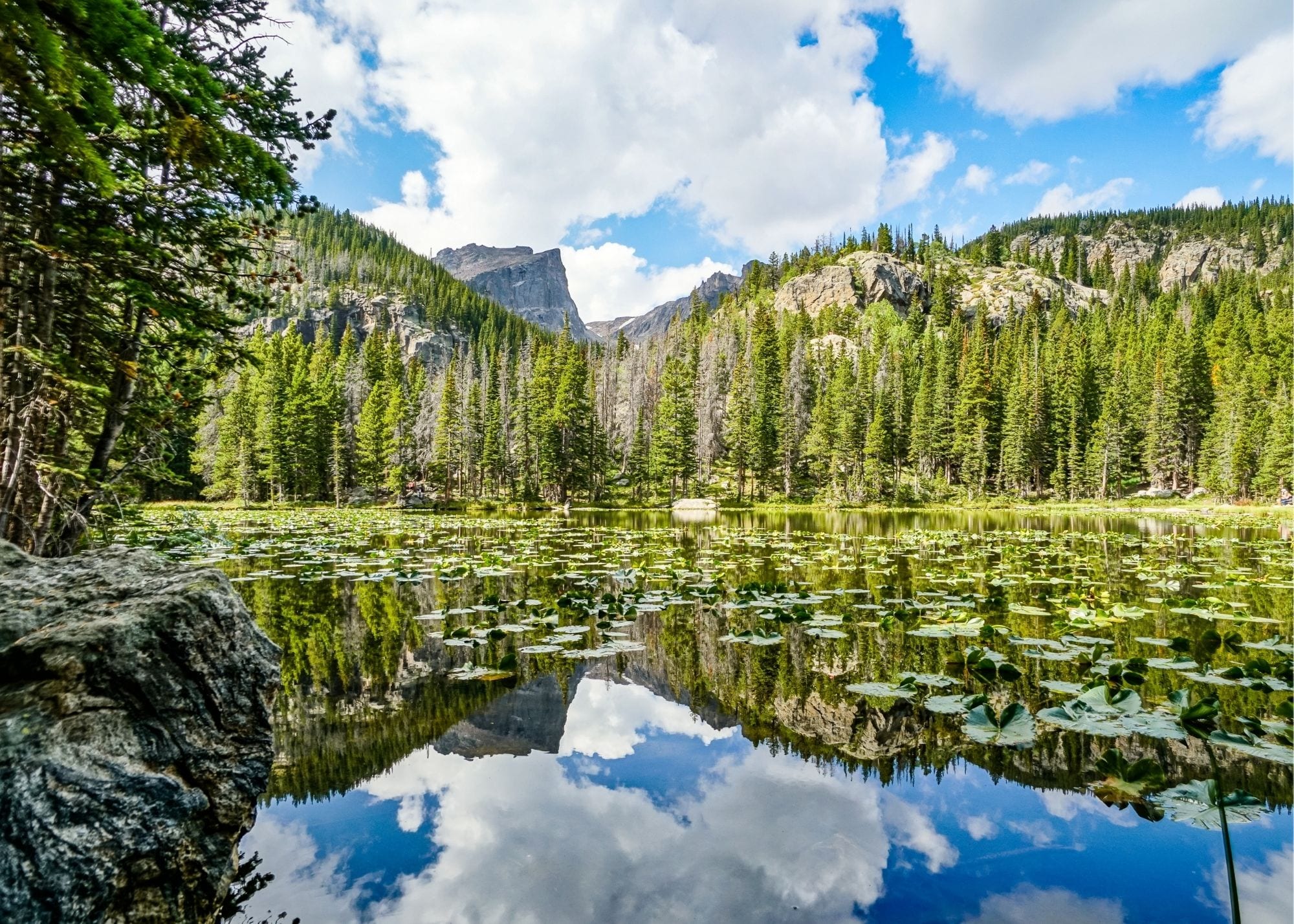 We're always honored when couples choose to celebrate the beginning of a new chapter at Romantic RiverSong. An adventure honeymoon in Estes Park is sure to create memories that last a lifetime! We hope that your time at RiverSong is a reminder of the love and connection you have with your sweetheart. We look forward to hearing about all your amazing adventures!
For other itineraries see our Romantic Weekend and Enchanting Honeymoon posts.
Booking Notes
If you'd like to use this adventure honeymoon itinerary as written, please reserve our honeymoon package, scheduling your in-room breakfast for the following morning. Also, make your reservations for horseback riding with the Cowpoke Corner Corral for the second day at 4pm and check the Rocky Mountain National Park website for closings and reservation requirements. If reservations are needed for RMNP, book an early morning entry for the final day of your stay.
Things to Pack
Before booking your adventure honeymoon in Estes Park, be mindful that our weather changes often, even during the summer months. Layers of clothing are essential for an enjoyable visit. No matter the time of year, make sure to bring long sleeved shirts, sweaters, warm socks, gloves, hats, sunglasses, bug spray, hiking boots, light coats for summer and warm coats for winter. You'll want your gear to be waterproof to accommodate for winter snows or summer rains. And, necessities all year round, don't forget the sunscreen and lots of water!
If you are wanting to do any hiking or scenic drives through the mountains, be aware that it can be very windy at higher elevations, and that the temperatures can be up to 30 degrees colder than downtown Estes Park. Especially important if you're coming to visit from a lower elevation, read up on how to prevent altitude sickness.
Things to know about RMNP
Rocky Mountain National Park is one of the most popular destinations in the United States. Exploring early in the morning, and later in the day (before 9 am and after 3 pm) will give you a better chance of experiencing the mountains without excessive crowds. That being said, expect to see other visitors and pack a healthy dose of patience. In order to protect the delicate environment, please stay on the designated trails and walkways, and as always, practice Leave No Trace principles anytime you're in the outdoors.
Due to high volume, weather or health measures, Rocky Mountain National Park may restrict the number of visitors or close off areas of the park. Checking their website before your stay at RiverSong will help you know what to expect, and if advance reservations are required. It's also a good idea to browse the website the day of your visit to look over any closures or detours that may affect your plans. You can always speed up your entrance into RMNP by purchasing your day pass online.