There's nothing quite like a mountain wedding backdrop. The setting is rich in both beauty and symbolism. The grand scale reflects the depth of the love the couple shares and the heights they can reach together; the vast skies are a blank page, waiting for you to write your story. The mountains themselves are timeless, and they will remain long after we've all gone. The trees are firmly rooted, standing the tests of time and weather with their ability to bend and adapt to an ever-changing environment. Abundant life surrounds you.
Plus, it all makes for gorgeous pictures.
The Romantic RiverSong Inn specializes in mountain wedding backdrops. We weren't really trying to: that's just what happens when you have a B&B on 26 acres in Estes Park, Colorado. The Rocky Mountains insisted, and who were we to refuse?
Have you been thinking of a mountain wedding backdrop for your own nuptials? This is why we're partial to it—and why, over the years, many couples have felt the same way.
It Offers Total Privacy
You can host a small wedding in what feels like the middle of nowhere (though town isn't far away!). You won't be interrupted by honking cars or random passersby who can't help but stop to watch for a moment—or longer. The biggest intrusion may be a bird or an elk, and they typically make very polite wedding guests. Otherwise, you're surrounded only by the forest, the fresh air, and your closest friends. Enjoy their company without rush or distraction.
The Mountains Are Beautiful in Both Winter and Summer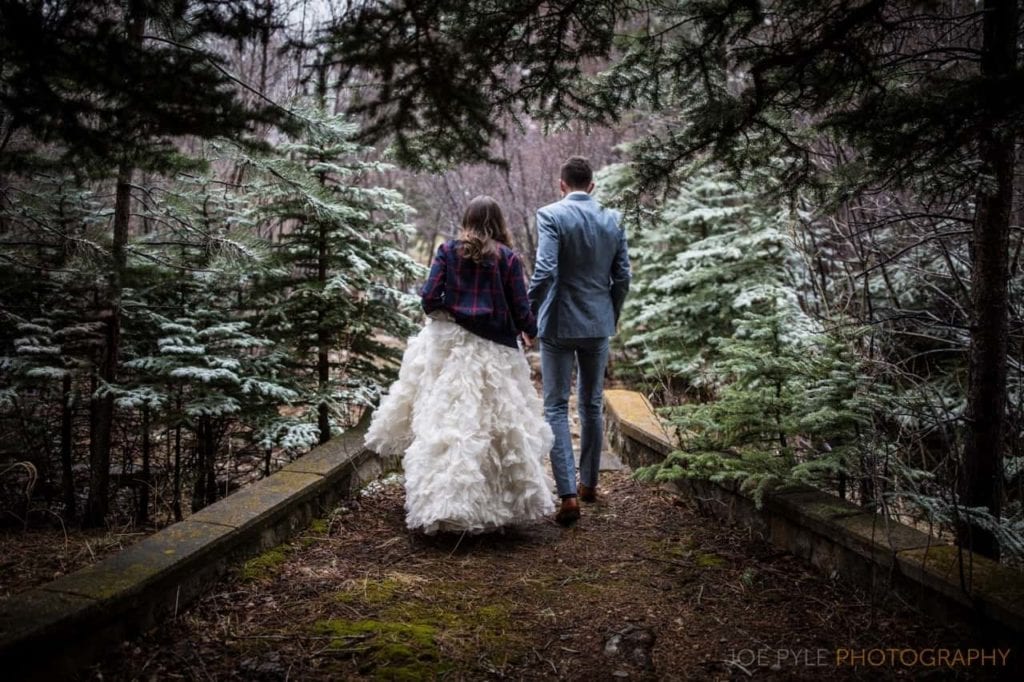 Although many people look to the summer months when planning a wedding, there's a quiet majesty to a winter wedding—especially in the mountains, which bring the drama with snow on the mountain tops and sparkling frost on the trees. The chill in the air lends a cozy, romantic vibe to the occasion, while the snow offers an exquisite visual contrast to the dark evergreens. In Colorado, cold doesn't mean dreary: even the mountains are treated to many beautiful sunny days all winter long.
While we're at it, don't overlook spring and fall for potential dates, with the freshly budding flowers or the vibrant color change! There is no "bad" season in the mountains, and you'll have a truly beautiful outdoor wedding no matter what time of year you join us.
You Can Turn It Into a Wedding Getaway
As a B&B, we can accommodate the couple for a few nights after the wedding if you'd like to turn your mountain ceremony into a mini-vacation. Two of our four elopement packages include a two-night stay for the couple, and we offer a variety of add-ons to round out your weekend, including a Jeep or horseback tour of the area, tastings at some of our favorite local breweries and wineries, a picnic arrangement, a stream-side couples massage, and more.
Estes Park and Rocky Mountain National Park feature so many wonderful activities you can do together, from hiking and rafting to dining, spa treatments, and shopping. It's lovely place to invite your guests, who may decide to turn it into a vacation, too. Whether you live in the region or are coming from out-of-state, everyone loves to spend some time in the mountains, and this area has so much to offer.
It's Naturally Budget-Friendly
There's no need for expensive, one-time-use decor: you really can't improve upon towering trees, snow capped peaks, and jagged rock formations, anyway. Your venue is pre-decorated!
You also don't have to rent a large venue, which is typically one of the most expensive aspects of a traditional wedding, as you're paying for a carefully maintained and decorated space with equipment (tables, chairs, etc.), a variety of staff members, and more.
It's Perfect for Small Weddings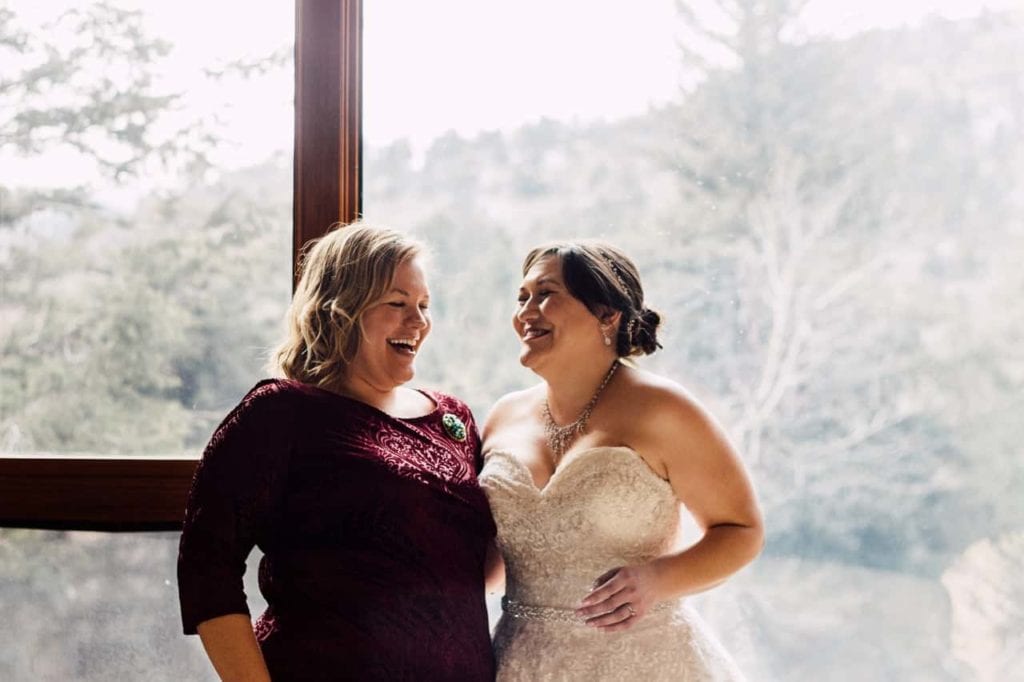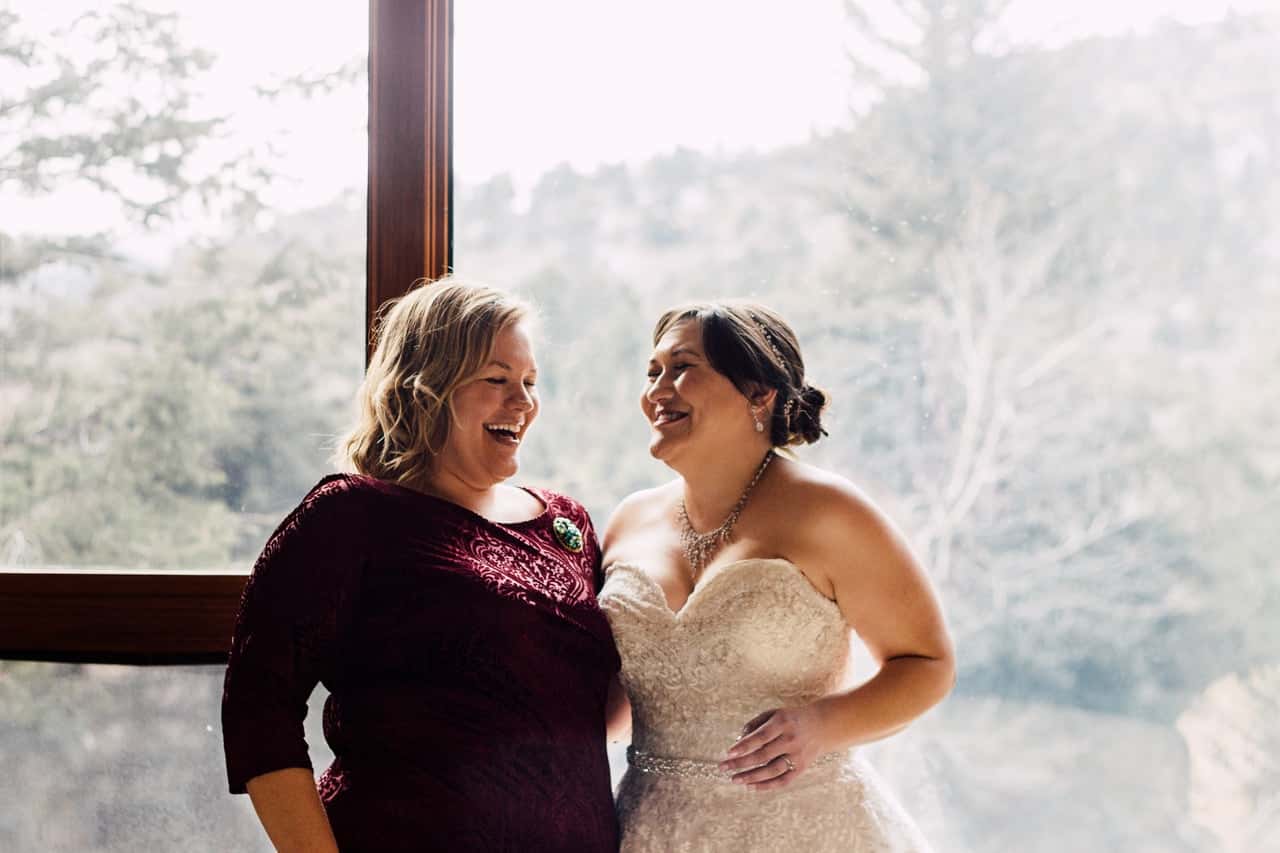 Large outdoor weddings are possible, but they're not as common because they're not as easy to pull together. Where to put 150 chairs on a flat surface so everyone can see the couple? Where can all those people go if it starts to rain? If you're in a forest or a national park, what about the environmental impact of having that many people in that particular space? The bigger the wedding, the more limited you are when choosing an outdoor venue.
Many couples choose the mountain wedding backdrop because they're looking for a small, intimate ceremony, anyway. The quiet beauty of the mountains invites simplicity: a small gathering of your dearest friends and family to share your love and joy.
It Feels Casual and Relaxed
Nothing against formal weddings: they're beautiful! However, there's often a lot of stress bound in that formality, a sense that the event has to go off without a hitch, despite the many details to arrange and the many people making it all happen.
A small mountain wedding is already less stressful: there are fewer details to manage, and our wedding coordinator takes care of everything. Your guests aren't demanding; they are the people who are truly closest to you, who feel honored to witness your union. You can still dress as formally as you'd like—bring on the tuxes and gowns!—but the vibe that's created here is welcoming, relaxed, and inclusive.
Every Photo Will Be Beautiful
There's no bad angle! Your mountain wedding backdrop follows you throughout the ceremony. At the Romantic RiverSong, many of our couples choose to get married on our stream-side wedding patio, but you can choose any site on the property—and, of course, take as many photos as you'd like! Take a look at our gallery for some ideas.
Your Mountain Wedding Backdrop in Estes Park
For decades, we've been welcoming couples for their small weddings and romantic getaways, and we'd be honored to host yours. All four of our customizable elopement packages give you access to every beautiful vista we enjoy here, and you can choose from a variety of add-on services to create your ideal outdoor wedding. Call us at (970) 586-4666 to learn more, schedule a private tour, or start customizing your elopement package.