One of our favorite things about being Innkeepers at Romantic RiverSong is sharing the on-site activities in the relaxed and tranquil environment around the Inn with all our visitors.
Quite often, time seems to slow down for our guests as they have the ability to be fully present with each other throughout their stay.
Guests are always sharing unique ways they've enjoyed their time at the Inn. Today, we're sharing a few of those experiences and on-site activities with our readers and hope they help you craft the perfect stay at RiverSong!
Riverside Walk Along the Big Thompson River
Many guests love to wander and explore around the expansive and private grounds surrounding RiverSong. Watching and listening to the Big Thompson River in the adirondack chairs and benches can capture your attention and sweep you away into relaxation for hours. Grabbing a hot cup of coffee or tea in the main house and spending time at river is a favorite among guests.
7 Benches Trail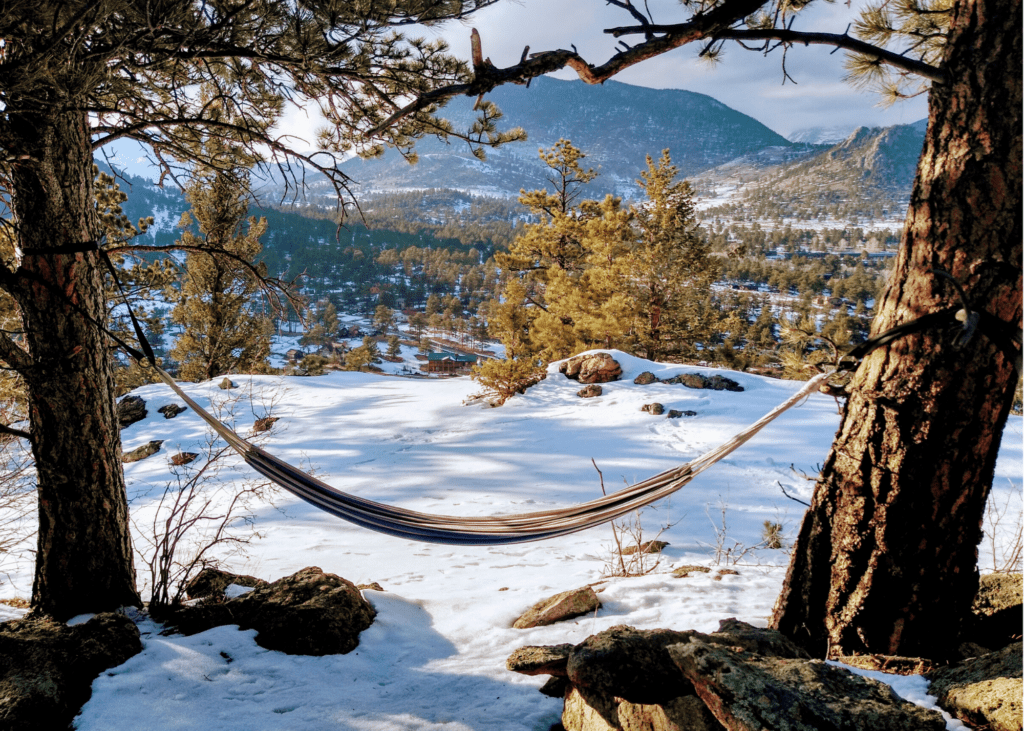 This private trail has become an iconic part of the RiverSong on-site experience. With a winding slope that is just right for any hiker, the views above are sure to take your breath away. We love to see the pictures of the guests relaxing in the hammock at the top and catching the views or sunsets at the end of the day. Guests take the trail quickly to the top for the views or take advantage of the 7 benches for resting and connecting. A romantic kiss shared at each bench has been said to bring good luck and returning guests love to visit the hike to reconnect with new affection.
Giant Track Mountain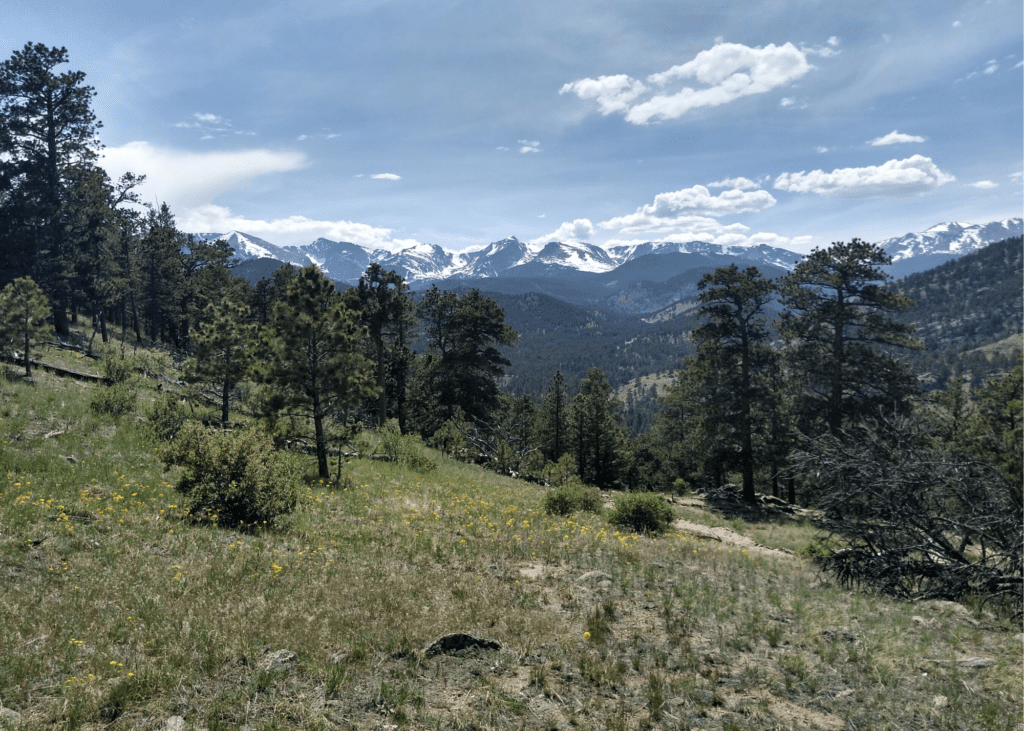 Many of our guests love to hike beyond the end of the 7 Benches Trail further onto Giant Track Mountain. This area is very private and secluded, as it is only used by the Cowpoke Corner Corral and RiverSong guests. It's one of our favorite on-site places to wander about. With seemingly endless mountain views, it's also a great place to catch a sunset!
Exploring the Meadows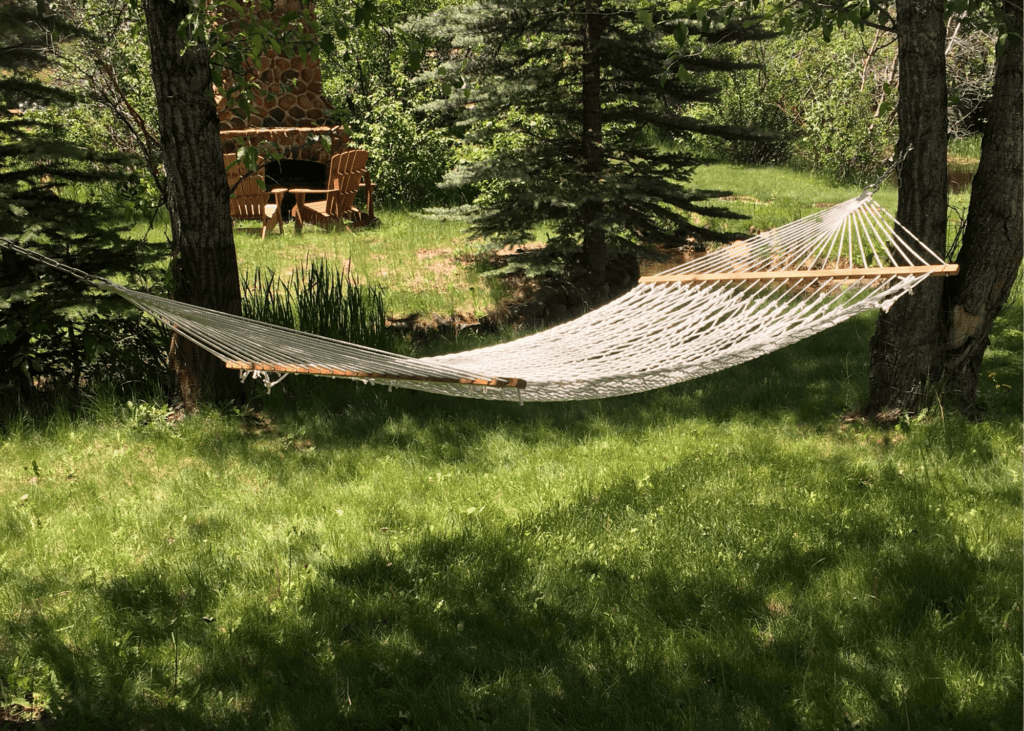 Picnics and outdoor afternoon naps in the hammock are some of the favorite activities among guests. Depending on the season, there is always new vegetation, wildlife, bird watching and picture perfect views to rest and rejuvenate. Guest have mentioned the gardens at Romantic RiverSong feel like the Secret Garden that they can get lost in rest and imagination for hours. Grab a blanket, a good book, and the meadows of RiverSong will take care of the rest!
Outdoor Fireplace & DIY S'mores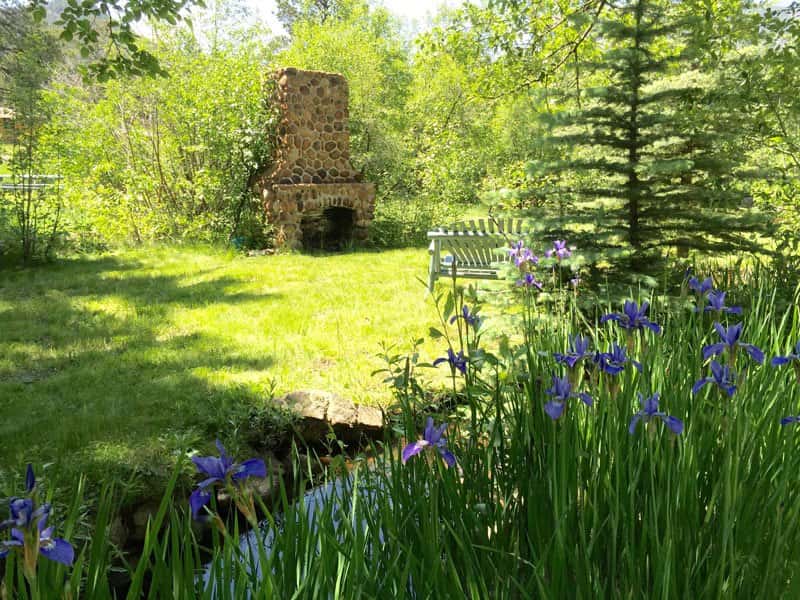 Our on-site outdoor fire pit is the perfect place to enjoy these gooey treats! Guests interested in making s'mores can bring their own supplies from home, or pick up the necessities at the Country Market grocery store near the Inn. We're happy to provide the wood and kindling, and get the fire started, or guests can choose to start the fire themselves.
Wildlife Watching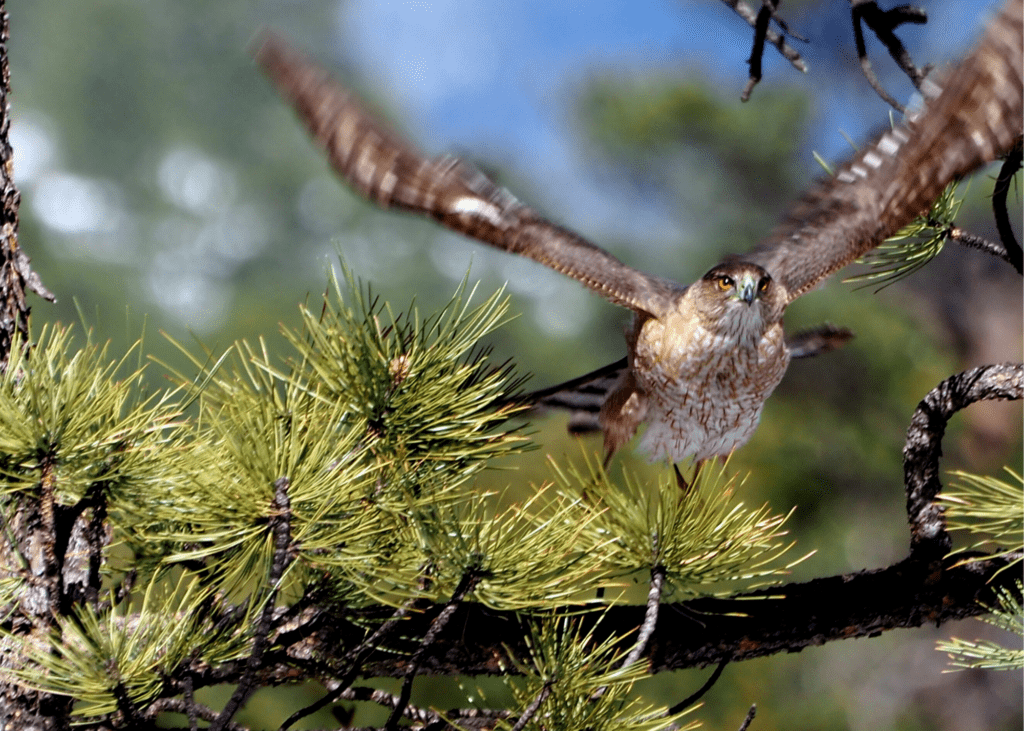 Different seasons bring different wildlife, sounds, and sights to RiverSong. We love that guests are able to capture views of wildlife, often right outside the front door, without having to be in the hustle and bustle of the busy Rockies. We have favorite Elk and deer families that visit frequently. Most guests have all seen Elk, deer, hummingbirds, bears, bobcats, mountain lions, squirrels, wild turkeys, chipmunks and a variety of birds.
Happy Hour by the River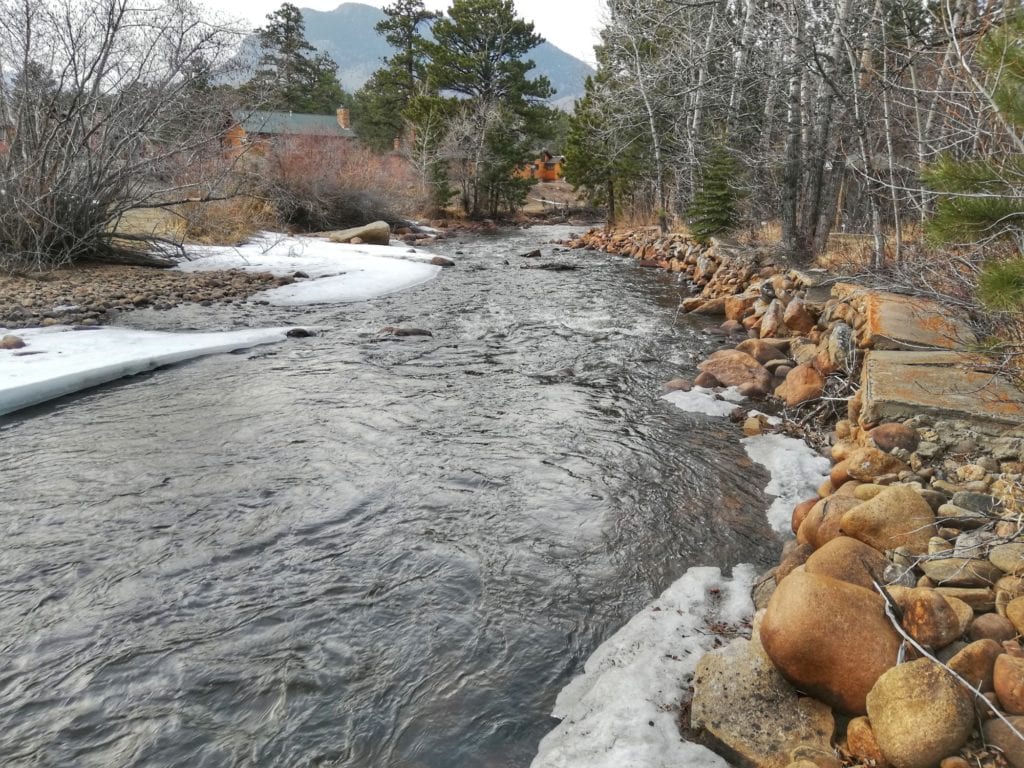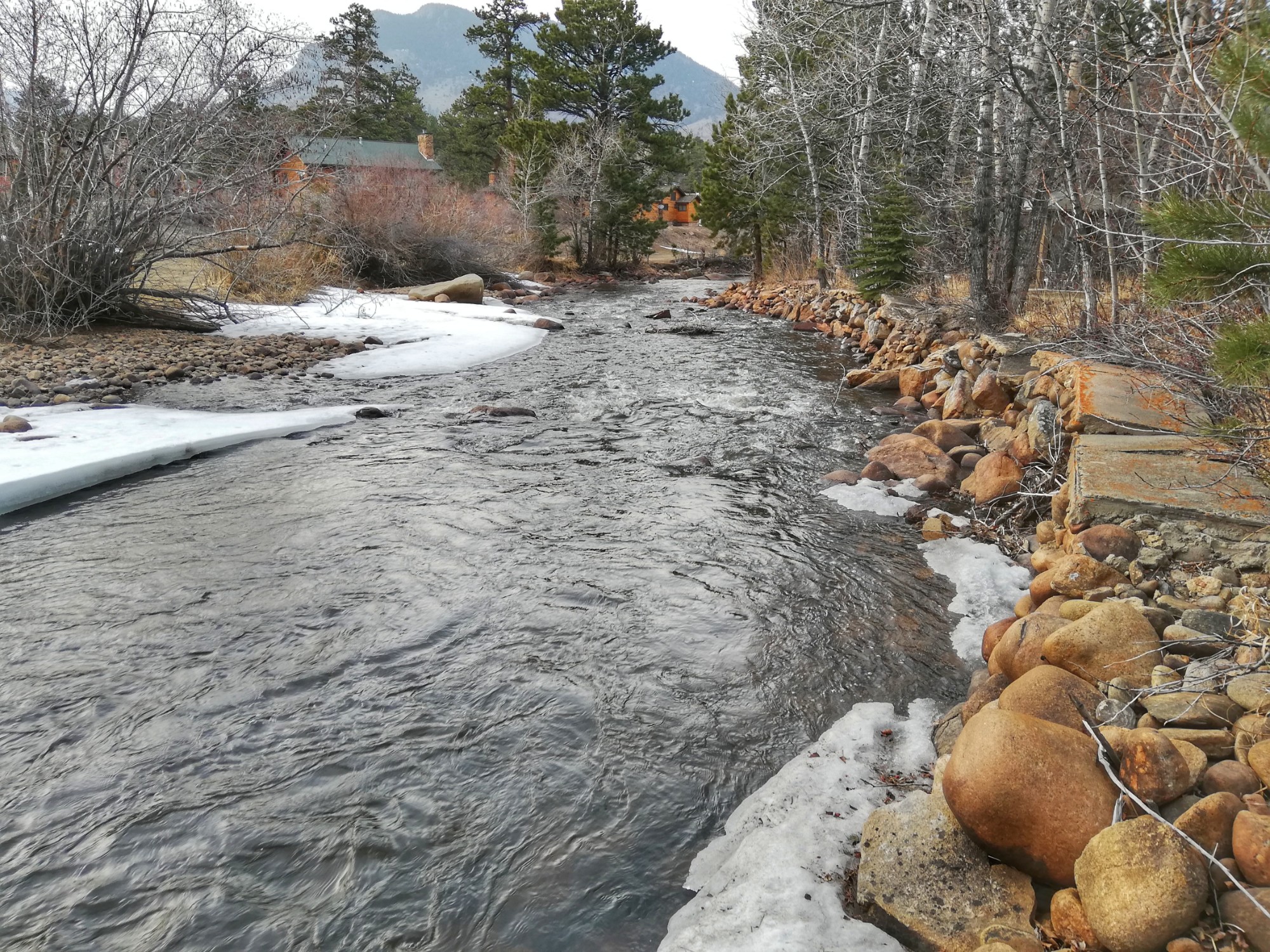 Fishing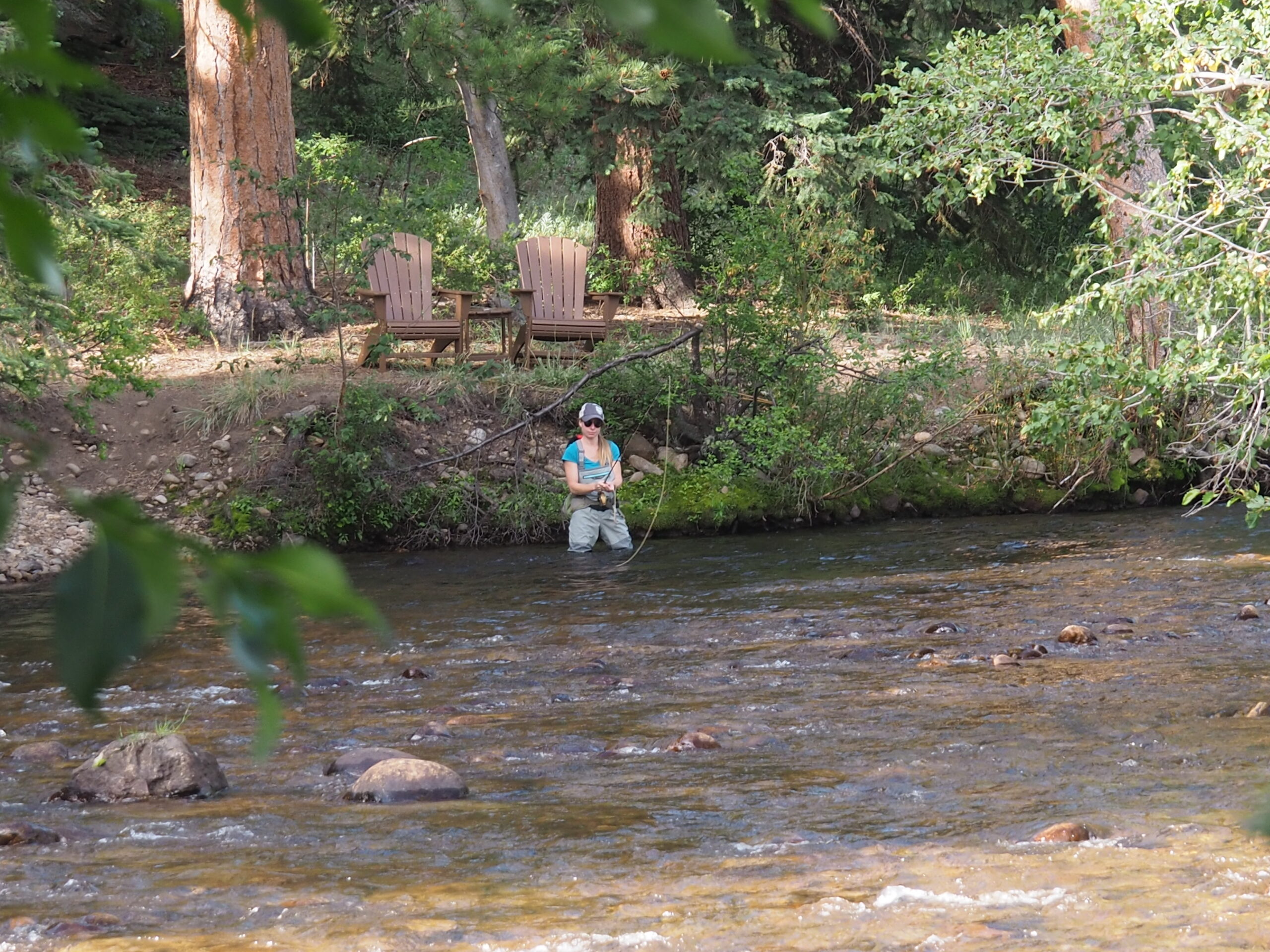 If you're an angler at heart, a morning or evening of fishing on-site can be a great way to spend your time at RiverSong. You'll want to plan ahead and bring your own poles and tackle box, or rent them from one of the outdoor equipment stores in Estes. If you are fishing on the property, no license is required, and be aware that all fishing at RiverSong is catch and release.
Guest Books & Antiques
RiverSong was first built in the 1920s and we've been able to preserve many of the historical and antique items throughout the changes of the past 100 years. People love browsing the guest books kept in each room, admiring the antiques in the common areas of the Main House and feeling the connection to the many travelers who share Romantic RiverSong as part of their story.
Reading 
Each of our guest rooms has a small library stocked with the favorite books of Innkeepers and guests. Many of the books have been found through used book stores and it's likely there's something to pique your interest. Along with the guest books, select a book or two and spend some time reading passages to one another. You may be surprised at what you discover!
Secluded Patios for Stargazing, Picnics, and Slow Mornings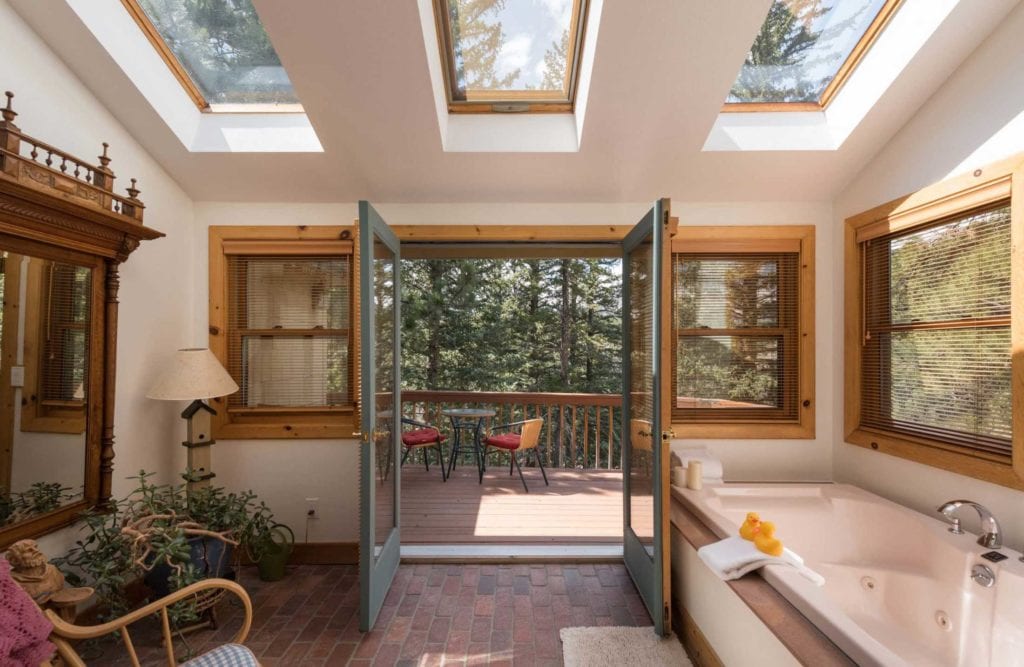 Most all of the rooms at Romantic RiverSong have a private and secluded patio. Perfect for slow mornings, picnics, couples massages (when available) and star gazing. The private patios and beautiful views are a favorite among guests.
Outdoor Chess and Cornhole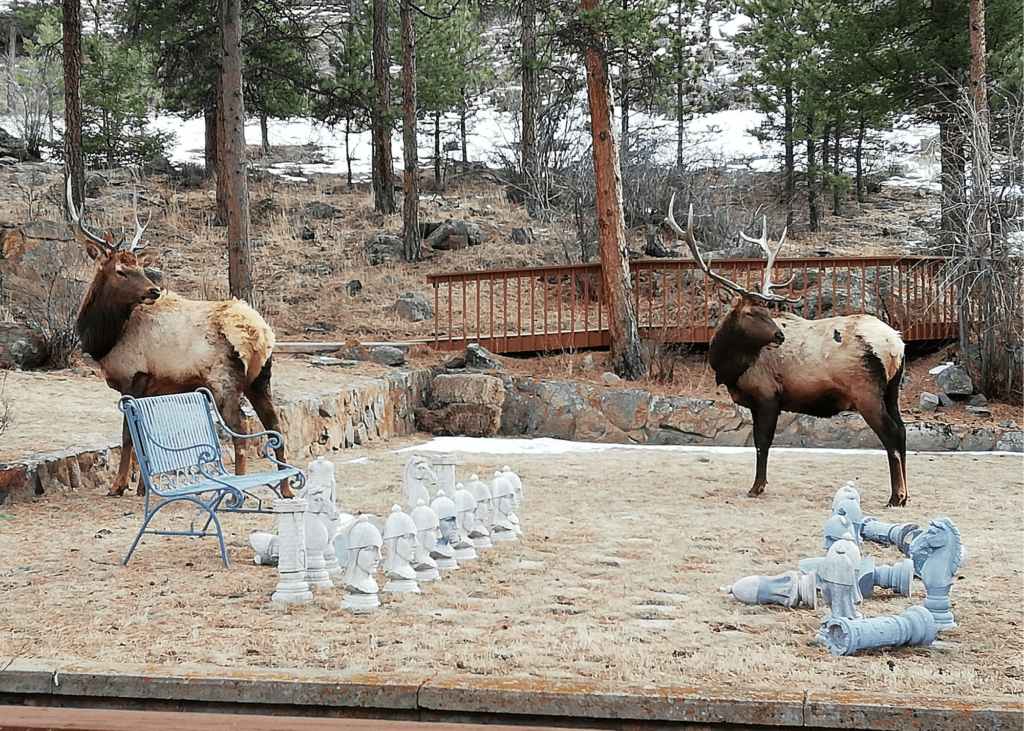 For those with a little competition in them, we have a giant outdoor chess set and cornhole to play. The giant outdoor chess game always brings quite a bit of laughter, not to mention a bit of exercise, while moving all the pieces. Cornhole has been a new addition to the property in the past year and it has been a fun to see both rookie and veteran players take to the game!
The Labyrinth
We've added a labyrinth! Its 50 feet in diameter and ready for you to walk your worries away and connect with inner clarity. The entire area is also a sun dial, that was originally put in sometime in the late 30's- early 40's, with the flagpole at the center marker, and discs around the perimeter to tell the time. Thanks to Dicks Rock Shop, one of our favorite local natural stone stores, the labyrinth is decorated with natural stones for healing, wellness, grounding, and beauty.
Create a Love Map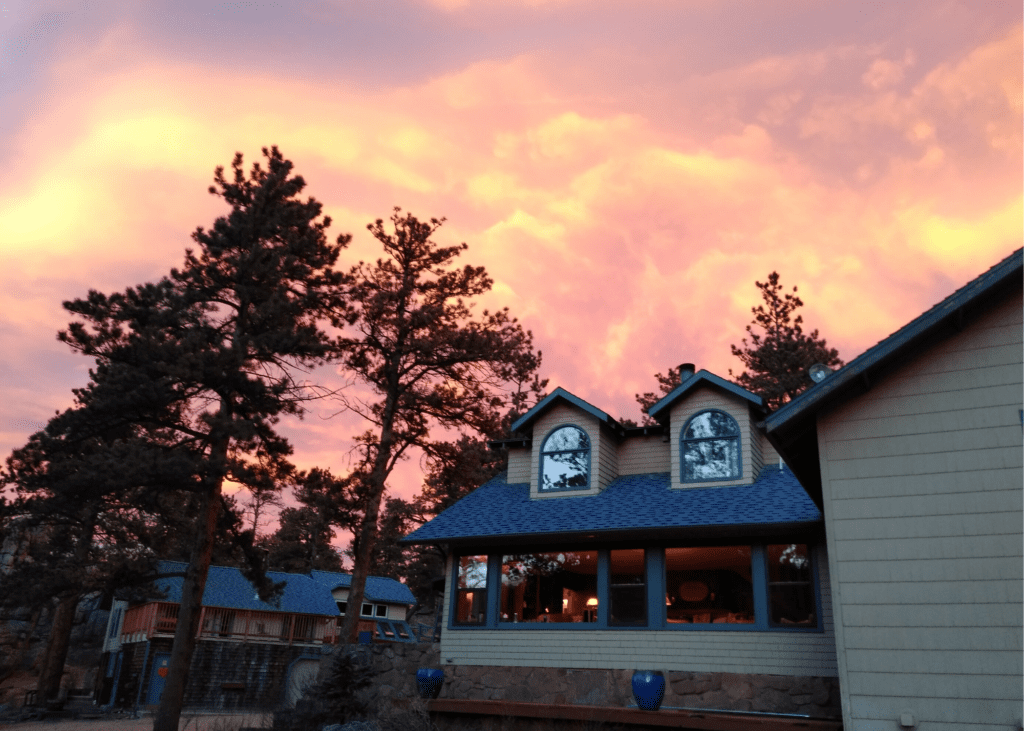 Based on the research of doctors John & Julie Gottman, Love Maps are a way to increase emotional intimacy with one another, which is the springboard for deeply connected relationships. Read this Gottman Blog post for more information about Love Maps and a sample Love Map exercise to get you started. Dr. John & Dr. Julie have also created the Gottman Card Deck app filled with questions and ideas to help you build a stronger and deeper connection. Members of the staff have tested this app and, even after years of marriage, have spent hours learning new things about each other!
Our goal at Romantic RiverSong is to create a calm and relaxing environment so you can focus on rebuilding and reconnecting with each other. We hope these ideas of on-site activities will help you create the best getaway for your relationship, so you can return home filled with renewed love and compassion.
BOOK NOW to make a reservation at Romantic RiverSong Inn.