If you're thinking of coming to Romantic RiverSong for a memorable and romantic getaway, this 3 day itinerary is just for you! For this getaway, we're focusing on slow mornings, a little bit of adventuring, and lots of time to reconnect.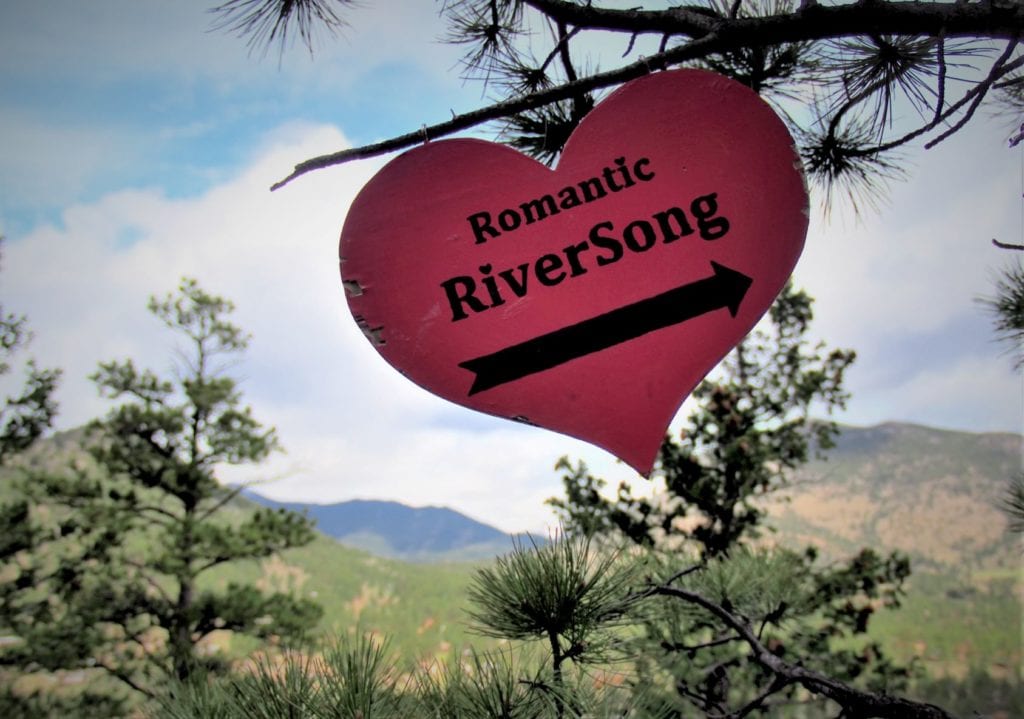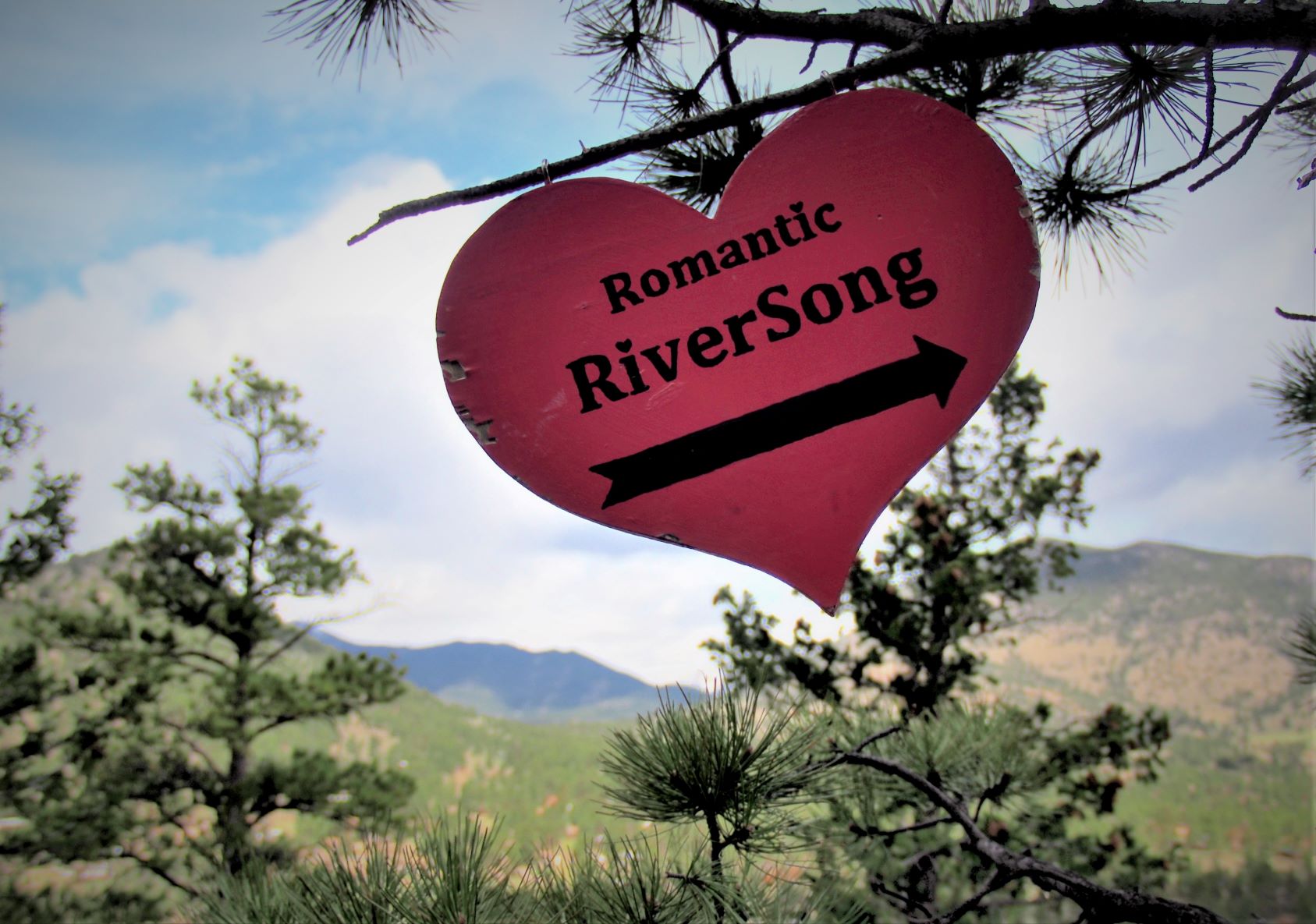 This romantic 3 day itinerary combines some favorite ideas from guests as well as a locals perspective. We will give you some ideas about what Romantic RiverSong can provide, as well as some useful tips for your stay in Estes Park. Since our Bed & Breakfast is for adults only, you can be sure your visit will be quiet, intimate and restful. And, even though we love to visit with our guests, for the most part, we hope you feel like the only couple on the mountain! While we take care of all the details, you can spend your time and energy focused on each other.
Detailed 3 Day Itinerary
Arrive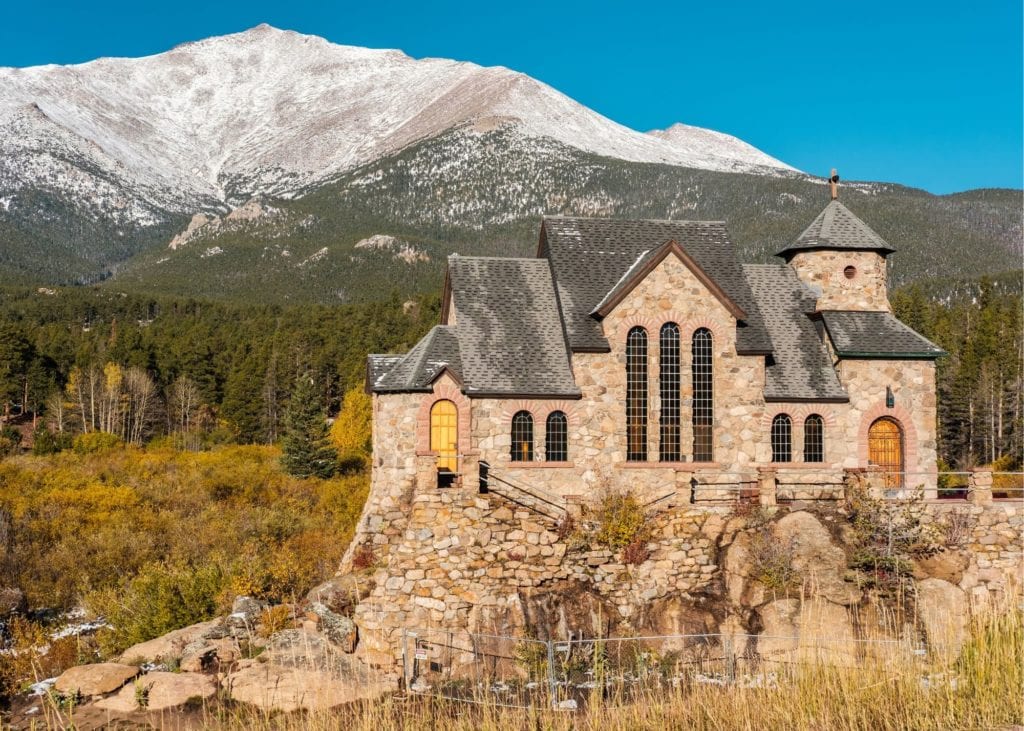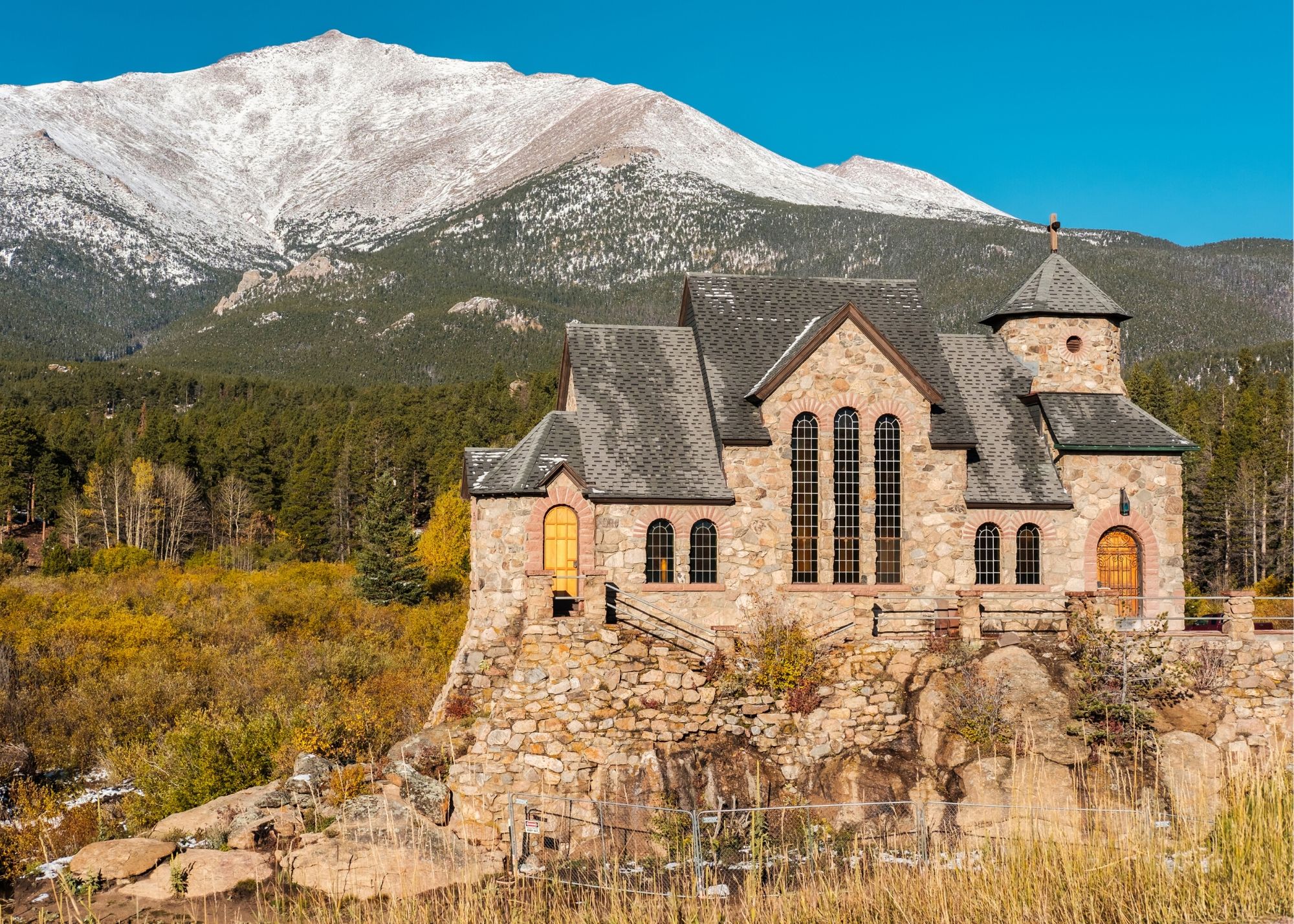 If you plan to arrive in Estes Park before RiverSong's check-in time of 3 pm, take advantage of the time to explore our downtown and surrounding areas. With over 300 shops and restaurants,you're sure to find something unique! The Estes Park Visitor Center hosts our weekly Farmer's Market from 8am-1pm on Thursdays and is a great place to purchase local food and souvenirs. Some of our favorite places to wander are Patterson Glassworks Studio and the historic Macdonald Book Shop.
Located on the west end of the downtown area, the glassworks studio showcases all forms of glass artwork, and visitors can see artisans working on glass blowing throughout the day. If your trip to Estes Park includes a Monday during the summer months, take a stroll through the weekly Artisans Market held at the George Hix Riverside Plaza. The Macdonald Book Shop, near the downtown center, has been located in the same building in downtown Estes Park since 1928! They are a wonderful, independent bookstore that specializes in Rocky Mountain regional books and feature many of our local authors. Before arriving in Estes Park, review the city parking guide for parking options while downtown.
Feast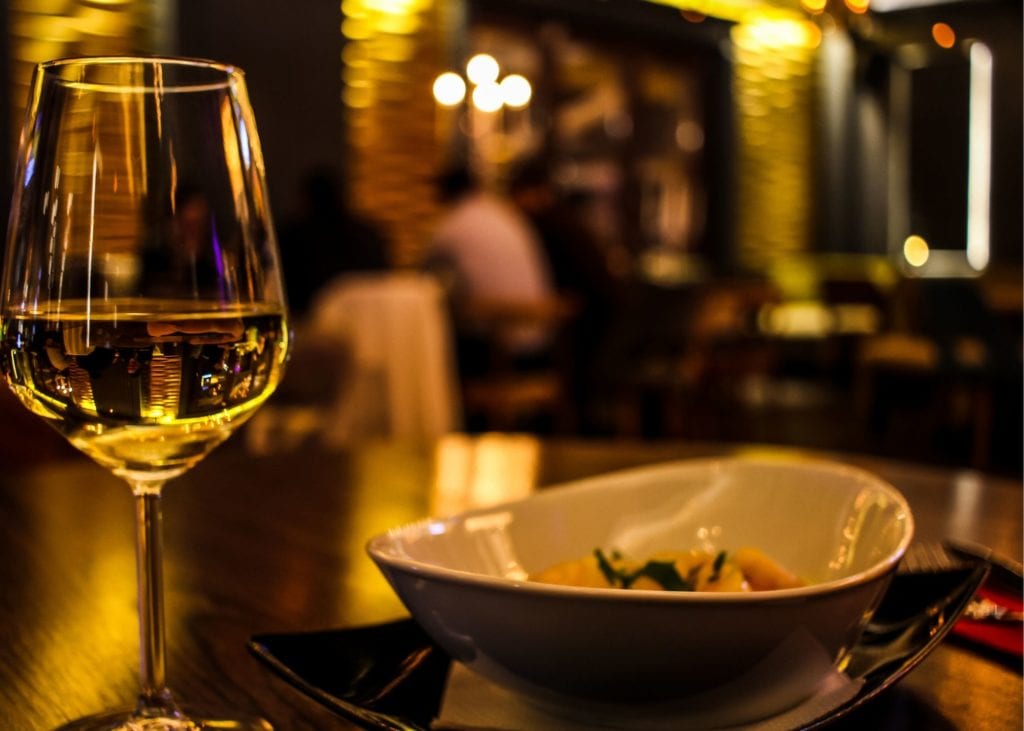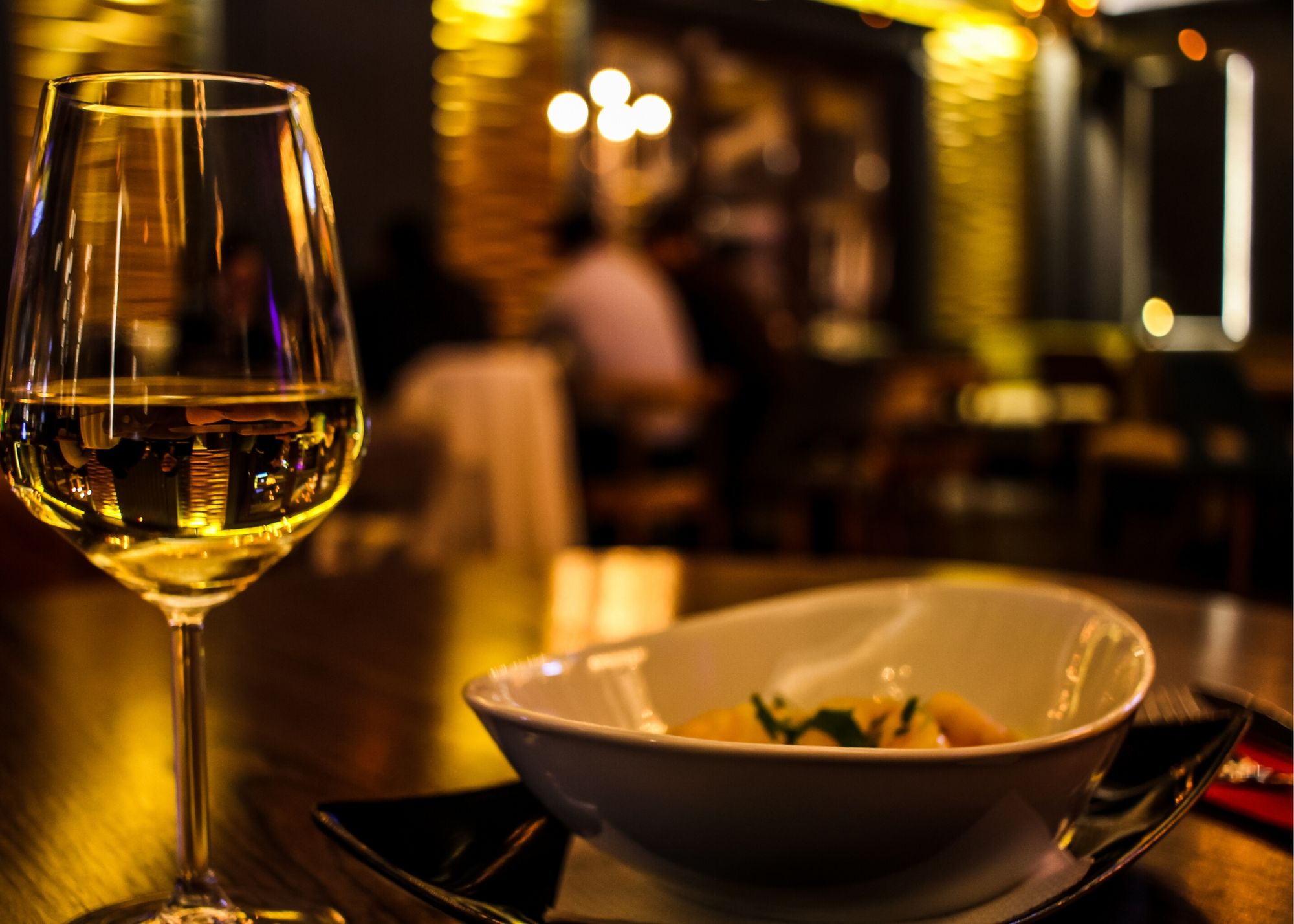 After working up an appetite wandering the shops, we bet you'll want to eat before heading to the Inn. We're never disappointed at Bird & Jim's or Seasoned Bistro. Both restaurants focus on sourcing local ingredients and their menu selections change regularly to reflect that. Due to their customized approach, you'll always find something unique and delicious! Seasoned is located on the East end of the downtown area, near the Book Shop. Bird & Jim's is further West, just a few minutes from the Inn.
For our whiskey drinkers, Elkin's Distilling offers a tasting room located downtown, across the street from Macdonald Book Shop. Mini-drams are free of charge and knowledgeable staff ensure you'll select the perfect whiskey to take home! Our local winery, Snowy Peaks Winery, offers samples of our their award-winning, handcrafted wines along with wines from some of Colorado's best boutique wineries. Snowy Peaks also carries gourmet foods made by Colorado artisans to complement your wine selection. They include includes handmade cheeses and chocolates, unique jams and jellies and small batch sodas and fruit ciders for the non-wine drinkers.
When you're ready to check-in at Romantic RiverSong, stop by our local grocery and deli, Country Market of Estes Park for any snacks or personal items you'd like for your stay. Country Market is conveniently located only a few minutes drive from the Inn.
Romantic RiverSong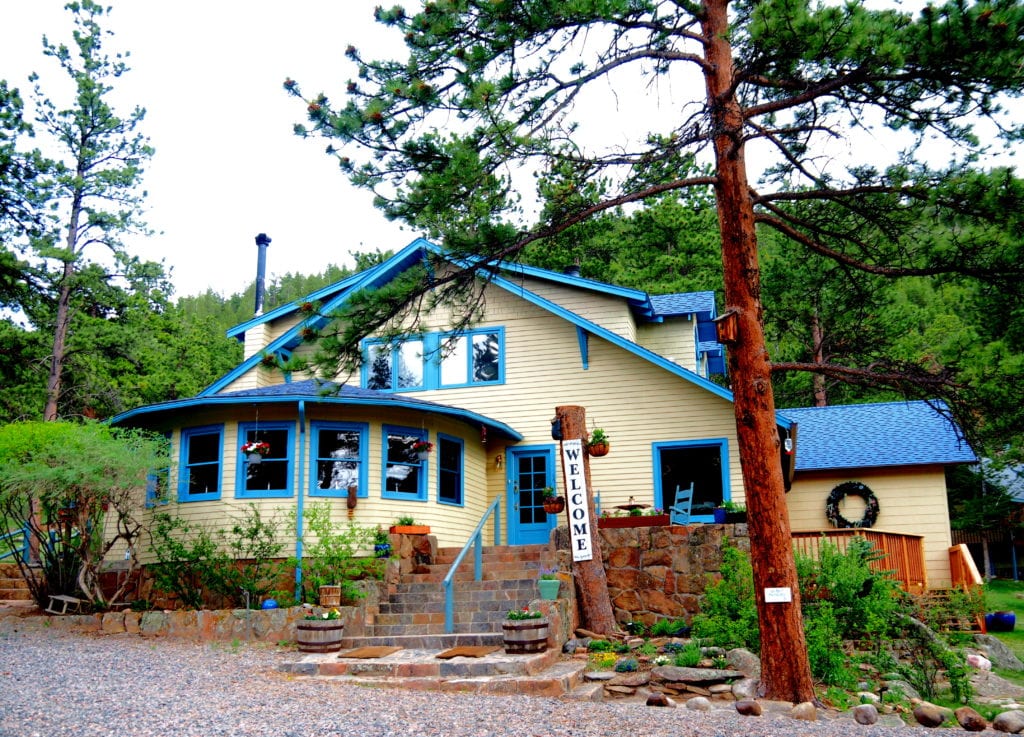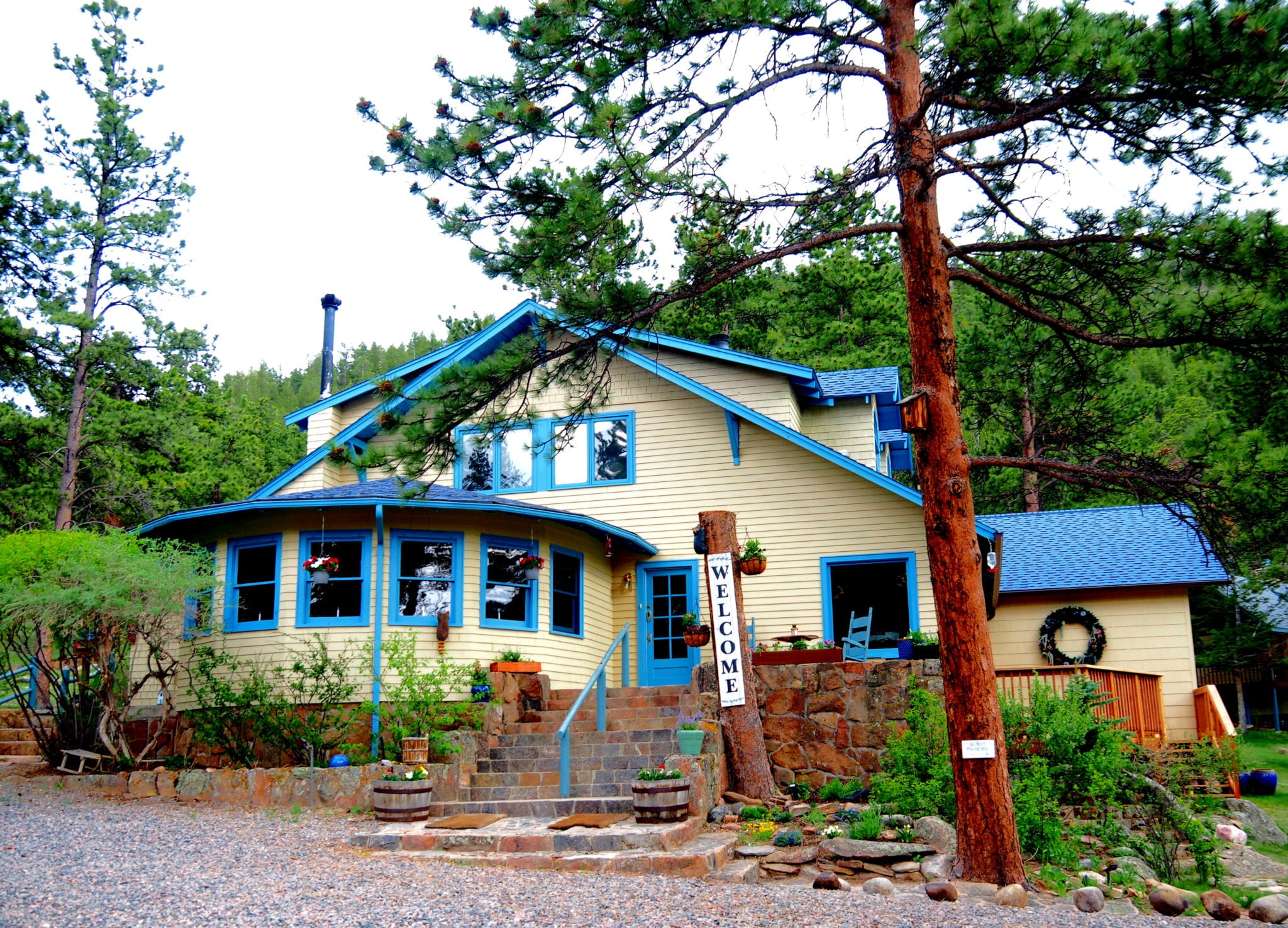 No doubt, that after exploring Estes and filling up on delicious food and drink you are excited about checking in at the Inn. Since our B&B is secluded by acres of forest woodlands, it is always quiet and relaxing. If you prefer to start the following few days by sleeping in, make sure to request a late breakfast service, or ask if in-room delivery is available. We know how easy it is for time to get away from us while vacationing, but please arrive at the Inn no later than 7 pm. Due to travel arrangements, or if you have an unexpected delay and will be arriving later than 7 pm, please let the Innkeepers know as soon as possible.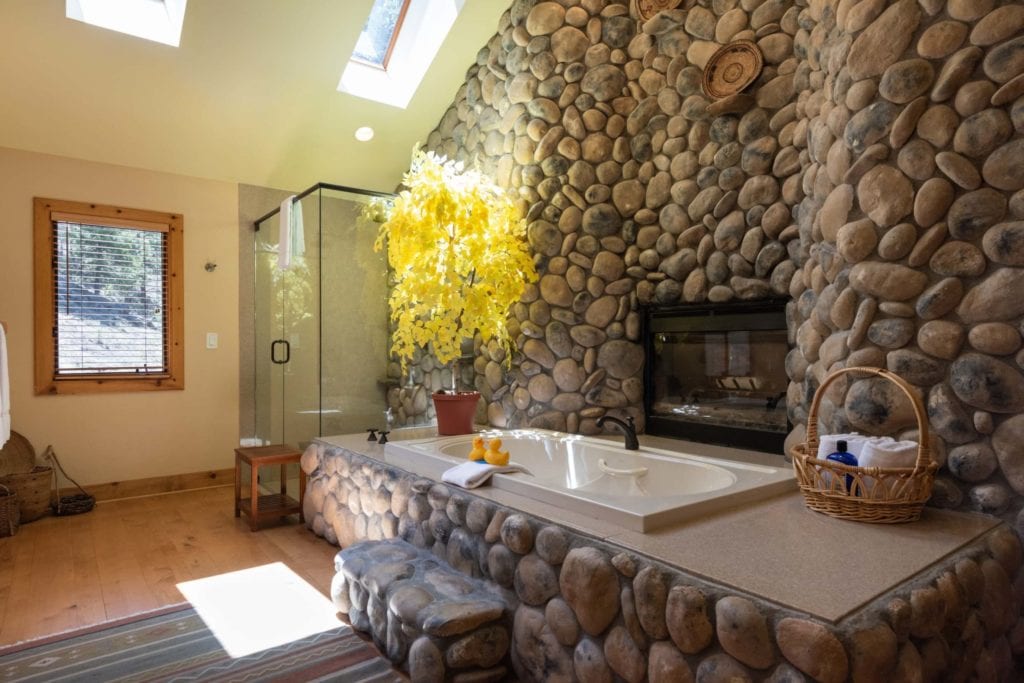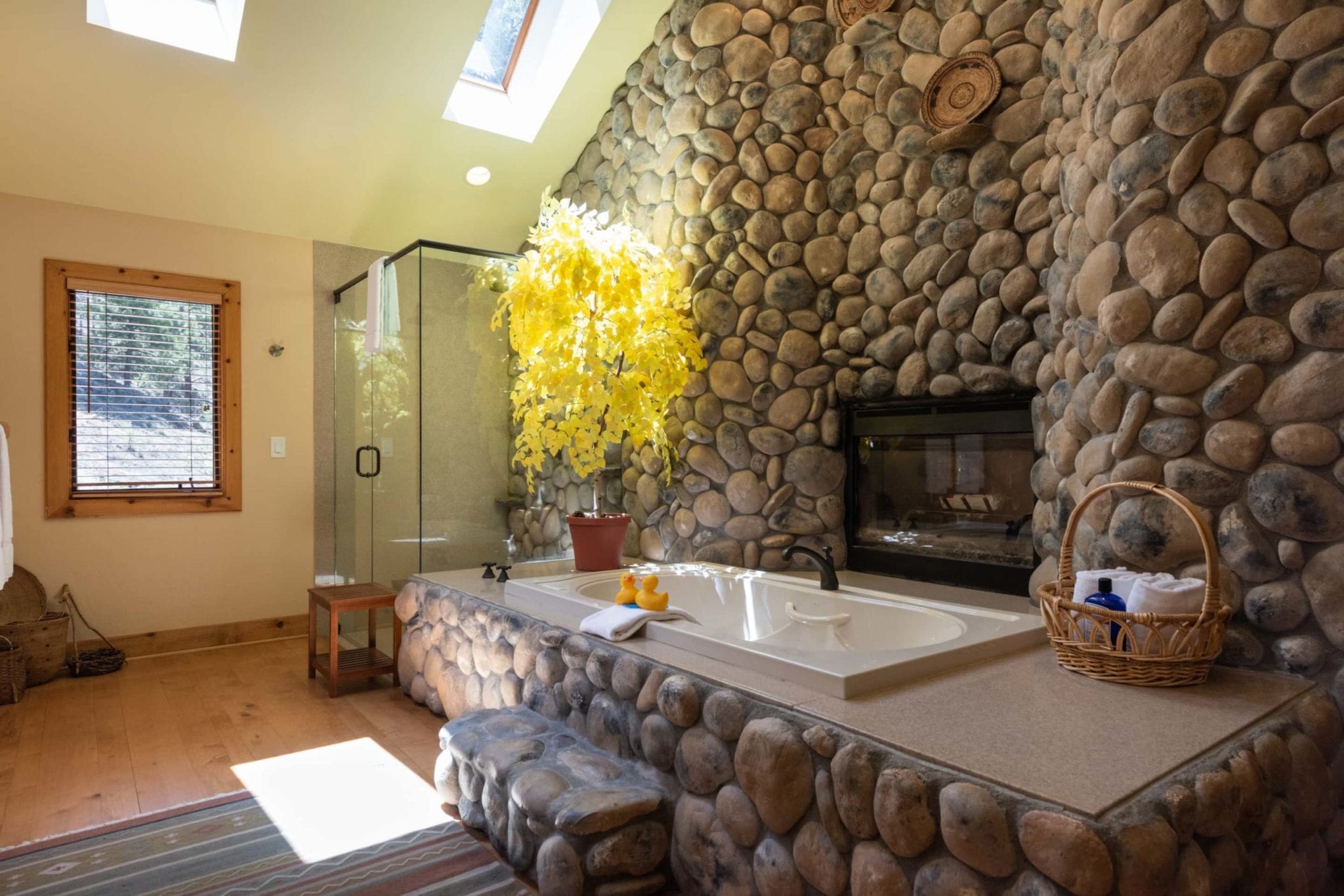 After you've settled into your romantic room or cabin, wind down by the cozy fire, soak in a tub for two, or enjoy reading the historic books from the in-room libraries. If you arrive at the Inn before the sun goes down, bundle up and head over to the deck on the Main House for spectacular views of the sunset any time of year. No matter what you choose, you can be sure it'll be quiet, romantic and intimate.
If you have a fondness for strawberries and champagne, or wine and cheese, let us know at time of booking and we'll have them delivered to your room upon arrival. For those longing for exceptional views of the Rockies from your room, we suggest booking the Cowboy's Delight. With its large, private deck, you'll have unparalleled views day and night! No matter which room you choose, we want you and your love to relish in the quiet romance of the mountains. You can take a look at all available rooms Here.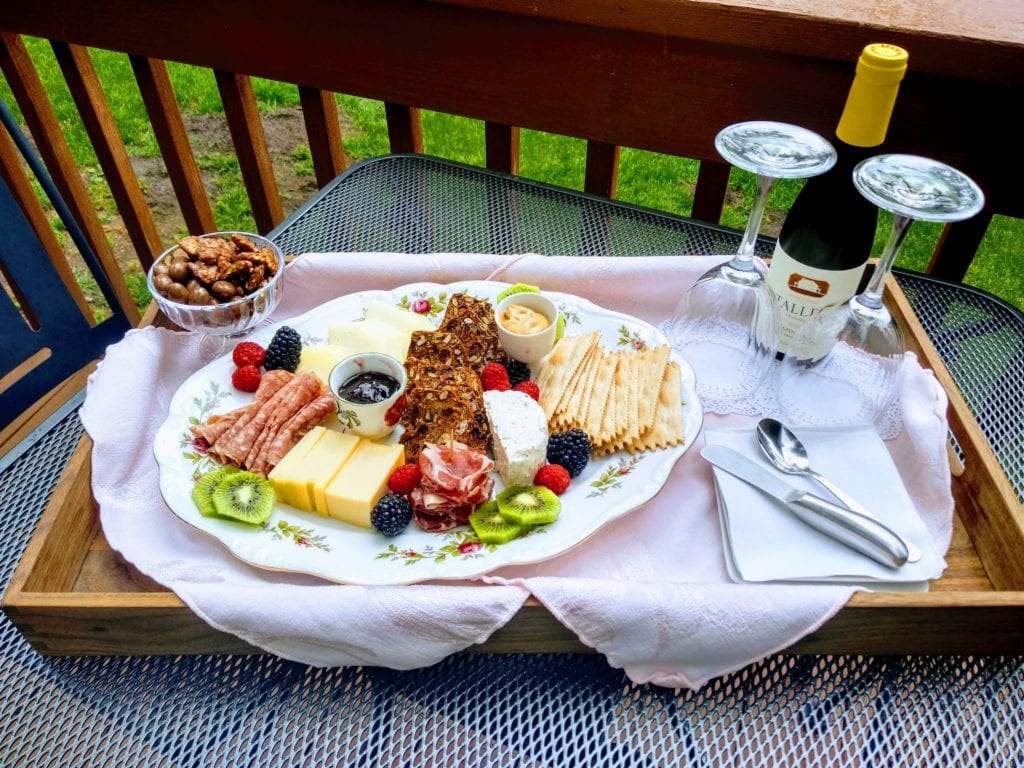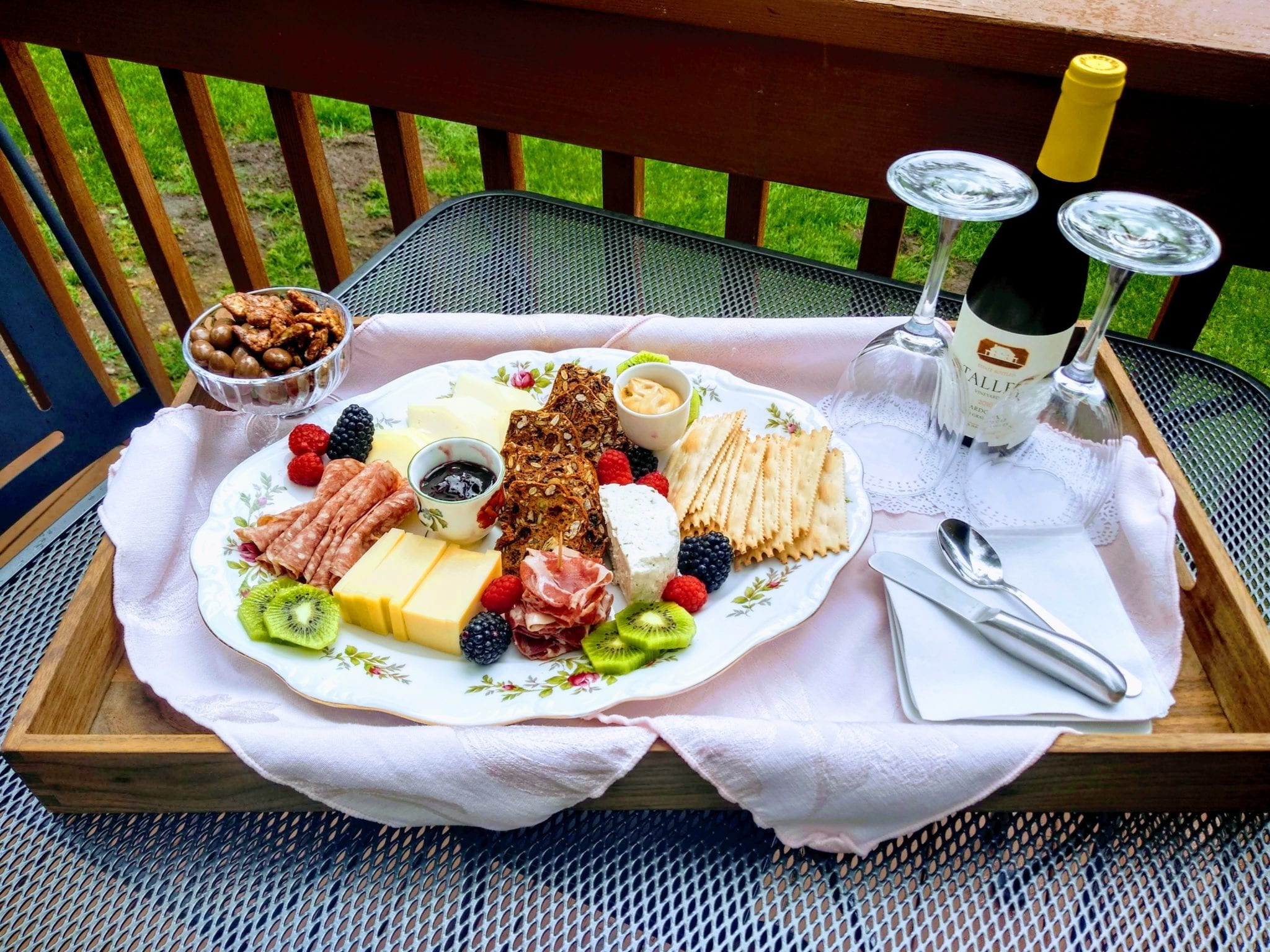 Relax
Start day two with a gentle and relaxing morning in your room. Enjoy coffee and tea in the cabin, or on the outdoor patio, and take in the wildlife and majestic mountain views. We often see elk, deer, chipmunks, rabbits and many types of birds. Watching the mountains wake up is a magical experience we hope you enjoy while staying at Romantic RiverSong.
If you've planned for breakfast in your room, lounge around and savor all the moments you have with each other. If you've opted to eat in the dining room, head to the Main House where you can enjoy that hearty breakfast in our farmhouse style dining room. During your stay health and regulations for Covid Safety and compliance will be in place. Please read here for a detailed description of policies and what to expect.
Explore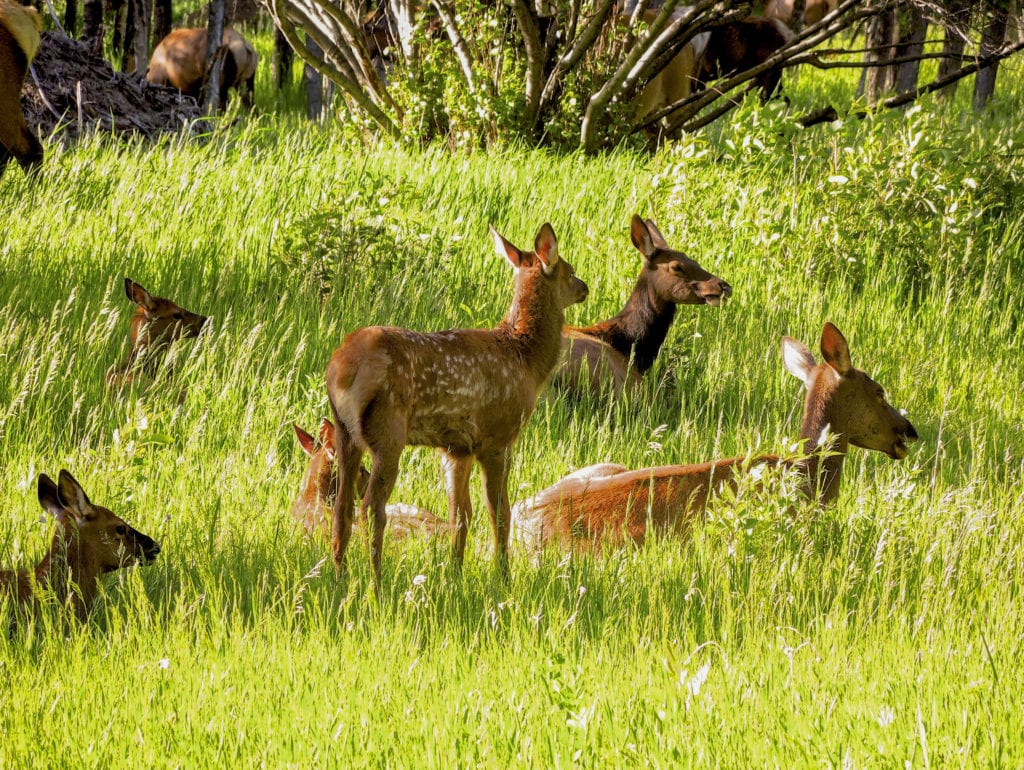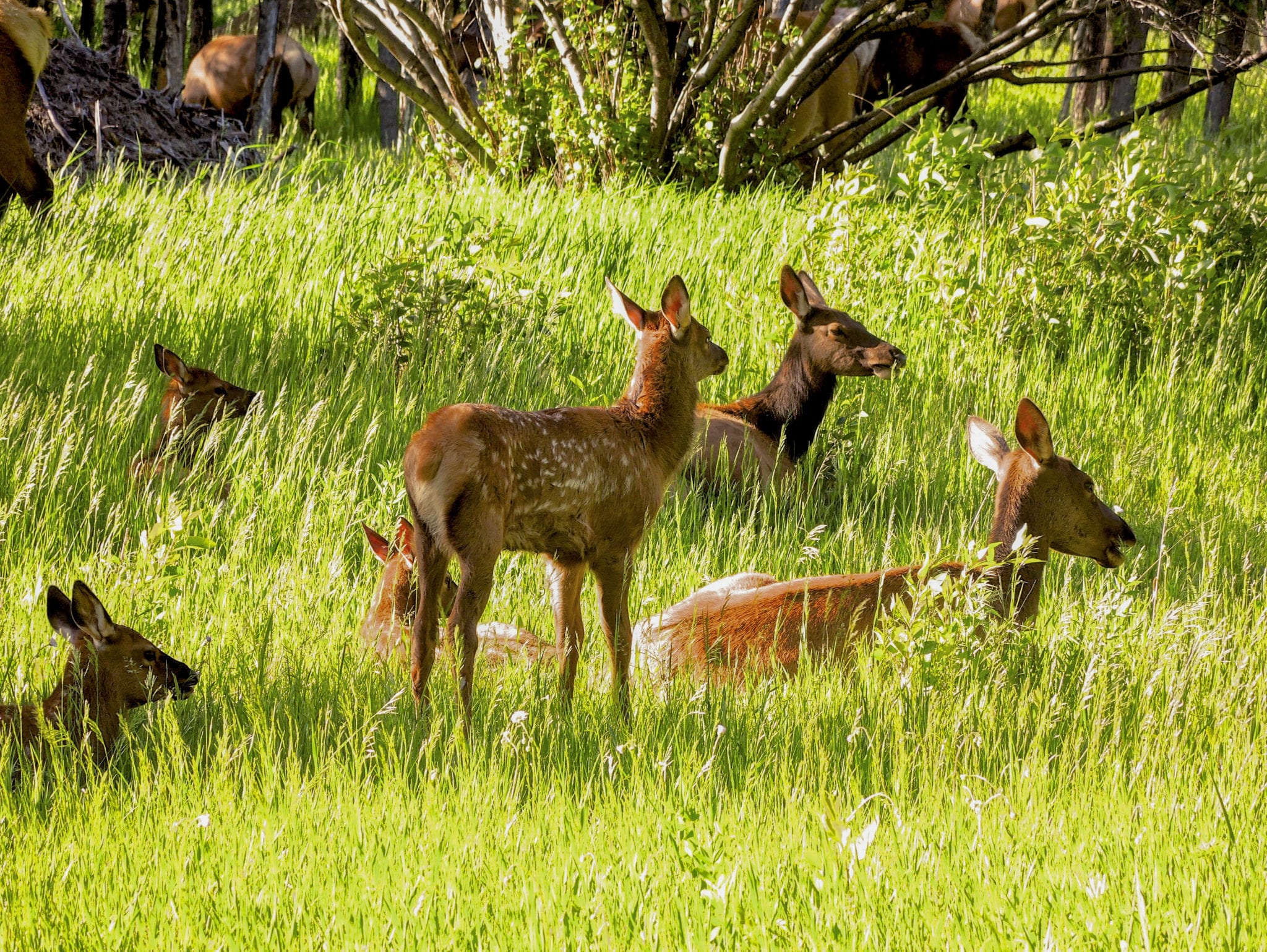 After breakfast, make yourself at home exploring the grounds all around Romantic Riversong. In addition to viewing more wildlife, there are many areas with secluded seating on our 26 acres. Further unwind with the sound of The Big Thompson River, while hiking the 7 Benches Trail for an overlook of Estes Valley, or have some fun playing a game or two on our large outdoor chess set! Surrounded by the majesty of the Rockies, there is always a great view, no matter where you wander on the grounds.
Adventure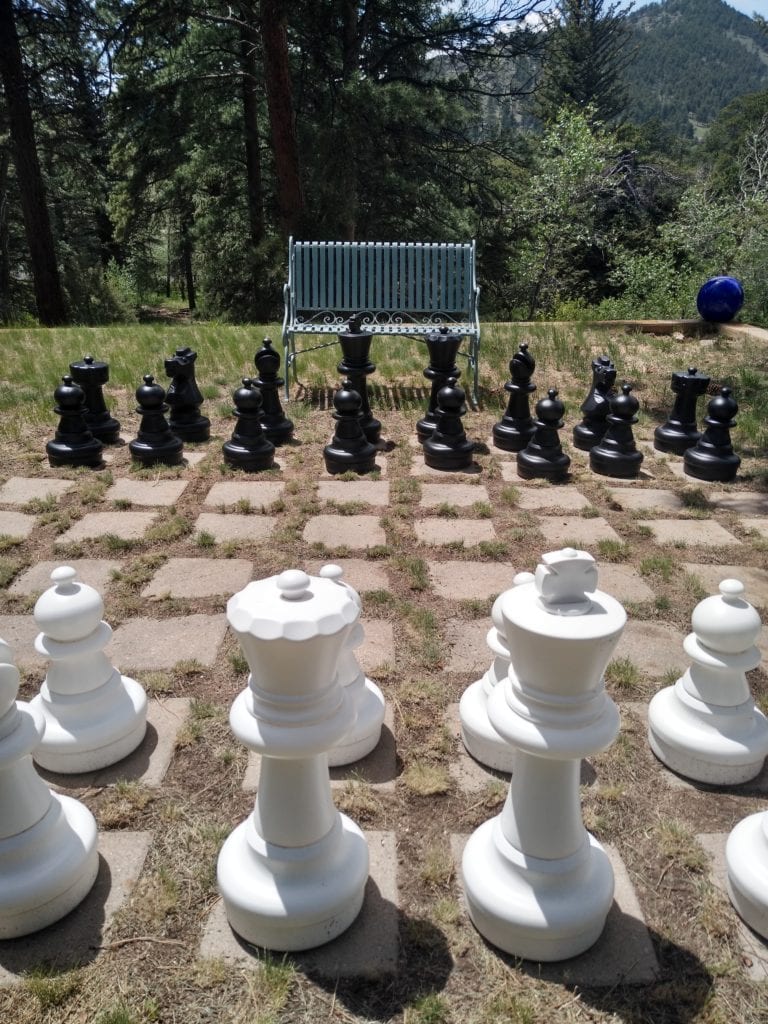 Around early afternoon, pack up for an unbelievable drive through Rocky Mountain National Park, including a romantic sunset picnic and after dark, a jaw dropping view of the Milky Way! Make sure to have snacks, warm layers, a blanket or two, and more water than you think you'll need! If you're able, you may want to bring some binoculars and a few camp chairs for stargazing.
Remember to order a picnic lunch when you book or check-in, and we'll have it ready for you to take on your afternoon adventure! You could also pick up snacks, supplies and food to-go at one of the nearby restaurants. You'll want to leave Romantic RiverSong a minimum of 3 hours before sunset in order to arrive at the final overlook shortly before the golden hour. For a map of our route, see here.
Things to know about RMNP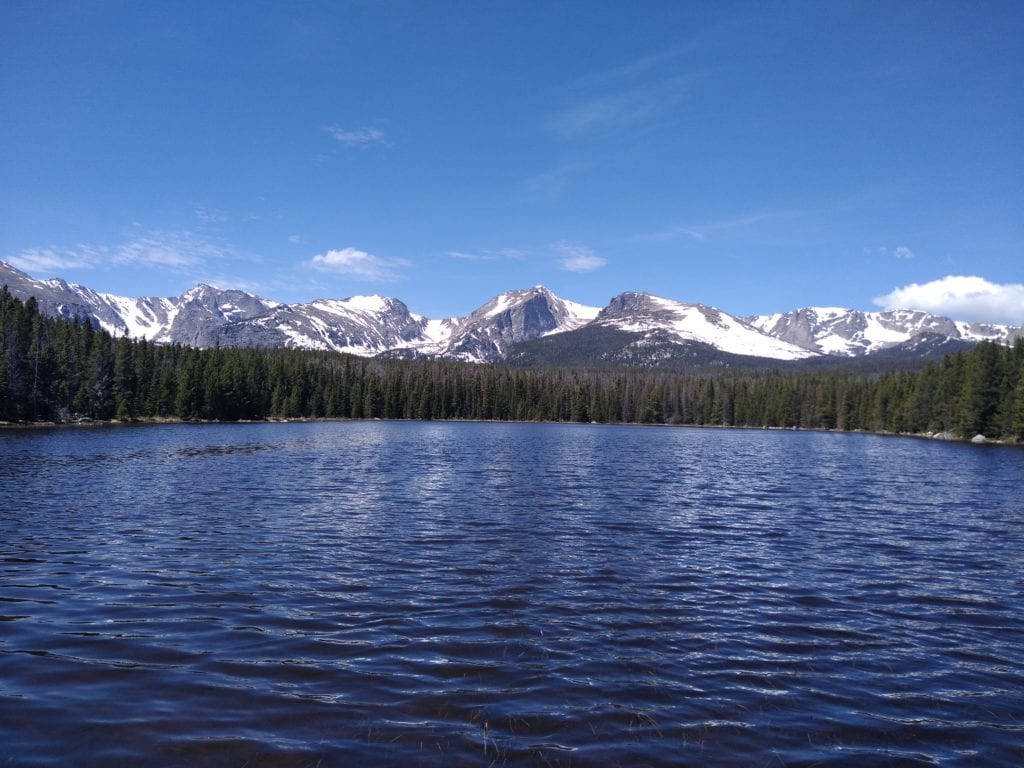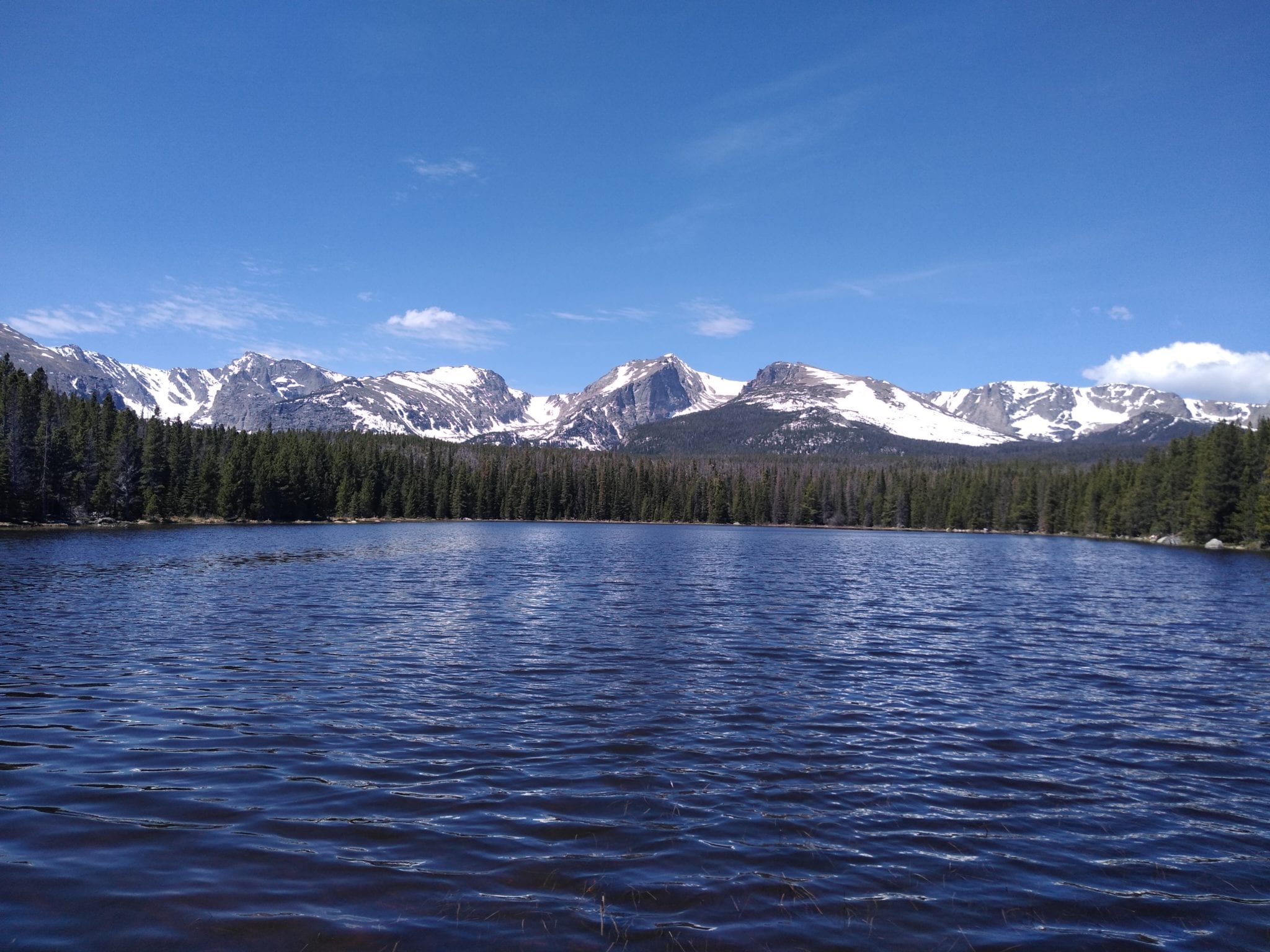 Rocky Mountain National Park, and the Trail Ridge Road are some of the most popular destinations in the United States. Exploring later in the day (after 3 pm) and into the evening will give you a better chance of experiencing the mountains without excessive crowds. That being said, expect to see other people. In order to protect the delicate environment, please stay on the designated trails and walkways, and as always, practice Leave No Trace principles anytime you're in the outdoors. As the elevation is quite high in the Rockies, even in summer, plan for wind, and a temperature drop up to 30 degrees at the highest peaks.
Due to high volume, weather or health measures, Rocky Mountain National Park may restrict the number of visitors, or close areas of the park. Checking their website before your stay at RiverSong will help you know what to expect, and if advance reservations are required. It's also a good idea to browse the website the day of your visit to look over any closures or detours that may affect your plans. You can always speed up your entrance into RMNP by purchasing your day pass online.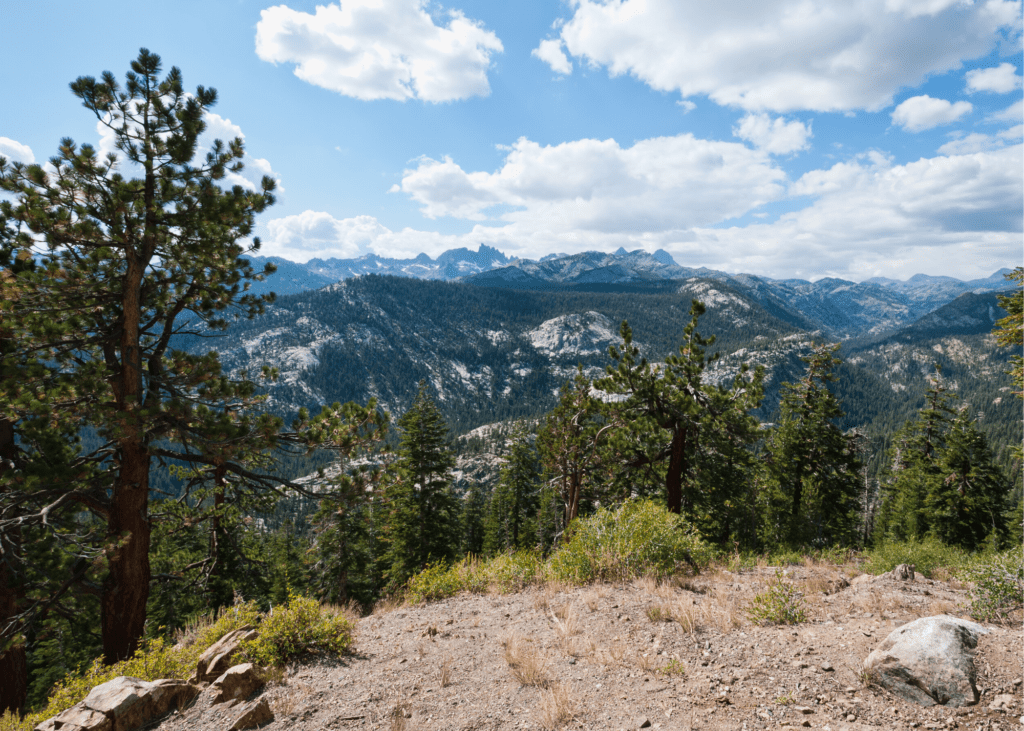 After you've passed the toll station, breathe deep and take advantage of the gorgeous views as you ascend into the Rocky Mountains! There are many overlooks and trailheads that are accessible from Trail Ridge Road. Many Parks Curve and Rainbow Curve are the ones we'll highlight in our post today. One of the first overlooks you'll come to, Many Parks Curve, about 8 miles from the entrance station, has panoramic views of many surrounding mountain ranges.
Gorgeous peaks and deep, glacial formed valleys make this a must-see and provide a brilliant backdrop for photographs. Take in all those views at your leisure, and when you're ready, jump back in the car and continue your ascent 4 more miles to the Rainbow Curve overlook.
Rainbow Curve has stunning views of the Hidden Valley, Horseshoe Park and the winding Fall River below. Facing East, this is also an excellent view for any early birds wanting to catch a sunrise in Rocky Mountain National Park! This overlook occurs near the timberline, where the forest transitions into alpine tundras of grass and wildflowers. Spend your time enjoying the views and capturing photos. Be sure to use the restroom at this overlook before leaving!
Linger
The last stop on our itinerary, Forest Canyon Overlook, only 3 miles further on Trail Ridge Road, is just a few minutes drive past Rainbow Curve. On clear days, this area has staggering views of the mountains, including the highest elevation in the park, Longs Peak at 14,255 feet and the Continental Divide. Be sure to arrive at least one hour before sunset, to give yourself time to choose the best location to eat your picnic dinner and soak up those golden evening hours. After so many memorable views during the day, take these moments to appreciate the stillness. Hold each other. Absorb the wonder and magic of sunset in one of the most glorious places on earth.
After dark you'll be rewarded with extraordinary and awe-inspiring views of the night sky. Whether you're a casual stargazer or an experienced astronomer, sometimes viewing the night sky is a gift that's hard to come by in our bustling cities and suburban areas. If an app or two would help enhance your stargazing, check out Stellarium or SkyView and you can even get live updates about the location of the International Space Station with ISS Detector. A red light app can also be really helpful during stargazing because the red wavelength won't disrupt your vision. Both DarkLight for Android and NightVision for iPhone are good options.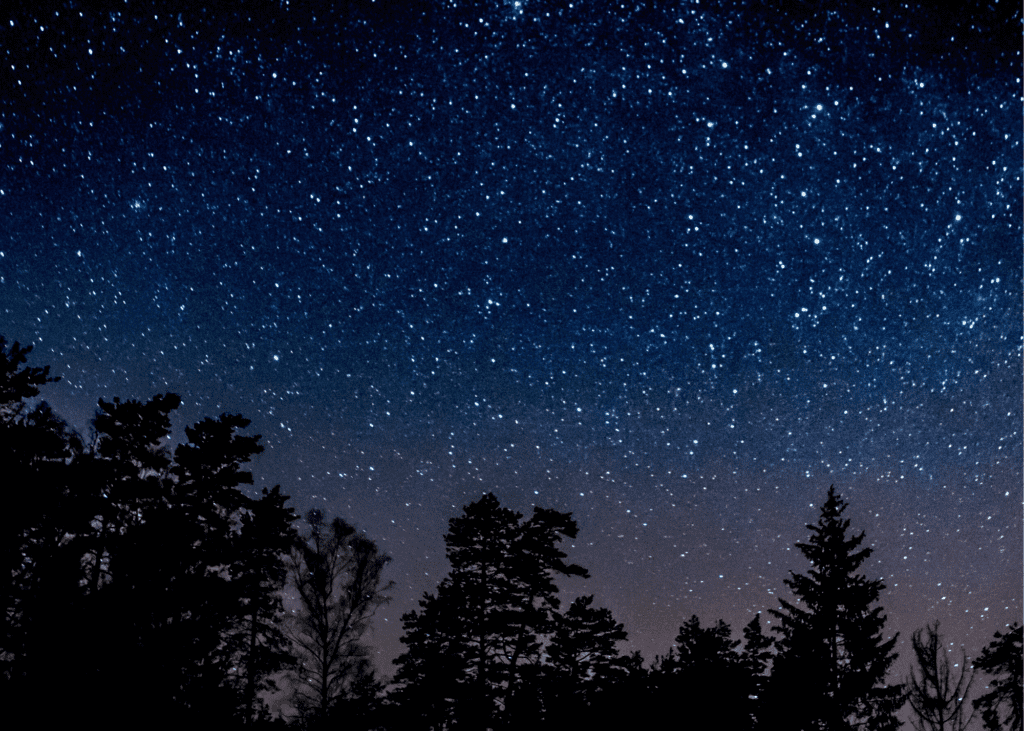 The Milky Way, numerous constellations and even meteor showers make regular appearances. If your visit coincides around the new moon, and weather conditions are clear, you'll have an exceptional view of the cosmos. Sky high in the mountains and under the cover of darkness, stars, constellations and galaxies come alive. As you breathe in the expansiveness of the universe, time slows down. Cuddle up with your sweetheart, find yourself in the cosmos, and then, find each other.
After returning to Romantic RiverSong, warm up your fingers and toes by the fire, a warm soak in the tub, or snuggle up in bed! Between the day's activities and the romantic tranquility of RiverSong, we hope you have a deep and restful sleep on your last night here. With a check out at noon, there's no rush the following day.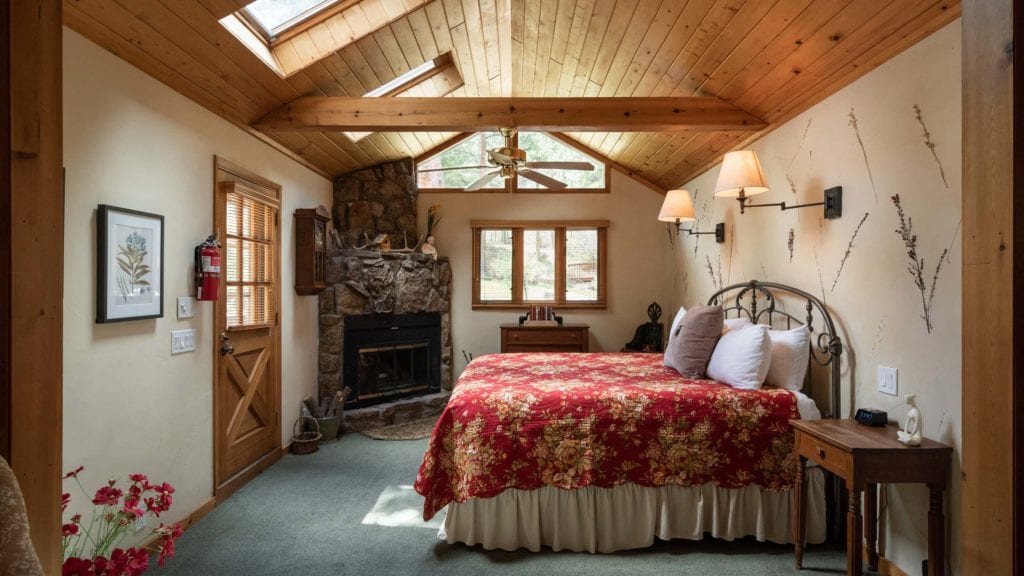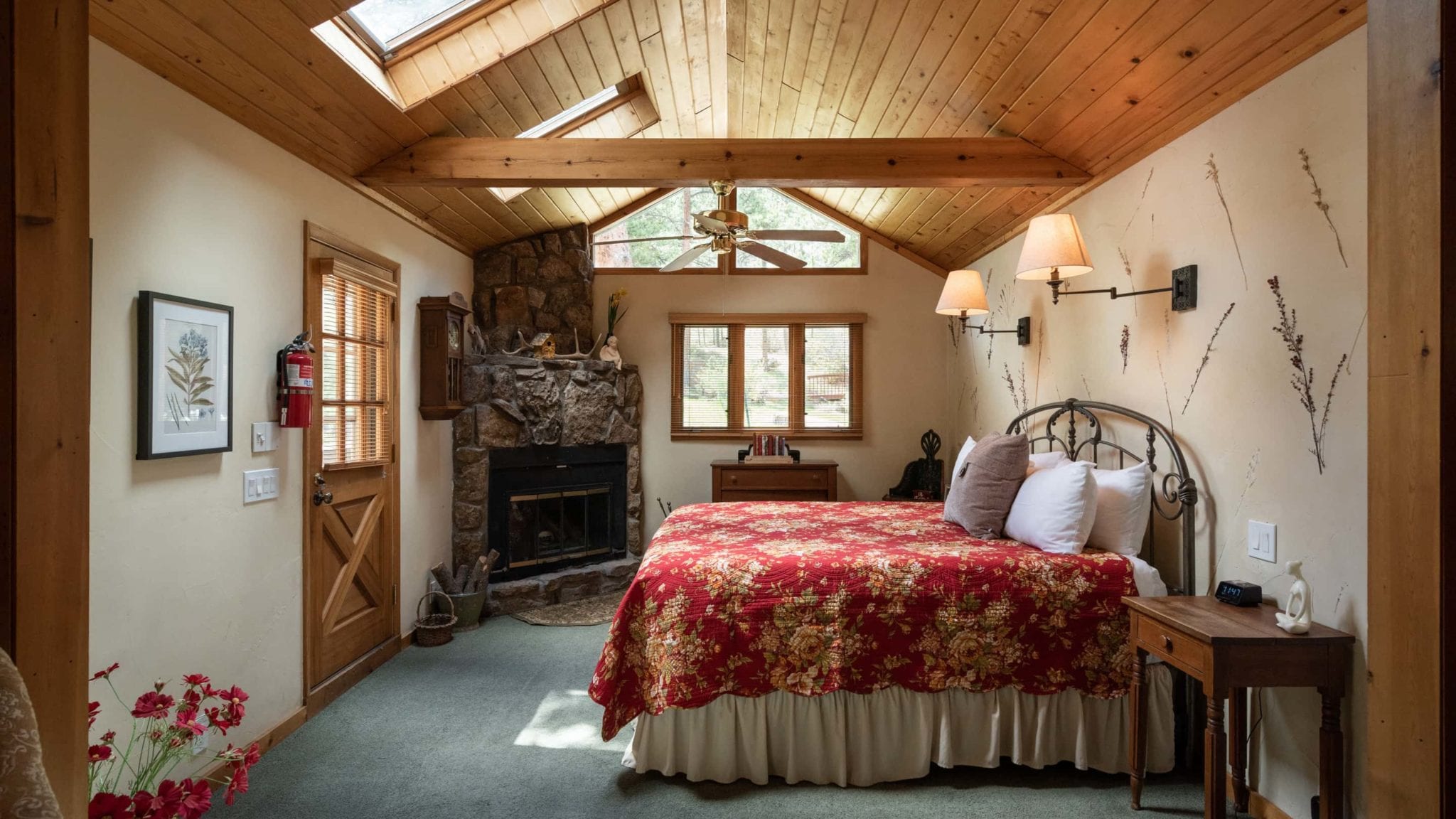 Farwell
Bask in the quiet solitude of the mountains on your final morning at Romantic RiverSong. We hope you and your sweetheart have made unforgettable memories and discovered something new about one another. Make each other coffee or tea and savor all the little moments to dote on your love. Breakfast can be enjoyed in-room, or in the Main House dining area. Due to that noon check out, there's plenty of time for more exploration of the grounds after breakfast, or to appreciate the privacy of your room. Just return your room key and other items to the check out desk when it's time to leave the Inn.
We hope this 3 day itinerary for a romantic weekend here in Estes Park provides many opportunities for you and your loved one to reconnect. Encouraging you to remember why you wanted to share this crazy adventure of life with each other. That the secluded nature of Romantic RiverSong ignited new love, connection, and inspired new dreams.
Don't forget! Grab your FREE 3 Day Romantic Itinerary Plan below!