A vow renewal ceremony is an opportunity to create defining moments in relationships for renewal, recommitment, and celebration! At Romantic RiverSong, we're here to support all your reasons why. Whatever your reason for a vow renewal, our goal is to help make it perfect.  We have everything you need right on-site to accommodate your needs.  Below are a few commonly asked questions about what vow renewals are and how we do them here at Romantic RiverSong.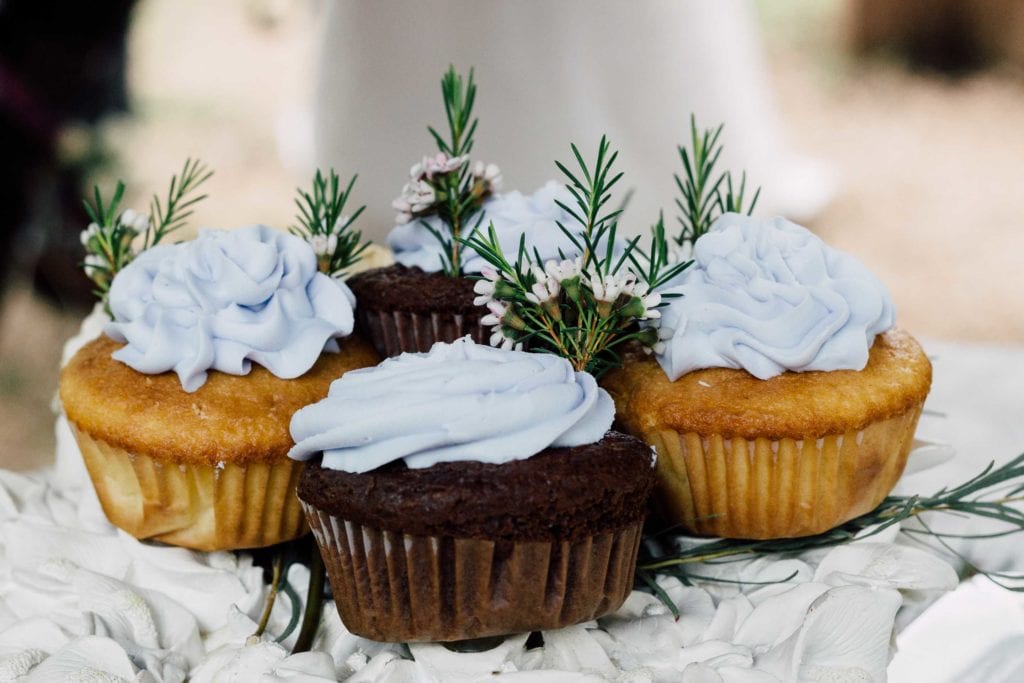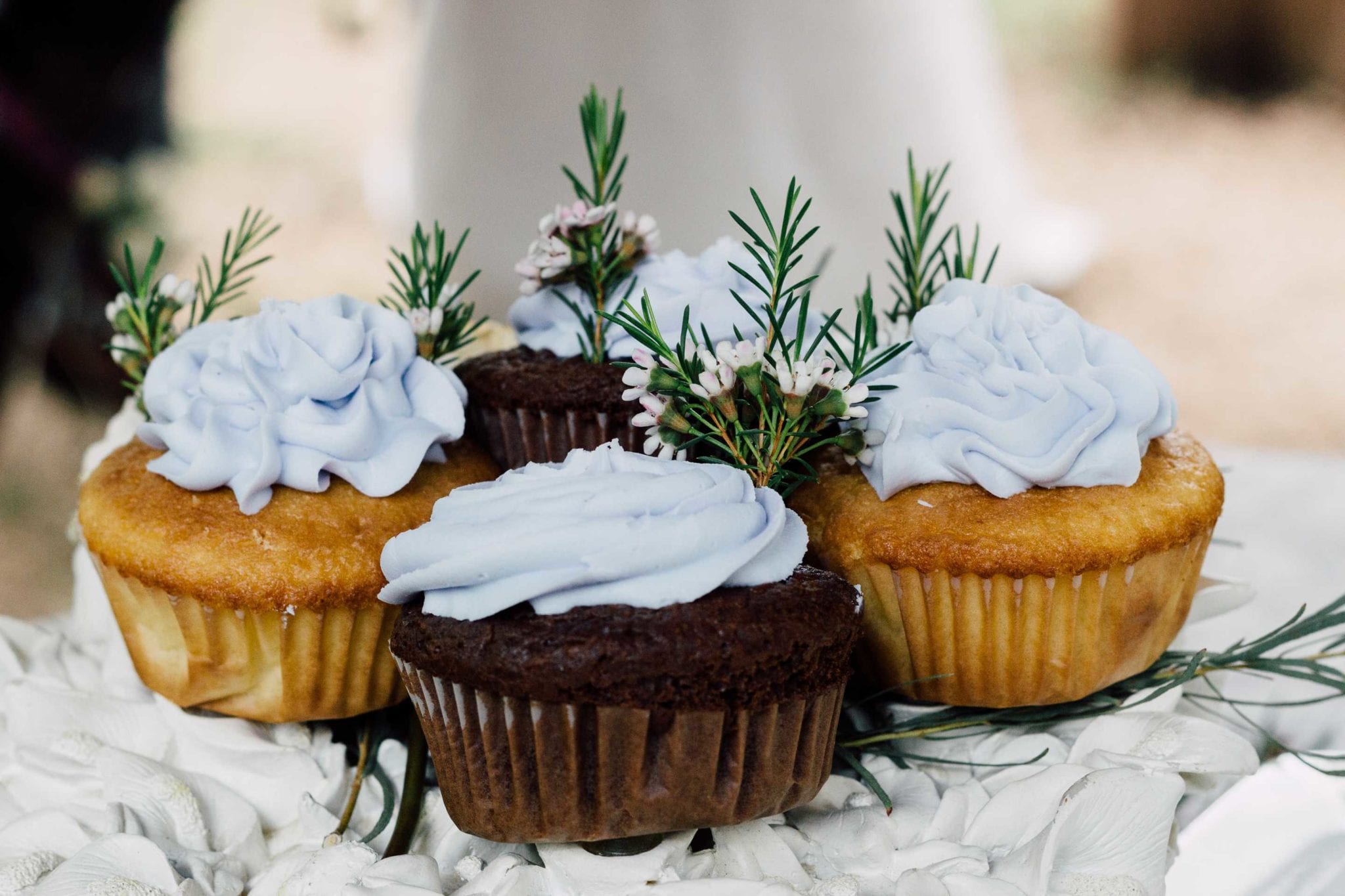 What is a vow renewal ceremony? 
A vow renewal is a ceremony for a married couple to renew or reaffirm their wedding or relationship vows.  It is a chance to celebrate and renew commitments.  At RiverSong, it is done exactly like a wedding, with just a little different format and verbiage. 
Why do couples do a vow renewal?
Couples do a vow renewal ceremony for many reasons.  Some do it because of growth and feeling like they are a different person than when they were first married and desire to recommit their newest self to the relationship. Some do it for healing a hardship or overcoming a hurt past. Some do it for purely celebration and recommitment.  Whatever the reason, there is never a wrong reason or time to renew or recommit to what is important to you. 
At Romantic RiverSong, we've had couples come to renew their vows after being married here and wanting to recreate the magic of their wedding day.  Most of the time, couples come to do a vow renewal at RiveSong for the romantic & intimate setting, flexibility in our processes, and the ability to have everything accommodated right on-site with our packages. From the gorgeous ceremony locations to private bedrooms and private gardens with trails to explore, RiverSong is the perfect location for a vow renewal ceremony. 
Where do you do a vow renewal ceremony?
Because a vow renewal is not a legal ceremony, it really can be done in any location of your choice. It can be as formal or casual as you choose. Many like to do them in the same location they were when they were married, even staying in the same rooms. Others like to have them done in a favorite or memorable location. They can even be done right at home!
We often hear couples say how glad they were that they picked a special location to have it done to help make it a little more special.  Wherever it's done, it is suggested that it is meaningful.  
View our photo gallery here for location inspiration right on our expansive woodland property.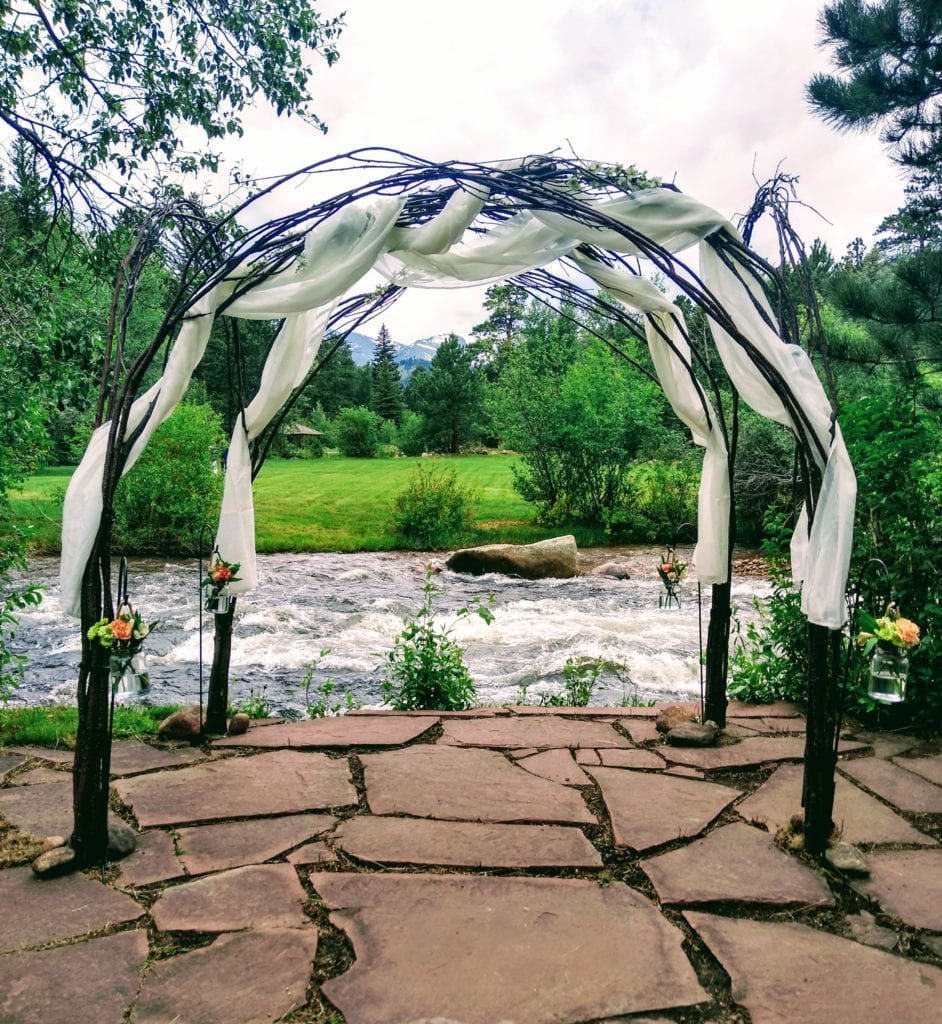 What do you wear at a vow renewal?
At Romantic RiverSong, most couples have worn formal to semi-formal wear. A nice suit and tie, pants suit, or dinner gown are commonly worn. What is worn at your vow renewal is entirely up to you and your dress code desires. It is, however, a chance to dress up and embellish a powerful moment in your love story, so it is highly suggested that it be dressed up in some way to help make it special.
Who officiates a vow renewal ceremony? 
Anyone of your choosing can officiate at a vow renewal! They are not a legally binding ceremony and offer great flexibility with no need for a formal celebrant. At Romantic Riversong, our on-site officiant will help perform your renewal, or you may bring someone of your choosing!
What is the point of renewing vows?
Life and love are beautiful, messy, and every possibility in between; through them, we all grow and change.  Relationships uniquely shape and carry us into constant streams of new beginnings while simultaneously offer cultivated ground to stand on, strengthened by past experiences harvested.   Taking time, like doing a vow renewal ceremony,  to celebrate the victories, the changes, the choices, growth, and especially the people who journey with us creates defining moments of love and strength for our lives.  
When should you do a vow renewal?
There is never a wrong time to do a vow renewal ceremony.  They are commonly done on anniversaries, but when to them really depends on your reasons.  Some do smaller and intimate renewals every year on their anniversary.  Some do a more formal renewal every 5 or so years and make it really special, returning to their favorite locations or marriage site.
   
What do you say when you renew your wedding vows?
At RiverSong, we have a standard vow renewal ceremony that we use or that you are welcome to use as inspiration or a starting point to write your own.  You've already been married, so you can really make it personal and reflect on what is most important to you.  You can recite your original vows or begin entirely anew.  For more inspiration, here is a great list of sample vow renewal scripts. When you book a vow renewal with us, we will share our script and help you explore ideas on what you want yours to be like. 
How much does it cost to do a vow renewal?
At RiverSong, the cost for a vow renewal all depends on what package you choose and how much you want to add on. You can choose to do a formal package that includes the cake, flowers, the ceremony, and a room or just have the ceremony. All of our packages are listed HERE.

Like any ceremony, party, or celebration, the cost depends on your location and how formal or informal you want it to be.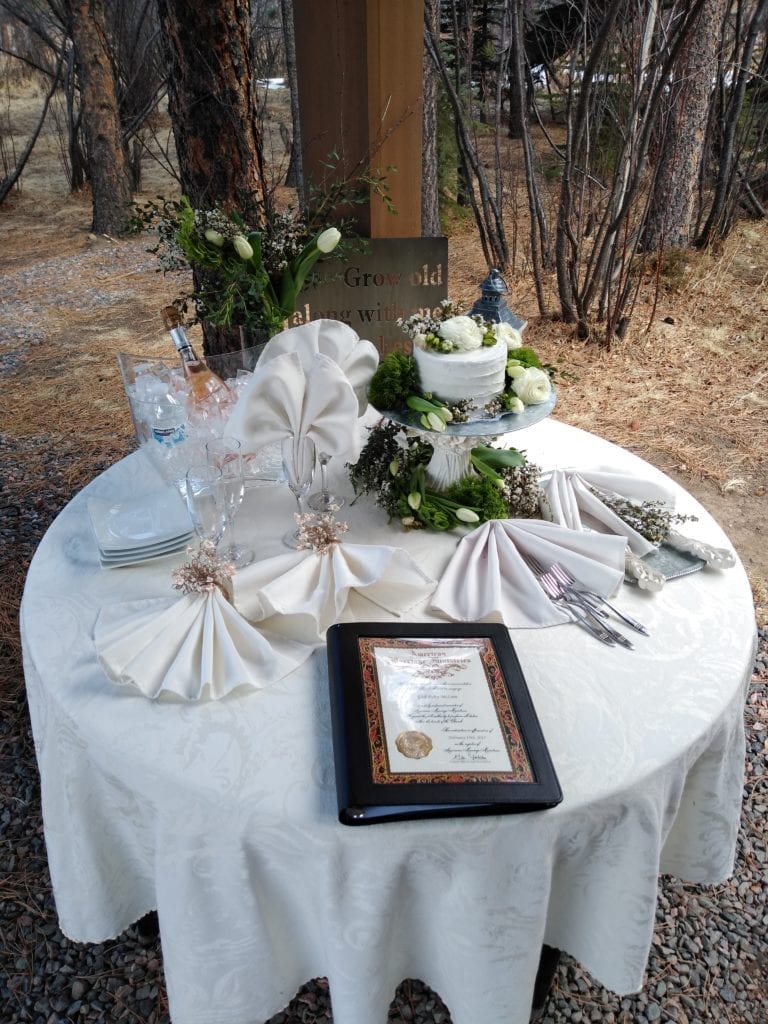 Do guests come to a vow renewal?
Guests are definitely welcome for your vow renewal at Romantic RiverSong.  We can also do a ceremony by zoom to keep it socially distanced and inclusive! Whatever we can do to help make it special is our goal.
The guest list at your vow renewal is up to your choosing. Sometimes, a vow renewal is done in an elopement style and kept completely intimate and personal. Other times, it's a party and celebration with many loved ones around to help you celebrate.
How to plan a vow renewal
To keep your vow renewal planning simple, keep to these steps then expand from here.
Pick the date (or do an elopement style vow renewal)
Choose the location
Plan your vows
Pick your celebrant
Invite guests (or not)
Purchase your attire
Decide the celebration (afterparty, romantic getaway for the renewal, private party, etc.)
"Marriage is a mosaic you build with your spouse. Millions of tiny moments that create your love story."

Jennifer Smith
Whatever your reason for a vow renewal ceremony, at Romantic Riversong, we can't wait to help you orchestrate the perfect day!  With everything on-site and already perfectly packaged for you, we'll take the stress out of planning.  Our gorgeous setting, private rooms, and location are sure to set the scene for an unforgettable renewal ceremony!