It's something you don't have to explain to an animal lover: your dogs aren't just pets, they're part of your family. You take them with you on all sorts of adventures, so why would you leave them home on one of the most important days of your life? This is your wedding, and your dog is invited, too.
In fact, he may be more than invited—he may have a starring role as a member of the wedding party! There are a lot of ways to include your dog in your wedding: here some ideas, tips, and tricks for including your pup and ensuring everyone has a beautiful day.
Give Your Dog a Role in the Ceremony
Your Best Dog could walk you down the aisle and stand beside you as you say "I do." If she's quite trustworthy (or accompanied by a human friend), she could bring your rings to you, or she might prefer to sit in the front row in her own seat.
Of course, you'll want to include him in your photos! (Dogs are great at elopement announcements, too.) If you'd like your dog to dress for the occasion, consider a bow tie, a leash made of flowers, or even a dapper little tux. During the cake ceremony, serve your pup her own special treat.
Honor Your Dog in the Details
Maybe you have several dogs and it feels like too much to have them all present, or maybe you'd simply like to add more dog-related touches to your wedding in addition to your dog's role in your ceremony. Either way, there are a lot of ways to honor your pets:
Include photos of them in the wedding invitations or elopement announcements.
Give your guests a goodie bag full of toys and treats to take home to their own dogs.
Use a dog figurine in your cake topper.
Print cocktail napkins with an image of your dog.
Create a display of photos featuring your pup.
Say some words about them in your vows.
Ask for donations to a local animal shelter instead of traditional gifts, or make donations in your guests' names as a party favor.
Instead of a guestbook, have your guests sign a painting or large photo of your dog.
Customize a piece of jewelry or clothing, like socks or a pocket square, with an image of your pet.
Make Sure the Venue Allows Dogs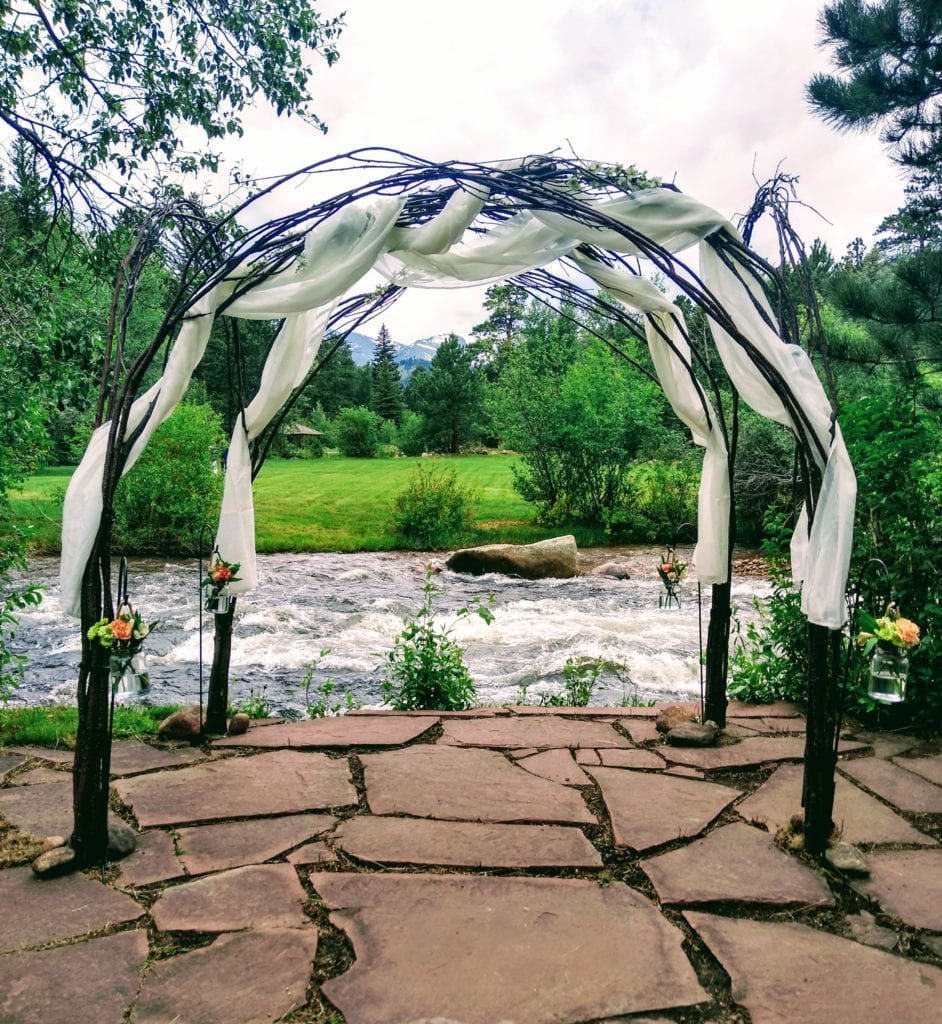 If having your dog in the ceremony is a priority for you, make sure you check with your venue about it before you book, since many venues don't allow animals. You'll also want to alert your photographer and any other vendors you're working with. You may want to take your pooch by the venue for a visit before the big day so it will be familiar to him when you all arrive for the ceremony.
At the Romantic RiverSong, we welcome your dogs for the ceremony, though we can't accommodate them overnight. We'd love to meet them, so feel free to bring them with you when you come for a tour!
Consider the Type of Wedding You're Having
It's your wedding and you can do what you want! Still, the larger the wedding gets, the more details you'll need to manage, and you'll want to consider how the dogs fit into that. A traditional reception may be too loud and exciting for your dog to feel comfortable. You can definitely make it work, and many couples do, but you'll want to have a plan in place to perhaps take the dog home after the ceremony before the party begins.
If you're having a micro wedding, particularly if it's outdoors, it might be easier to invite your pets. Fewer guests, less noise, and a shorter event overall is more dog-friendly, making it less stressful for both you and your pup!
Enlist Someone to Help
Even with a small, intimate wedding, you'll want to ask one of your guests to take care of your dog that day. They might be able to bring her to the venue when the time is right, watch her during and after the ceremony, and take her home if you're planning on spending the night. That way, you can stay focused on each other and any little details you want to arrange without worrying if your pup has food, water, and bathroom breaks.
What Does Your Dog Want?
Every pup is different, and no matter how much you'd love to have him there, he just might not be up for the occasion. While it's easier to include a dog in a small outdoor wedding, you'll still want to consider how much he enjoys being around new people in new locations. Does he get stressed, anxious, or aggressive? Does she jump up or bark? You'll also want to ask if any of your guests are allergic to dogs or especially fearful of them. If your dog or your guests are uncomfortable, you will be, too.
If it's a go, work with your dog's behavioral strengths when assigning tasks. If she's quiet and obedient, she may be able to walk herself down the aisle with your rings on command. If he's young and rambunctious, you might ask a friend to take him for a long walk in the morning, then keep him close by on a leash during the ceremony. If she's older and coolly disinterested in what you might be doing at the altar, a plush front-row seat might be perfect for her.
If there's a special dog in your life, we hope you'll include him in your wedding in Estes Park. The Romantic RiverSong Inn has been enchanting couples for 100 years, and we have a dedicated wedding coordinator to take care of all the details so you can enjoy a stress-free day with each other, your dog, and up to 18 guests.
Call (970) 586-4666 to learn more about our four elopement packages and thoughtful add-ons, schedule a tour of our secluded mountain property, or book your wedding date.