Guest reviews tell all! But don't take our word for it, see for yourself what our guests have to say about what makes Riversong a truly incredible place to stay or get married!
Our guests breathe life into all we do at Romantic RiverSong! This blog highlights many of the kind words they've shared with us. Whether you've had a glorious experience or have some suggestions for how we can improve, we're always happy to hear from you and share your kind and incredible reviews!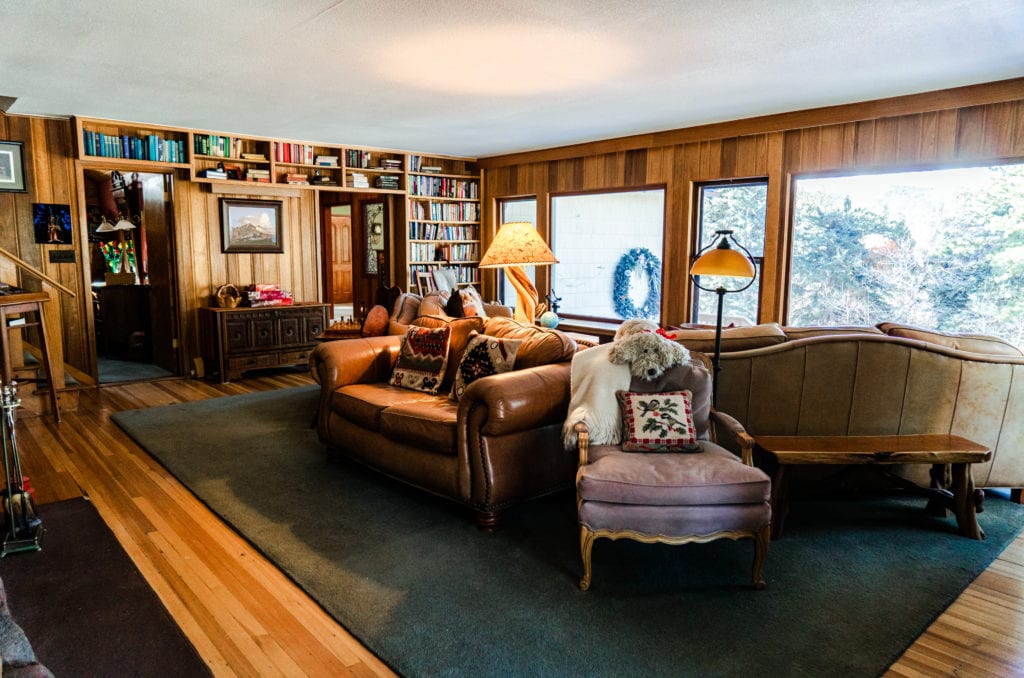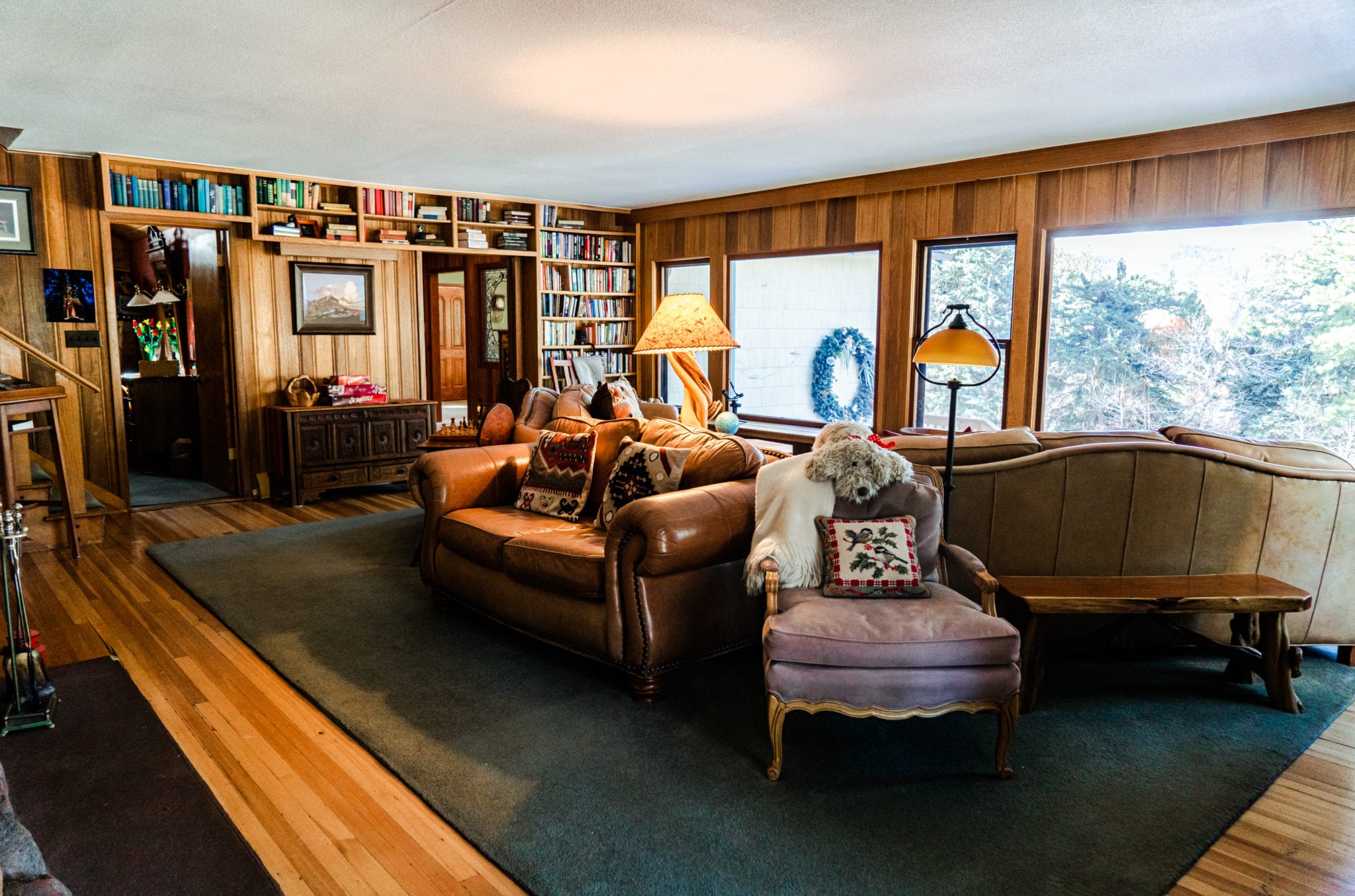 *Reviews shared here are edited for brevity. Full length reviews can be found on Yelp and TripAdvisor.
BREAKFAST REVIEWS
Our breakfast menu changes daily, depending on the dietary needs of our individual guests. We love creating recipes to ensure our guests will feel their best while staying with us! Feel free to include any dietary needs or restrictions when you book your reservation.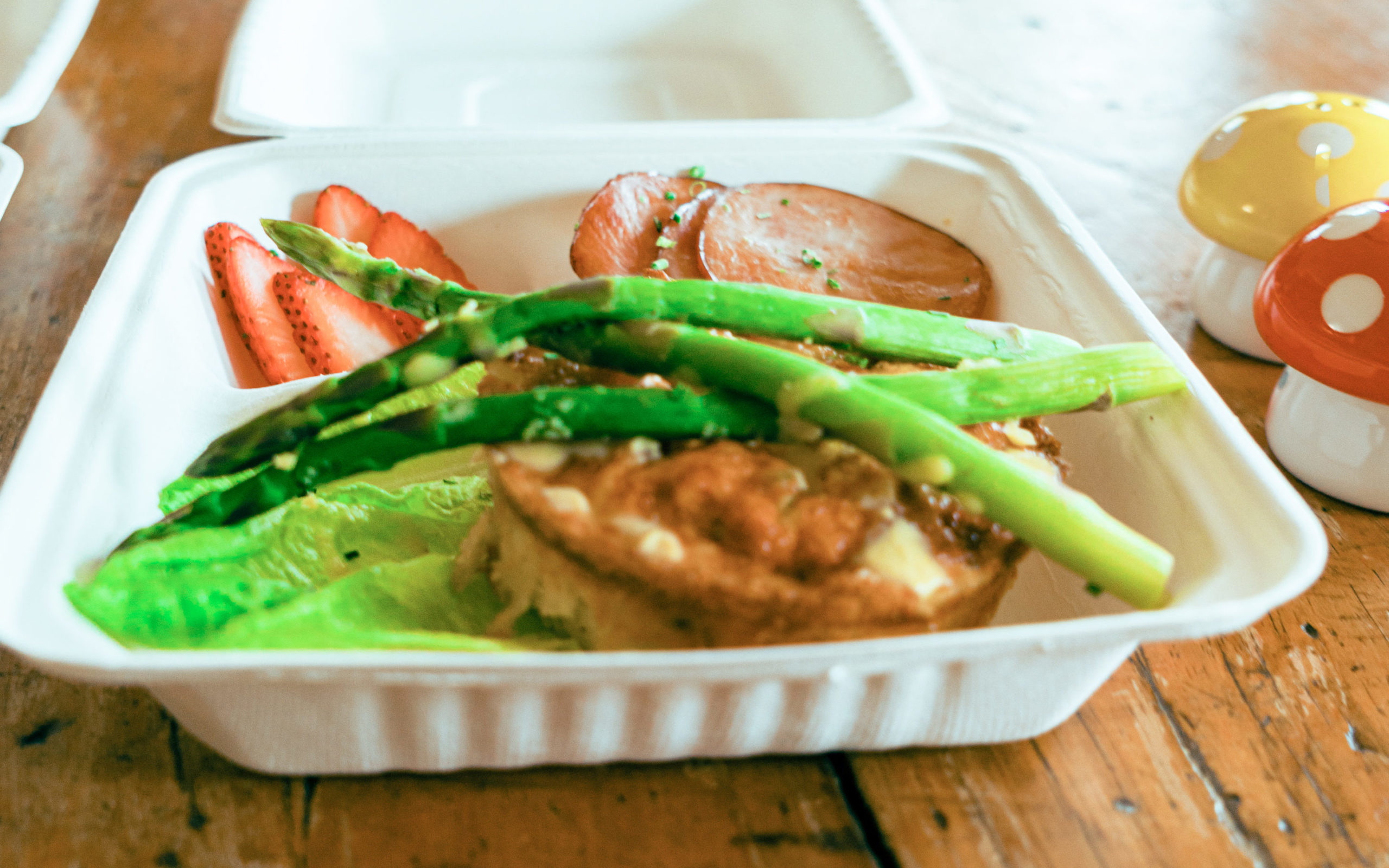 Great themed room with real fire, windows all over, fab breakfasts, very clean and covid aware. Kind hosts with tips on Rocky Mountains. Highly recommend. Very accommodating with my dietary needs. Felt pampered and cared for in a personal way. Excellent location too.

-Mandy, Oct 2020
I cannot imagine a more perfect B&B! Angie, our hostess, was more than gracious, and each morning presented a creative two-course breakfast. Although not a standard part of the morning menu, a mimosa was produced on request.

-Jim, Sept 2019
The breakfasts that were served were delicious and hand delivered each morning to our porch. This obviously was due to covid restrictions, but made for a very nice touch. We were able to enjoy a leisurely breakfast in the comfort of our own room. I would return to this inn again in a heartbeat.

– Anonymous, Sept 2020
Read more about our breakfasts here.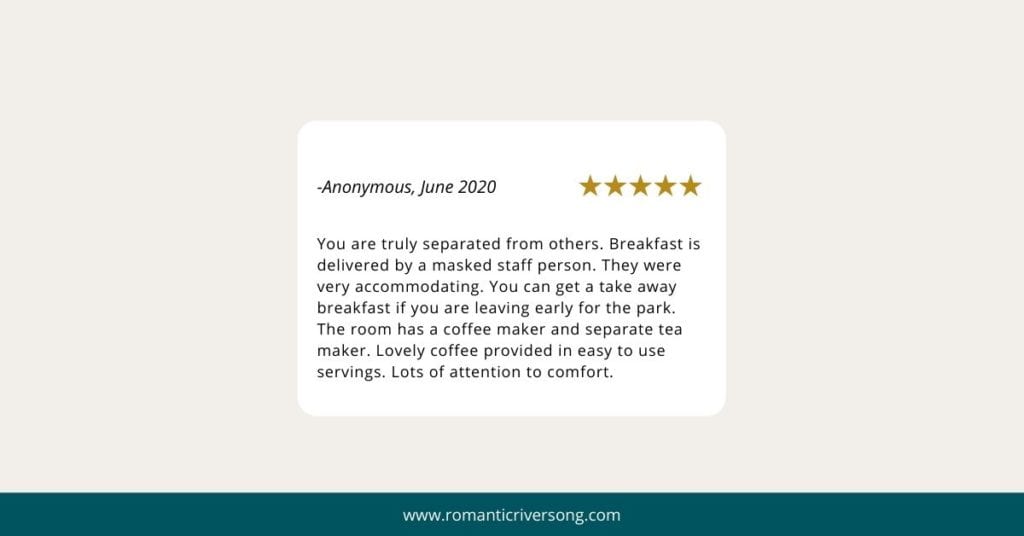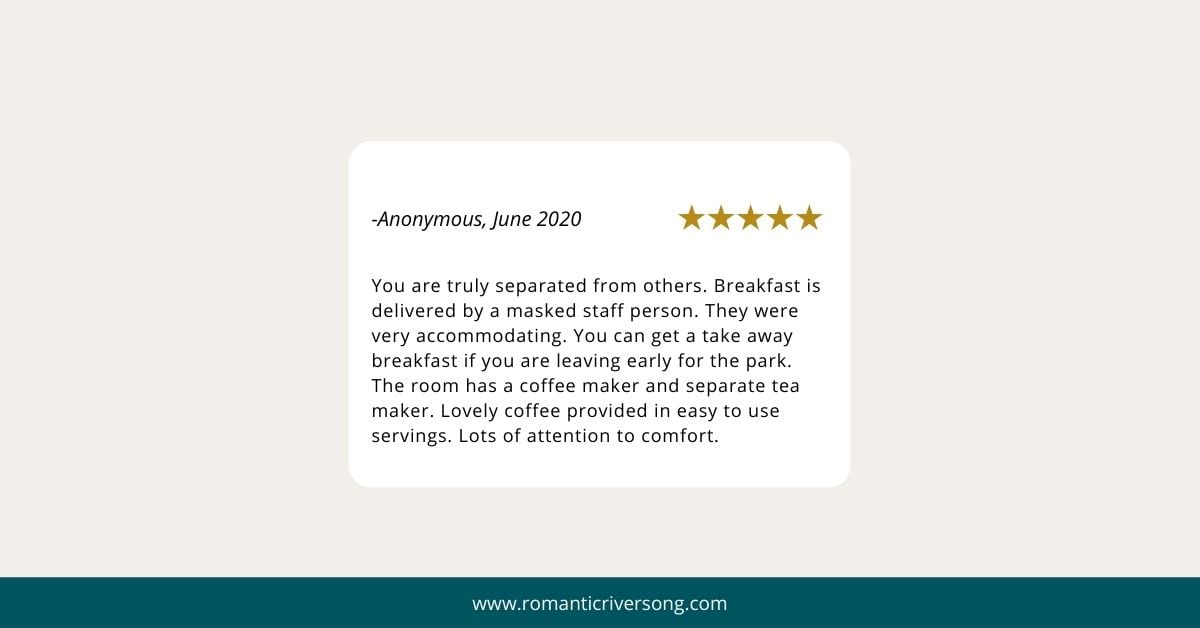 PROPERTY REVIEWS
With 26 acres nestled up against the Rocky Mountains, our unique location provides seclusion, privacy and sweeping mountain views! Walk along the river, play a game of chess, meditate as you walk through the labyrinth, or enjoy a cozy fire at our outdoor hearth.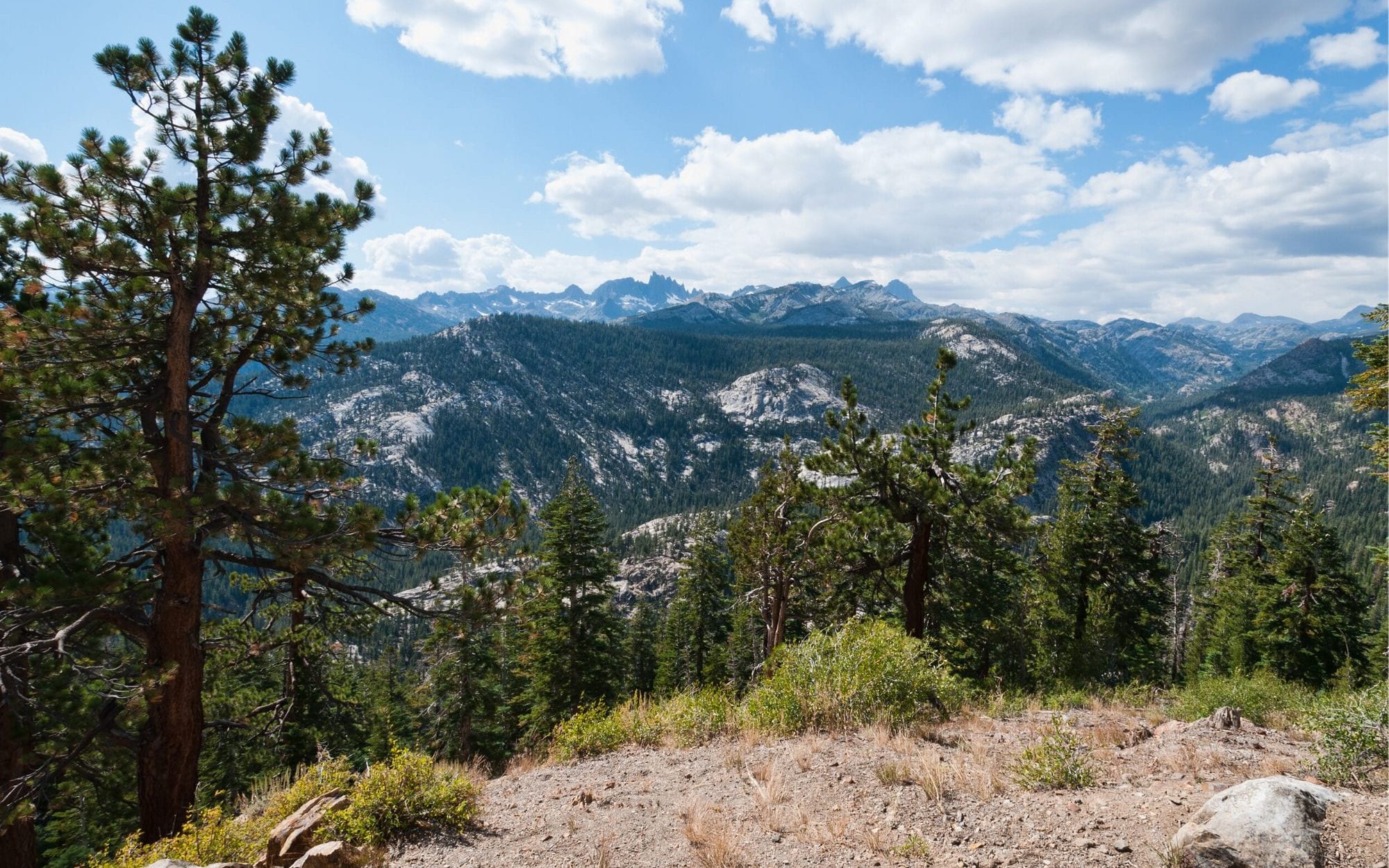 Lovely B&B. My husband and I had a wonderful experience here. I was very pleasantly surprised by the size of the property which featured access to a river and a mini hike! It's a 3 min drive from Estes park downtown, yet is a secluded area. Excellent!

– Paulina, April 2019
Each room has a deck for relaxing and gazing at God's wonderful creation. Away from traffic and noise. Has a stream running through it for fly fishing or just relaxing. Did I say it had beautiful views? A couple of options for hiking on the 27 acres. We would come back again for sure!

-Bob, Aug 2020
Such a great place! The seven benches hike was better than we were anticipating. The grounds are beautiful. We took a bottle of prosecco down to the river and enjoyed the tranquility. The food was delicious & the staff were super friendly! We will definitely come back & try another room.

– Lynn, Feb 2020
View our property gallery here.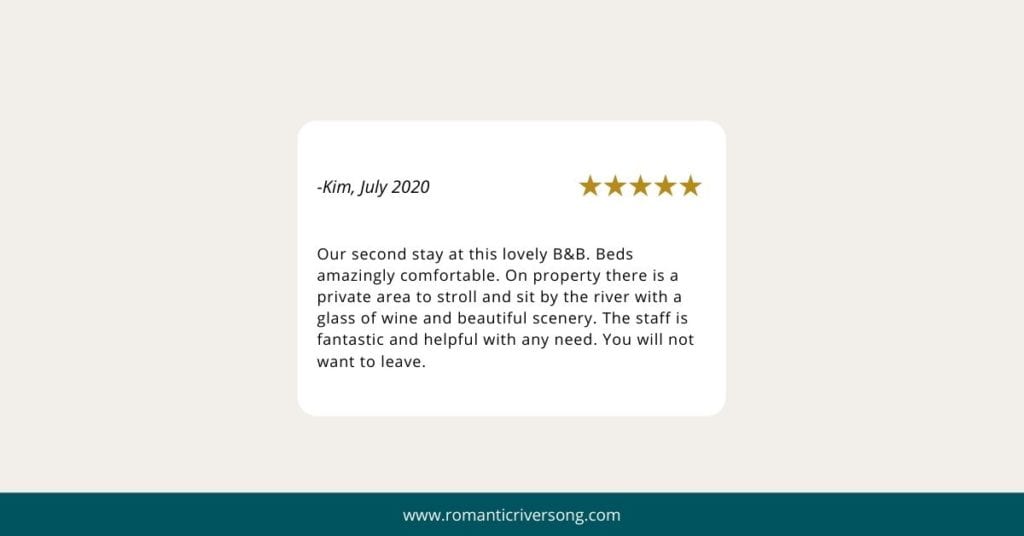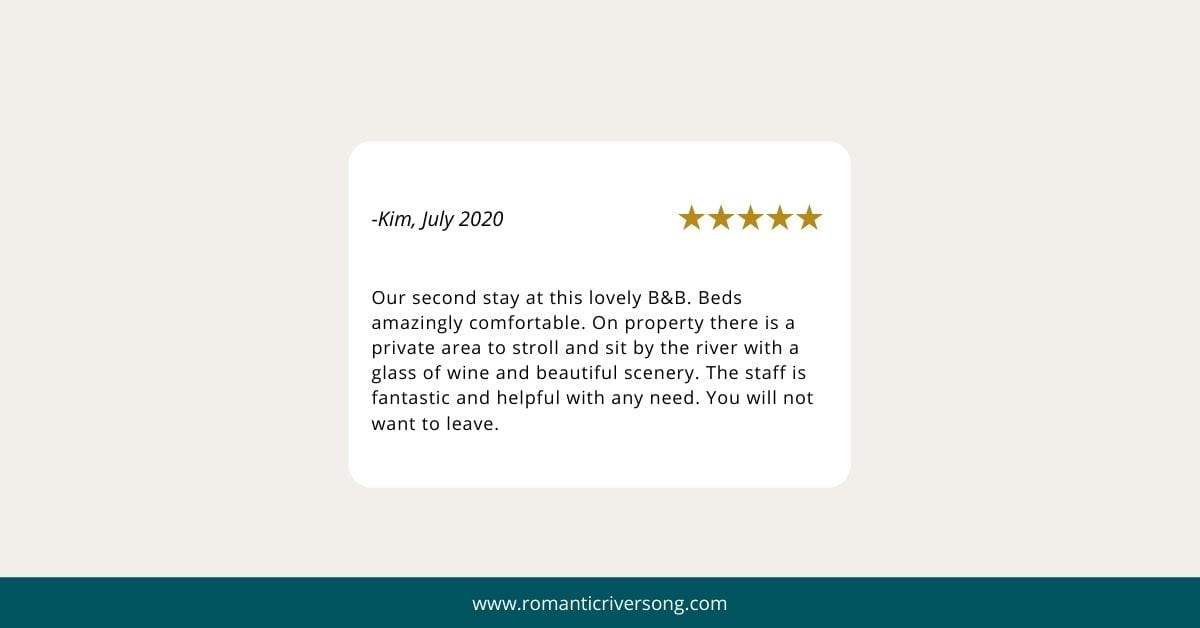 ROMANCE REVIEWS
Adults-only, breakfast, and our quiet, secluded location – no doubt, a recipe for romance! Enjoy a glass of wine, take a long soak in the tub with your sweetheart. No distractions, no noise, just time to remember all the reasons you decided to share this journey called life.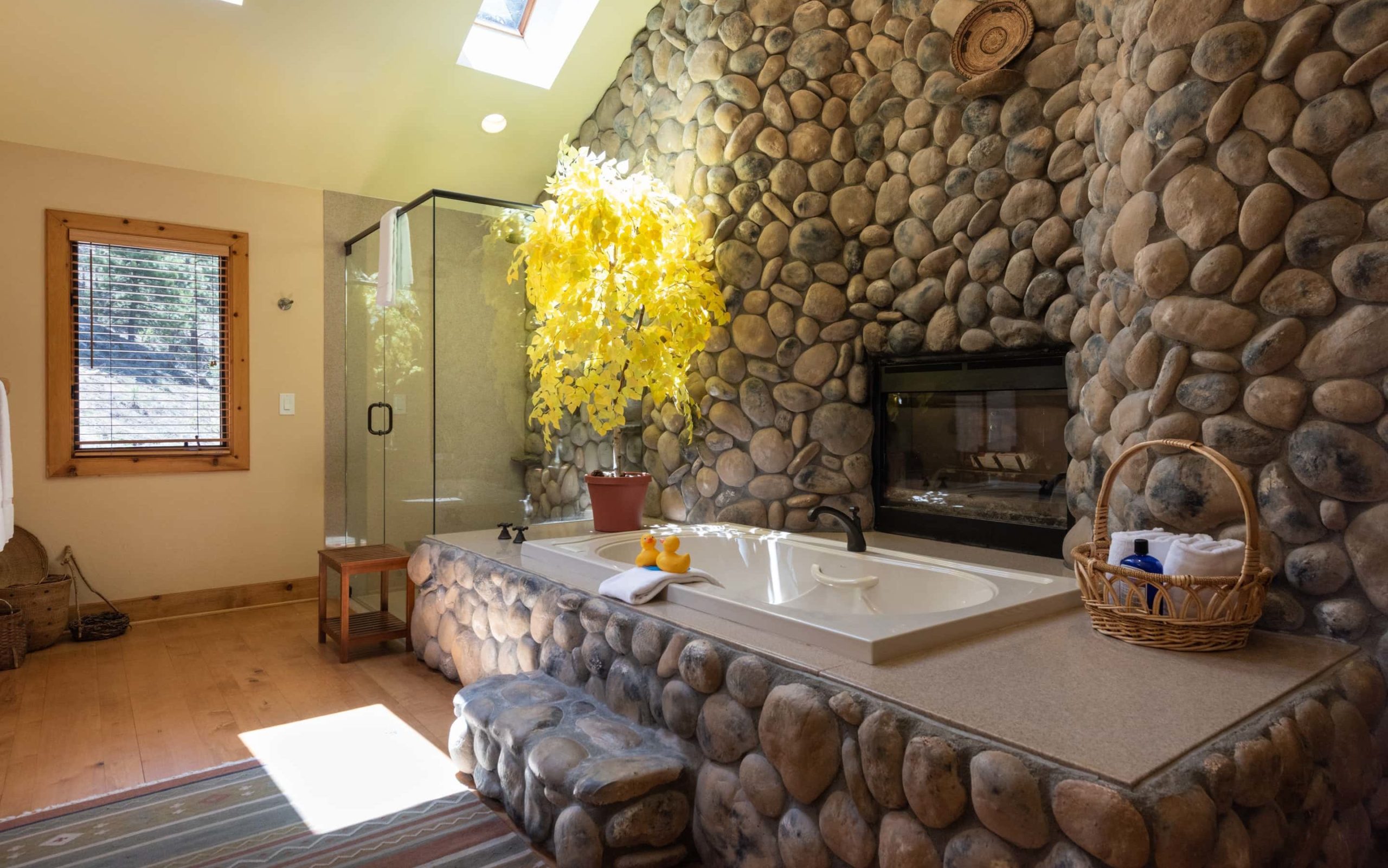 Absolutely amazing stay! This place is perfectly set up for romance. We really enjoyed hiking up their private mountain. Our room was so relaxing and romantic. I appreciated that there was no tv but lots of board games and books. The floors are heated which was especially nice since it was below zero when we were there.

– Paige, Jan 2019
My husband and I stayed for a 3 day weekend and absolutely loved it! We stayed in the Indian Paintbrush cottage. We loved the delicious breakfast, basking in the sun while listening to the river, and hiking up the 7 Benches Trail. Since it was located within a couple of minutes to the RMNP and the main street of Estes, it was simple to get around. This is the perfect Romantic Getaway! You will not be disappointed!

– Suzi, Oct 2020
An Estes Park Jewel!! A long overdue few nights escape to this rustic, romantic, place that makes you forget about the troubles and concerns! The room was nicely appointed, people are wonderful, and see to your every need! The breakfast was delicious both mornings!  We made another reservation for Dec. since our stay was so magical. Highly recommend Riversong for a mountain get away!! The elk walking near our cabin was an extra treat!

– Judy, Oct 2020
View our Add Ons, to make your stay extra special, here.
WEDDINGS & ELOPEMENTS REVIEWS
Elopements and micro weddings are a RiverSong speciality. Enjoy a private ceremony for two before your big celebration, or make your elopement a weekend affair just for two! We'll look after all the details so you can look after all the celebrating.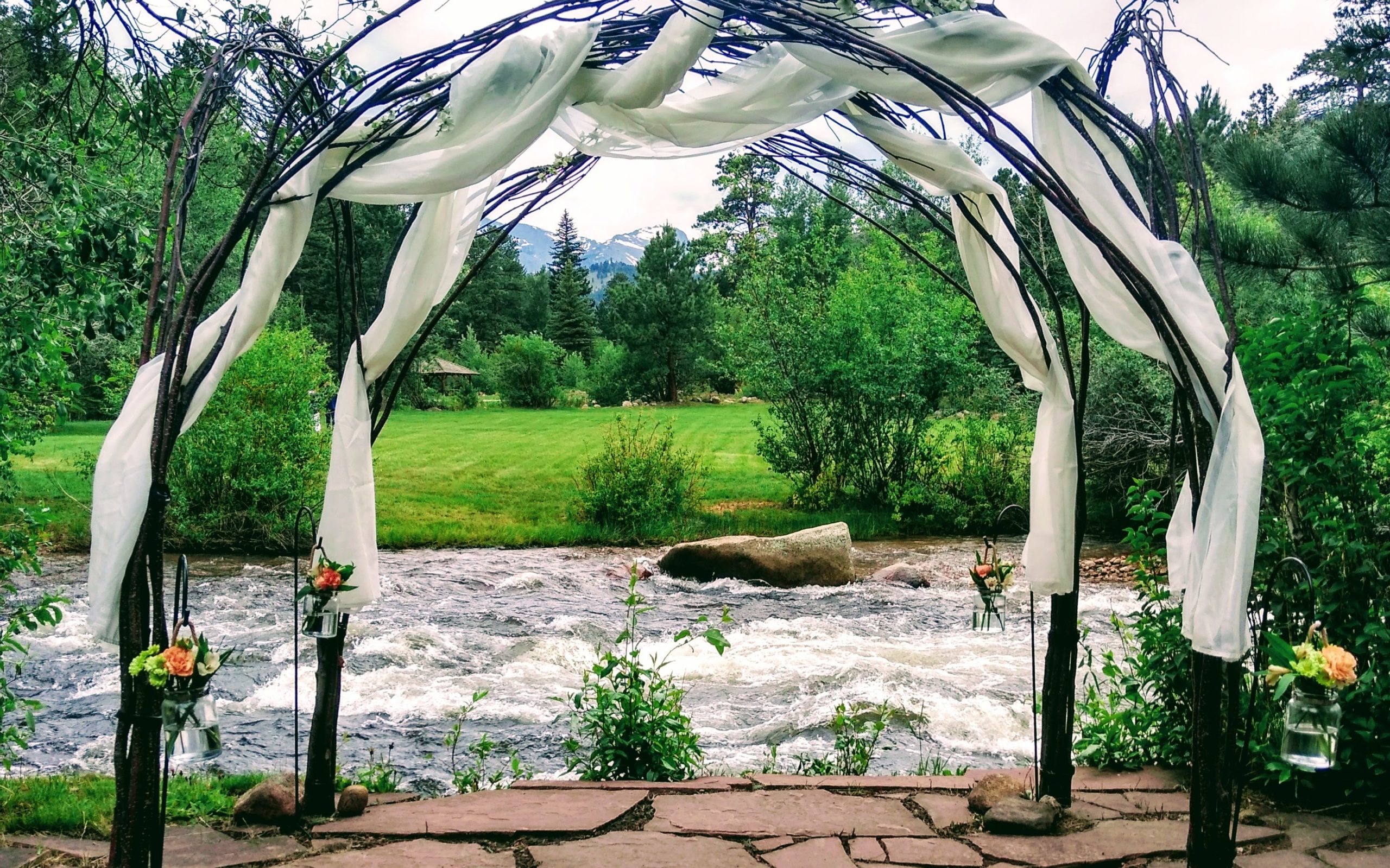 My husband and I stayed in the Forget Me Knot room for our elopement. The room was absolutely cozy and amazing! We had the most gorgeous flowers upon our arrival and amenities from our package that exceeded our expectations. The best part of the stay was the staff and officiant. Everyone went above and beyond to make sure our stay was beautiful and memorable. I can't thank everyone enough for such an amazing experience, especially for our wedding.

– Jackie, Dec 2020
When we decided to host a small wedding in Estes Park, we knew this was the perfect location. They have several elopement packages that they offer and have a wedding coordinator to help with all the details. The ceremony site is beautiful with the Rocky Mountains as the backdrop and the Big Thompson River flowing right behind it. We were also able to do our wedding photos on the grounds, which was perfect! The grounds are beautiful, the staff is friendly and accommodating and I honestly just can't recommend this place enough! It was perfect for our wedding and we can't wait to return for our anniversary next year.

– Meredith, Aug 2019
Browse through our wedding & elopement packages here.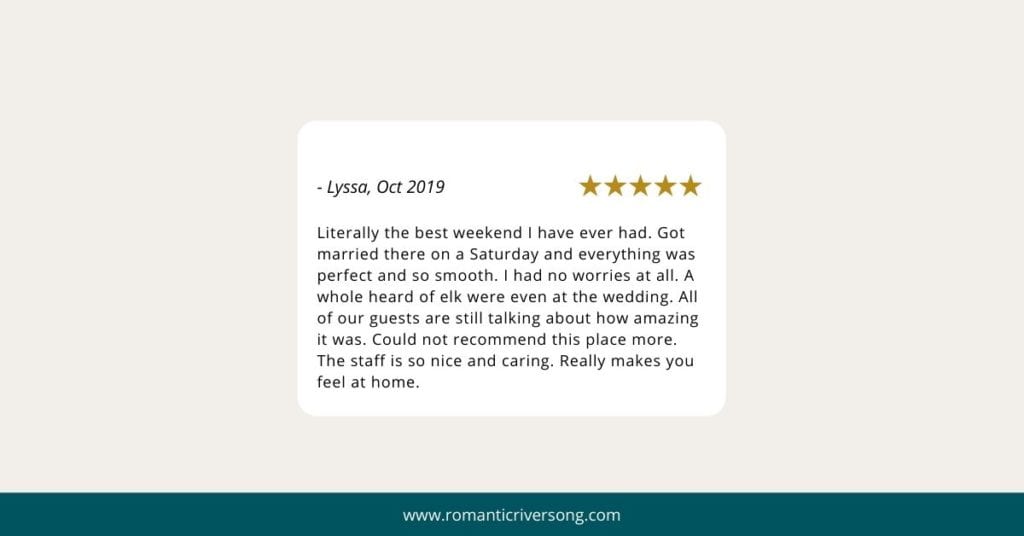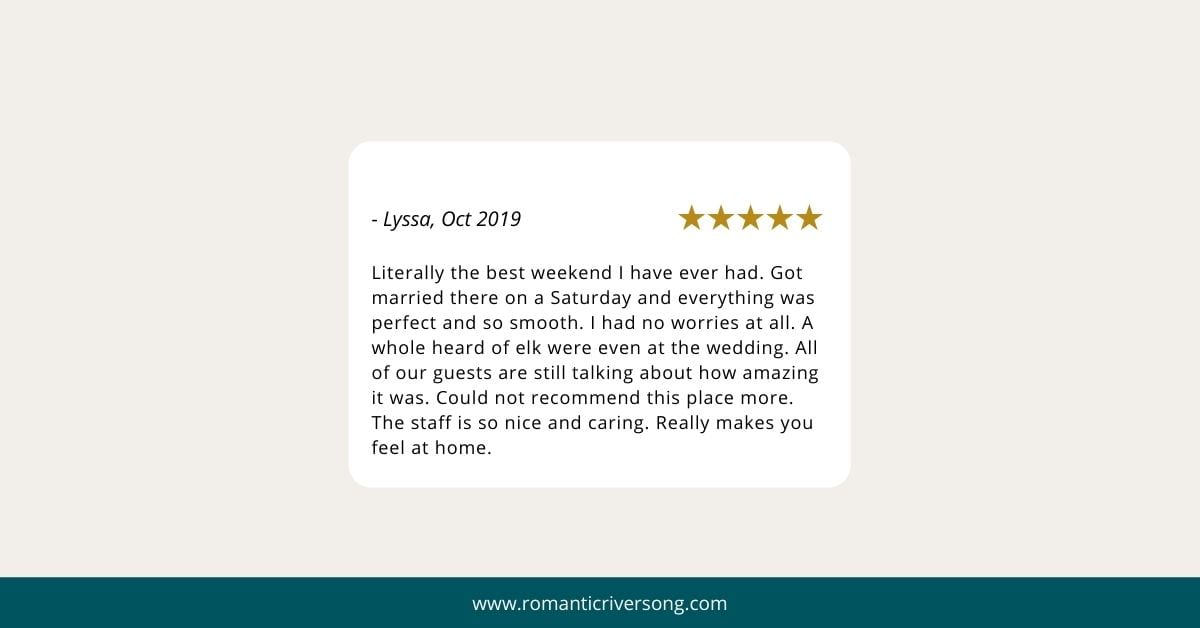 LOCATION REVIEWS:
Understandably, RMNP is one of the most visited parks in the United States. RiverSong is only a few minutes drive from the park entrance, but hidden from the main areas of Estes. Come and see why people have been fascinated by these mountains for generations! 
"The Rocky Mountains realize – nay exceed – the dream of my childhood. It is magnificent, and the air is life-giving." – Isabella Bird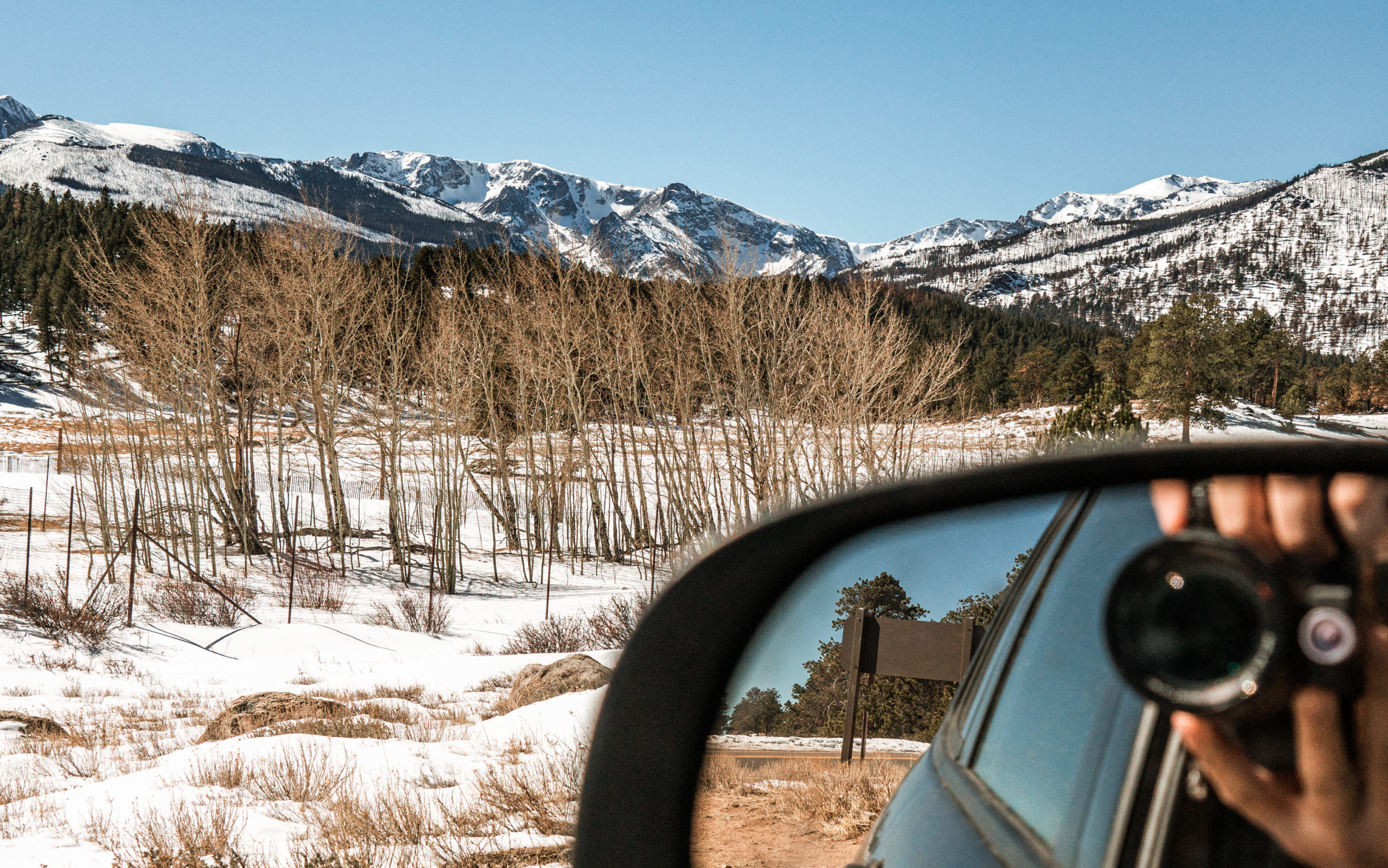 The romantic BnB is situated on 26 beautiful river-side acres which also butt up against limitless hiking trails. I was surprised at how gorgeous the grounds were and how close we were (6 min drive?) to the Rocky Mountain National Park Beaver Meadows entrance.Even if it's crowded in the Park, there are other nice outdoor options near the BnB. WELL WORTH IT!

– Ann, July 2019
The location is great – you are close to downtown and also far enough away. You can get to RMNP very quickly. Each member of the team we interacted with was friendly and we will return when we venture to RMNP again in the future.

– Katherine, Nov 2020
Beautiful property in the "wild" away from the maddening crowd of the Estes Main Street tourists and very close to the entrance of RMNP, without having to go through town.

– Anonymous, 2020
Great stand alone cabins or in clusters with fantastic service. Looking forward to going back sooner rather than later and explore more of the RMNP.

CJ, Oct 2020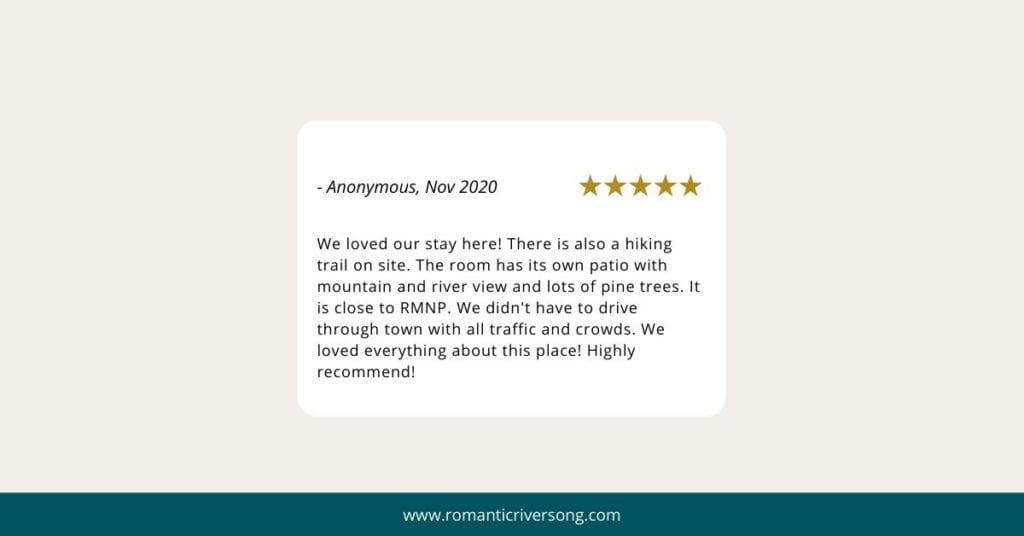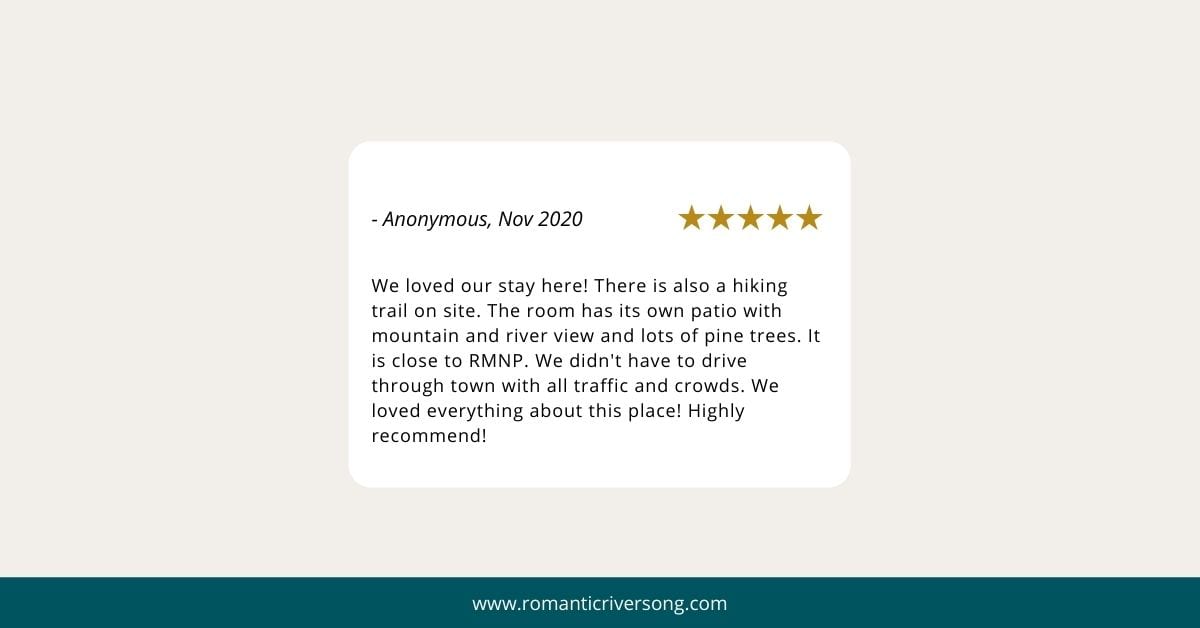 ROOMS REVIEWS
All our rooms provide private on-suite bathrooms, king sized beds and in-room coffee and tea. Between the private mountain views, soaking tubs, skylights and fireplaces, we're sure we can find a room that suits your needs!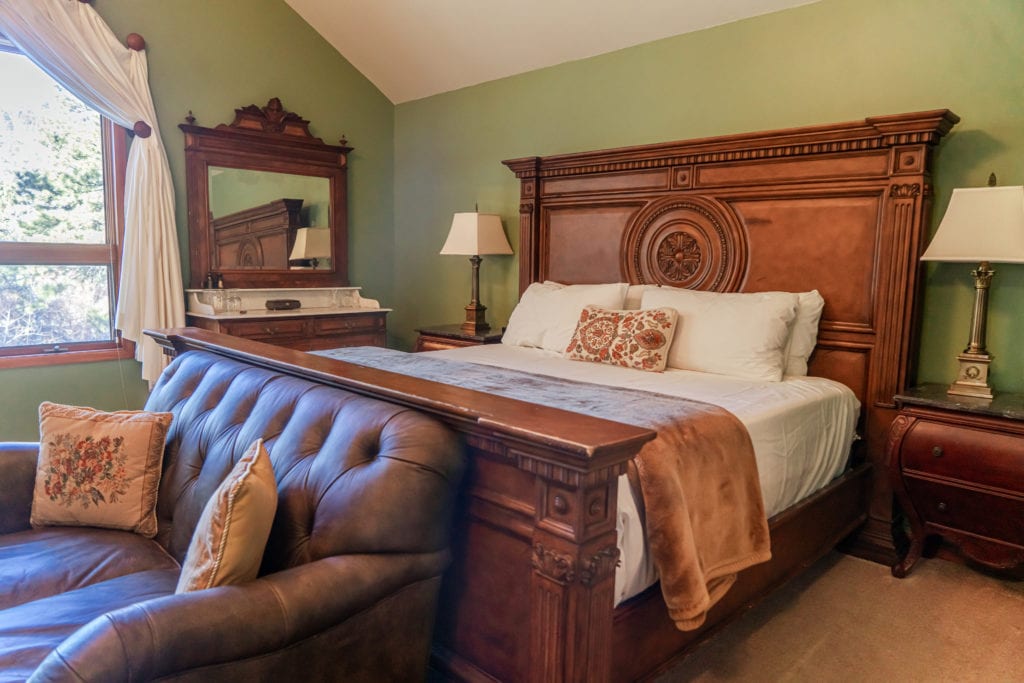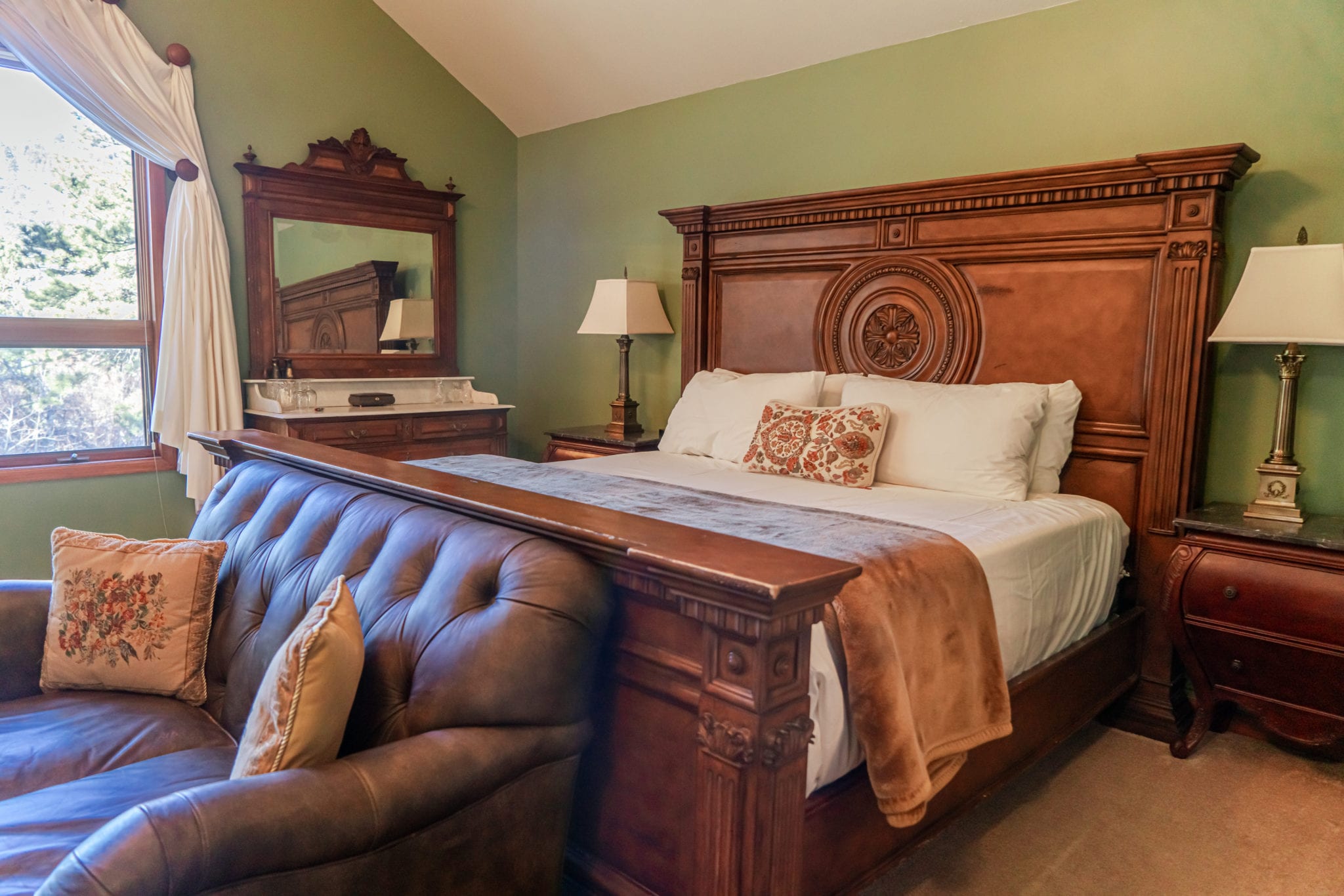 From the minute we got to this idyllic location we were hooked! We stayed in the Meadow Bright room, which is easily the best room there-big room, super comfy bed, everything you can need (including NO TV which was awesome)…the fireplace divides the room from the bathroom and we had it going every night and every morning-what a great way to fall asleep or start your day having breakfast with a fire roaring. The porch was very private, we felt like we had our own little cabin in the woods! Oh and the shower and bathroom-I am ready to redo the bathroom at our house to match this-it was spectacular! I easily could live here, it was so sad to leave…we will definitely be back again, Thanks Alex and everyone for making our getaway something to remember forever!

– Allison, Sept 2020
This was our 15th continuous year in the Forget Me Not room. We stayed in several other rooms in one of the 10 bedrooms offered at Riversong, yet we always return to Forget Me Not. We look forward to the location, staff and breakfast each year of our stay. We have booked for next year and cannot wait to return.

– Greg, Feb 2021
We chose the newly renovated 'Morning Glory' room which featured a private entrance stairway, a spacious and clean room including a new soaker tub, separate glass door shower, small dining table, coffee/tea service w/ midrange mini fridge and sofa seating area. Plenty of space to remain by yourselves on the 27 acre property and enjoyed fishing along the property river. We will always try & come back each anniversary and are never disappointed with this special beautiful getaway. Thank you for another lovely visit!

– Jane, Aug 2020
Thank you for reading this fun compilation of our guest's reviews! Whether it's a getaway, wedding, RMNP adventure or a life celebration, we can't wait to help make it memorable and special!
Come see for yourself what Romantic Riversong is all about!