If you're looking for an all inclusive, picture perfect & intimate elopement in Estes Park, we'd like to welcome you to Romantic RiverSong Inn. RiverSong has been a sought after all inclusive elopement destination for over 30 years in the small mountain village of Estes Park. We've spent years cultivating straightforward, stress free elopements for couples at Romantic RiverSong. We are the perfect location for your intimate and romantic elopement or small outdoor wedding. Many choose us for the picture-perfect location, quiet escape from the hustle and noisy crowds of Rocky Mountain National Park, and the joy and ease of our simple and elegant ceremony.
Our Elopement Process
With 26 acres of woodlands, RiverSong is the ideal location for a picturesque outdoor forest wedding! Our elopements can be set up beside beautiful meadows, ponds or stream- side along the Big Thompson River that runs through our property. From a private ceremony for two to an intimate gathering of up to 18 guests, Romantic RiverSong can provide everything you desire for your elopement. We love to celebrate unions between all genders and sexual orientations at our bed and breakfast.
Ceremonies can be customized to include any spiritual or religious elements important to you. Start with our packages and add personalized details to make the ceremony all about your unique love story.
If an elopement in Colorado sounds like your dream wedding, please view our elopement packages we offer.
Elopement Packages
Our most popular package, The Elopement, includes the ceremony, bouquet, boutonniere, cake and champagne, and a two-night stay in one of our large suites! Since our bed and breakfast caters to couples wanting to focus on connection and romance, you can be sure your wedding will be quiet, calm and intimate. We want you to spend the weekend absorbed in the magic of loving one another. To ensure that happens, The Elopement package also includes a welcome wine and cheese platter, in-room breakfast delivery, and an in-room couples massage.
Interested in something more private? Maybe you'd love to sneak away for a private elopement before a big family wedding, or you just want to get married without all the hype! Our Ceremony package is designed for couples looking for the ultimate simplicity. We provide the location and our in-house officiant, you only need to arrive for the service. In our Celebration Package, we add in a bridal bouquet and boutonniere, cake ceremony with a champagne toast and two keepsake handmade mugs- a step up from the ceremony package with elegance and simplicity.
Looking forward to an intimate, private ceremony, but also hoping for a little more flair? Our Grand Elopement might be just the right fit! The Grand Elopement package includes all of the items in our Elopement package, with the addition of a tasting at a local winery, brewery or distillery. This package also includes a gift certificate for a two-night stay on your one year anniversary! In addition, we're happy to coordinate tours of Rocky Mountain National Park by jeep or horseback if you're keen to get out and explore with your sweetheart!
What About Flowers?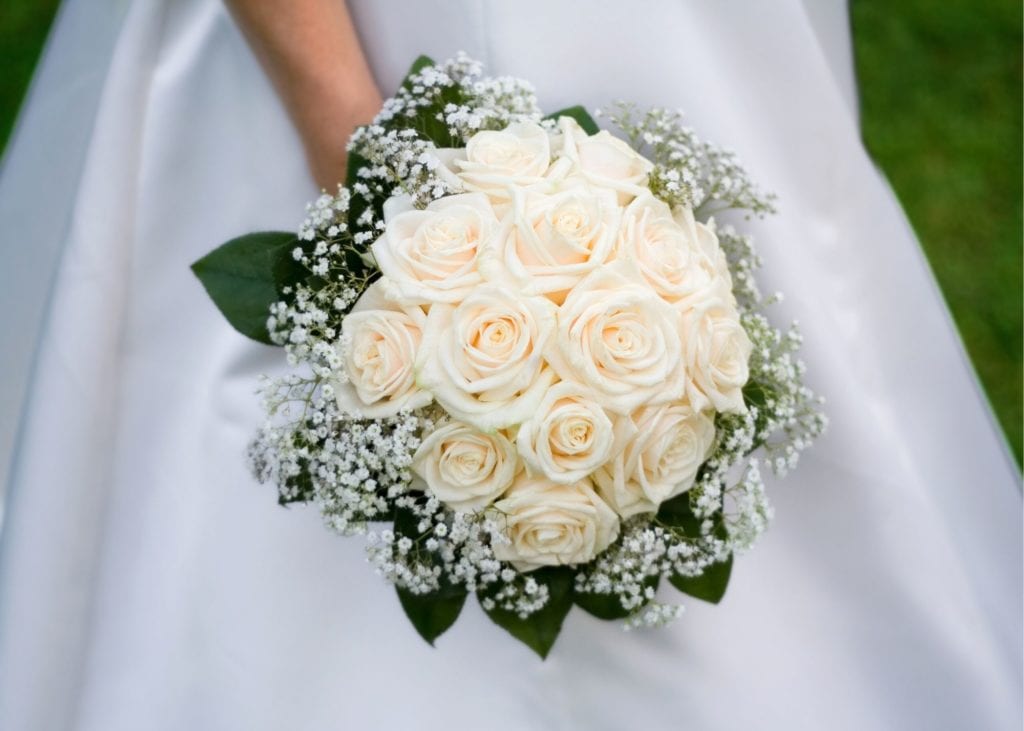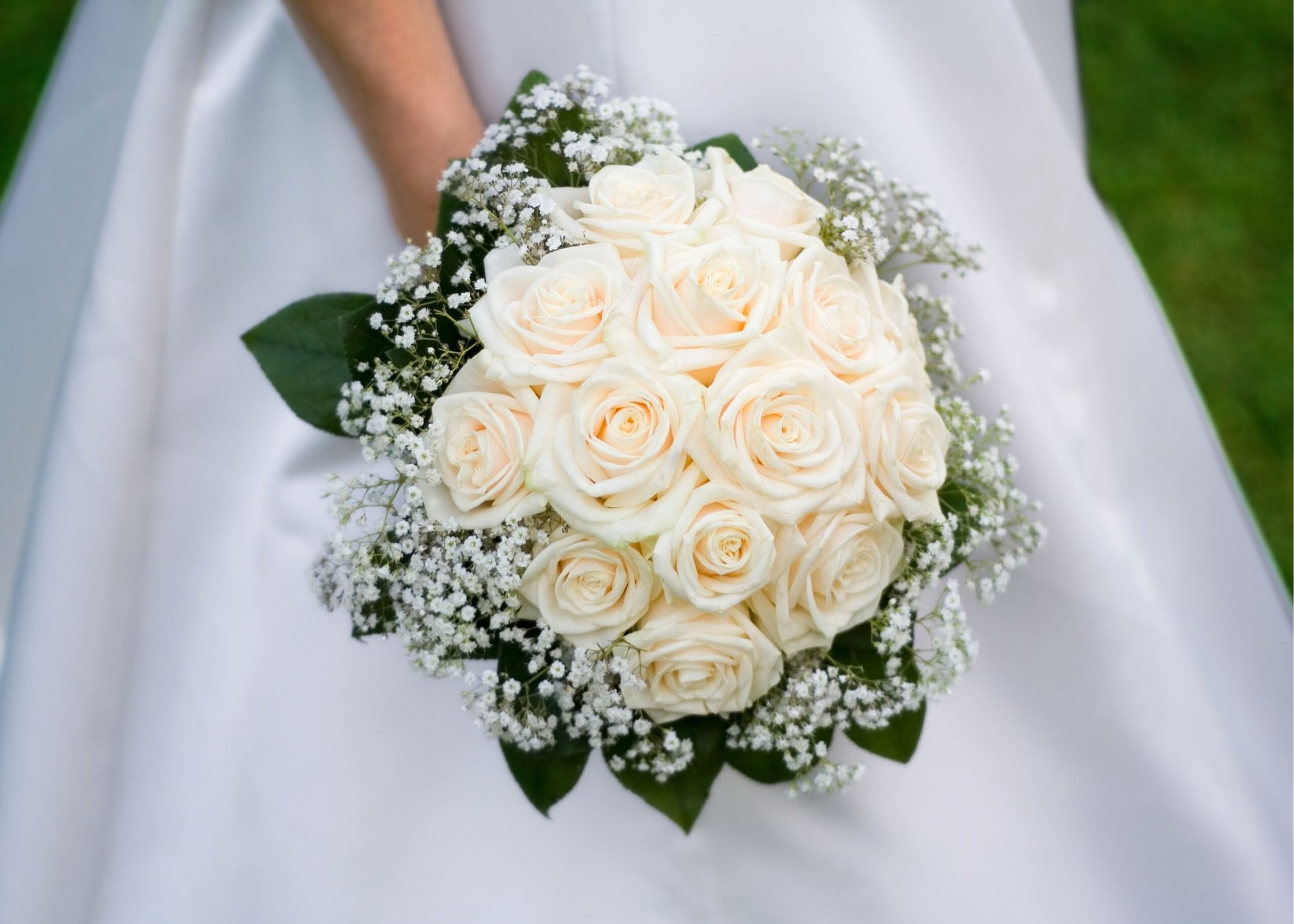 Our innkeeper and in-house florist, Tammy Shinham creates beautiful custom floral arrangements based on the design style, and favorite flowers of the couple. No matter if you want your wedding to feel cozy and romantic, or classic and stunning, we'll make sure the floral arrangements reflect your specific style!
Choosing A Cake
Choosing a wedding cake couldn't be easier! Just select your flavors and your personalized cake will be ready and waiting on your wedding day. Our cakes come in a variety of flavors, and most couples prefer to have them decorated to match the floral arrangements. Have a cake topper you love? Just bring it with you to the Inn, and we're happy to include that with the cake decor. All our cakes are provided by a local bakery, and delivered to the Inn the day of your ceremony. After booking, couples will receive an email questionnaire that goes over all the details we need to create your unique elopement.
What About Photography?
We know one of the biggest concerns couples have before getting married is who to hire to take all those gorgeous wedding photos. We're happy to highlight some elopement photographers who are familiar with the Inn and all we have to offer!
JP & KP PHOTO
Joe & Kari Pyle are Estes Park residents well equipped to capture your intimate wedding! We can experience all four seasons, often on the same day, here in the Rocky Mountains, and Joe & Kari can turn all of it into absolute magic. LGBTQ friendly. Their website includes contact info and galleries.
MIKAYLA ROBERTSON PHOTO
Mikayla Robertson is based in Denver and has photographed numerous elopements in the Rocky Mountain Area. We loved having her at RiverSong last winter! Her warm and natural charm and creative intuition creates the perfect environment to catch all of your wedding day love and romance. LGBTQ friendly. Check with Mikayla's website for pricing, availability and galleries.
KT LANGLEY PHOTO
Katie Langley, also based in Denver, uses her photojournalist style and keen eye to catch the details and enchantment of mountain elopements. We love the romantic and creative way she's photographed couples at the Inn. See her website for information and galleries.
SUN PRAIRIE VIDEOGRAPHY
Casey & Michael Miller run a photography + videography business, Sun Prairie Films based in Colorado. Hire them for both, or just one of those services! They love to capture the small, magic moments between couples. We love the way they have captured the magic of the Inn in their footage! For more info on services and prices, see their website.
JENNA WREN PHOTOGRAPHY
Jenna Wren, a Colorado Rocky Mountain adventurer and full time wedding photographer, specializes in Fine Art Wedding Photography. We love the way she is able to light up and capture intimate love stories through her authentic style. For images of her gallery and photography at RiverSong, visit her blog here.
Honeymoons at Romantic RiverSong Inn
Once the vows have been said, and the cake has been eaten, it's time to honeymoon! We love that our Bed & Breakfast can provide both a romantic atmosphere for your ceremony and an intimate location for your honeymoon. The Elopement or Grand package already includes a two-night stay in one of our large suites. With the Ceremony or Celebration packages you may also book a room to your liking.
For couples looking forward to a relaxing and romantic honeymoon, our suites are equipped with a fireplace, tub for two, private outdoor patios, and libraries. Some even have skylights so you can curl up with your sweetheart and spend some time stargazing. If you've booked a package with our in-room breakfast delivery, there's hardly a reason to leave your room! Couples can enjoy the quiet and majestic views each morning with coffee and tea on their patio, booking a picnic lunch, and when taking a stroll around the grounds.
If your idea of a honeymoon means going on adventures together, we are the perfect location to suit you! Spend the day hiking in Rocky Mountain National Park, fishing the Big Thompson River or wondering through the shops and galleries in downtown Estes Park. The Grand Elopement package includes a tasting at one of our local wineries, breweries or distilleries. We can also add the tasting tour to any of our other packages. If you're interested in a jeep or horseback tour of Rocky Mountain National Park, please let us know at time of booking and we'll check the availability and pricing.
Covid Health and Safety
As a Bed and Breakfast with private and outdoor locations, we are uniquely positioned to offer added benefits of health and safety. We are currently following all guidelines from Larimer County and we will discuss current requirements to accommodate for your ceremony. A few of the benefits of a bed and breakfast for an elopement or small wedding are:
Size. B&B's only offer a small number of guest accommodations- providing safety in smaller numbers.
Standards. B&Bs are already required to uphold strict and important standards for cleanliness, health and safety. Adding in new state mandated requirements for COVID-19 guidelines will allow guests even more peace of mind during their ceremony.
Service. B&Bs offer personalization and quality customer service. From special dietary needs to personal health concerns, innkeepers aim to help you receive the best quality experiences and as personalized service as possible.
For more information on our covid safe policies please review here.
Frequently Asked Questions?
Can you get married in Estes Park?
Yes! We are one of the most popular wedding and elopement destinations in Colorado. Be sure to check out the Larimer County Clerk's office for information about marriage licenses. Read more here for a quick and simply 5 step Estes Park Elopement planning guide.
I don't know anyone who can officiate!
Our resident wedding planner and in-house florist, Tammy Shinham is also a registered officiant, and is happy to provide that service for our couples. If you already have someone you'd love to officiate your elopement, we're happy to welcome their services.
Do I need to be worried about altitude sickness?
Maybe. Estes Park's elevation is 7500 feet, so if you're coming from a much lower altitude or planning to do some hiking in Rocky Mountain National Park, which has much higher altitudes, it might be best to come a few days early to acclimatize. Hydration is key! You can read up about altitude sickness here.
Can I come see the property before?
Yes! We would love to show you our stream-side wedding patio with scenic mountain backdrop view or tour any other location on property that you'd like for your big day!
Are you ready to book your elopement at Romantic RiverSong Inn? Still have some questions, or interested in something we haven't mentioned?
Please Call the Inn, visit our website, or send us an email at innkeepers@romanticriversong.com with your inquiry or to start planning!